Creative With Living Room Ideas Black
Living room ideas black are daring and opulent. While they might be challenging to pull off, if you do, they can give your area sophisticated confidence that no other hue can match. If you don't add texture and subdued tonal diversity, darker living room paint ideas may also seem "flat." However, when skillfully put together, black color schemes are a fantastic way to add drama and flair. It takes courage to choose a black decorating theme since it calls for meticulous editing and a keen creative eye.
1. Use Black All Over, Even On The Ceiling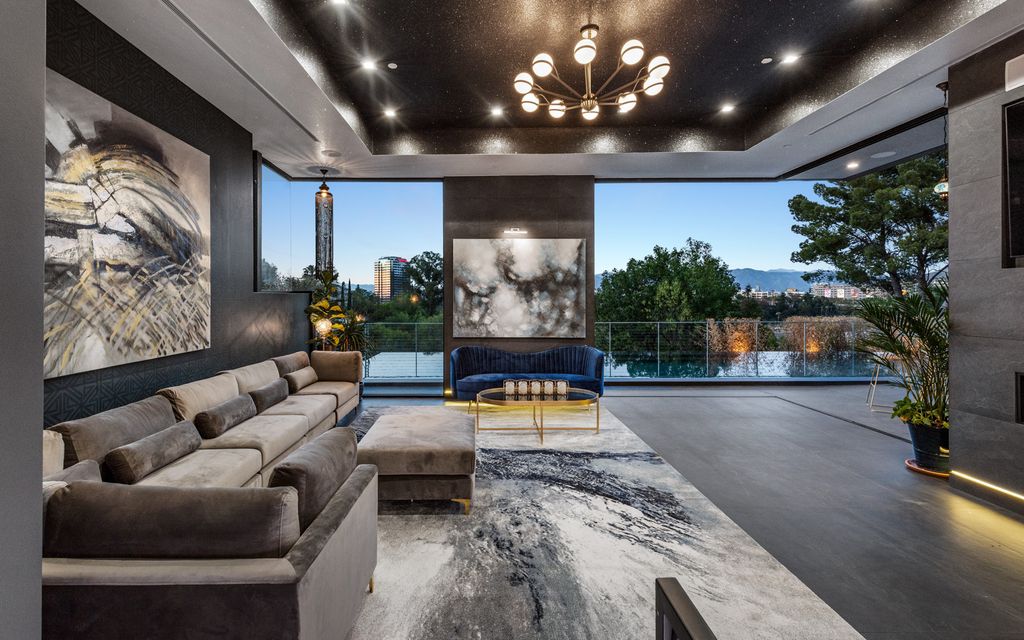 It takes some confidence to decorate with an all-black theme, but if you pull it off, your space will thank you. It's a genius idea to paint the entire room black in your living room to create a sharp-yet-cozy cocoon. Black is calming to the eye and offers grounding properties. Use a pattern to integrate black into your area if you want to anchor it and give it a sense of depth without utilizing a solid shade of the color. Whether it be monochromatic print tiles like these, patterned drapes, or a rug. A Brand New Modern Home in Los Angeles with The Picturesque Surroundings hits The Market for $6,390,000
2. Blacken Portions Of The Walls In The Living Room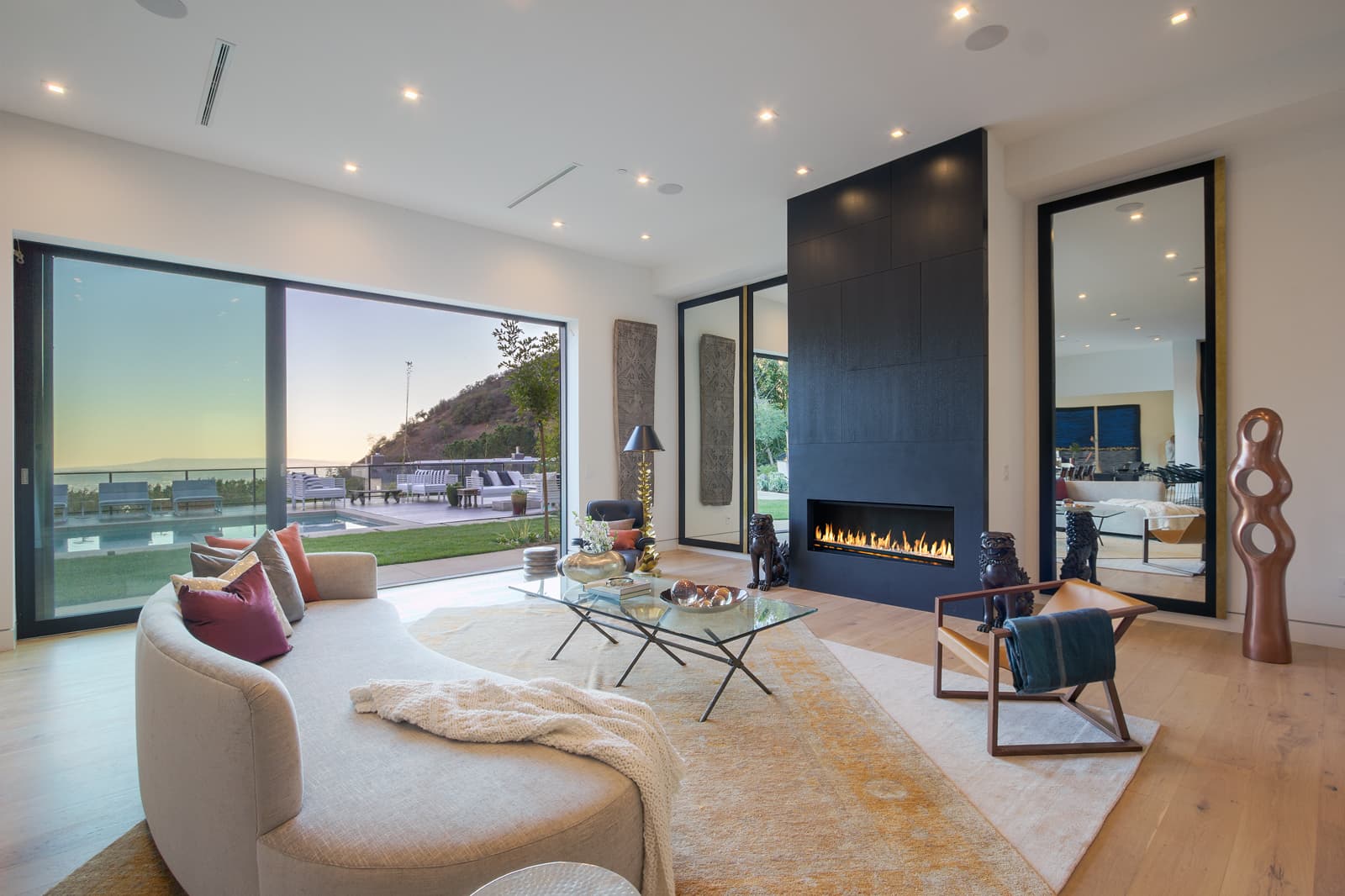 If you want to include the black living room style but aren't ready to give up your bright, airy, and white decor, paint the small part of your wall black to provide contrast and clarity. Adding a subtle yet decisive touch to the typical white wall can make your home seem better right away. Luxury Rising Glen Road home in Los Angeles
3. Create The Striking Black To One Wall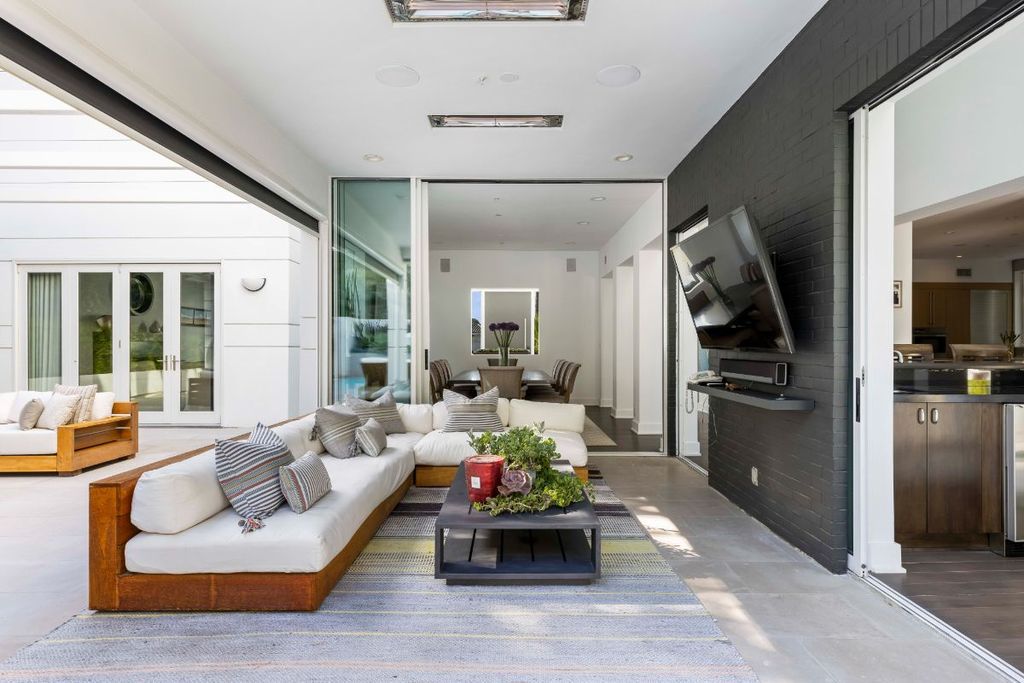 We advise dedicating one wall to this striking color if you lack the courage to embrace the suggestion of all walls and ceilings. Even so, one wall will still offer a fantastic blast of color to reveal something about the unique style of the homeowner. A Beverly Hills Contemporary Home with Complete Privacy in Mulholland Estates Asking for $9,995,000.
4. Use Black Furniture To Suit Your Point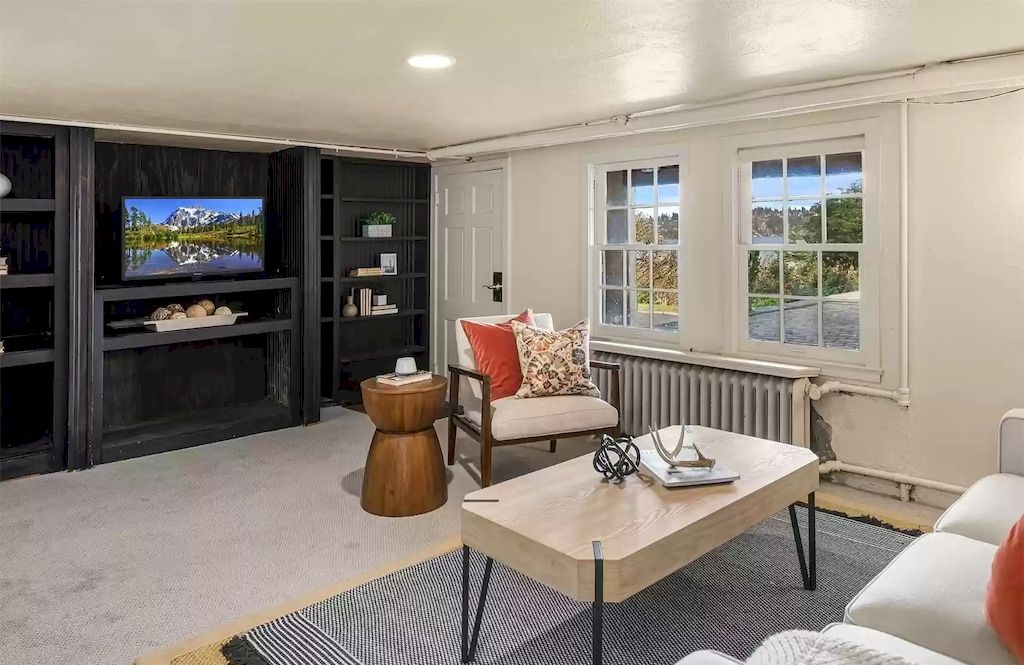 To add black to your living room, use accent pieces of furniture. A stylish black cabinet should take the place of the old one. Infuse it with modern energy in addition to eradicating the dullness. In order to enhance contrast, it is also a good idea to include some light furniture, such as a sizable wooden table. Impressive Spanish Revival Style Estate Featuring Classic Elegance in Washington Listed at $3,495,000
5. Put It On The Floor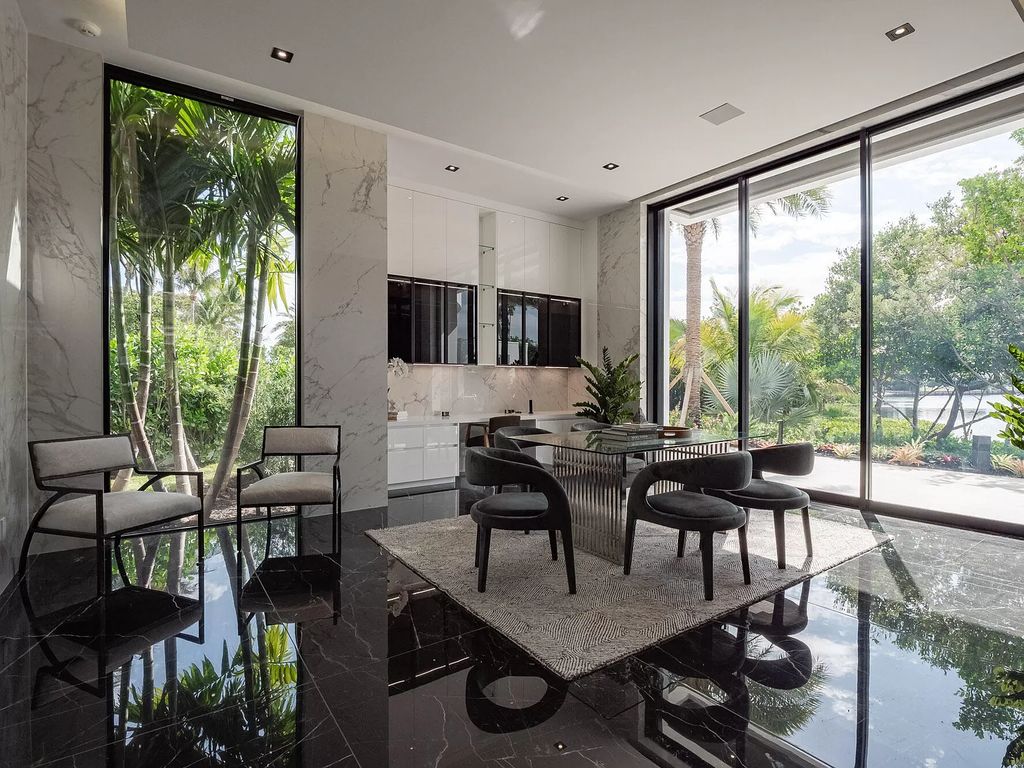 For large residences, combine light gray living room ideas with white accents and black floors to create polished elegance. This layout elegantly balances the black floors and surrounding white cabinets with the help of soft gray walls that provide a quiet backdrop. The artwork gives a modern aesthetic interest and individuality. Inside A Breathtaking Intracoastal Waterfront Mansion in Lake Worth Asking for $29,999,000
6. Black Tones And Metallics Are Best Paired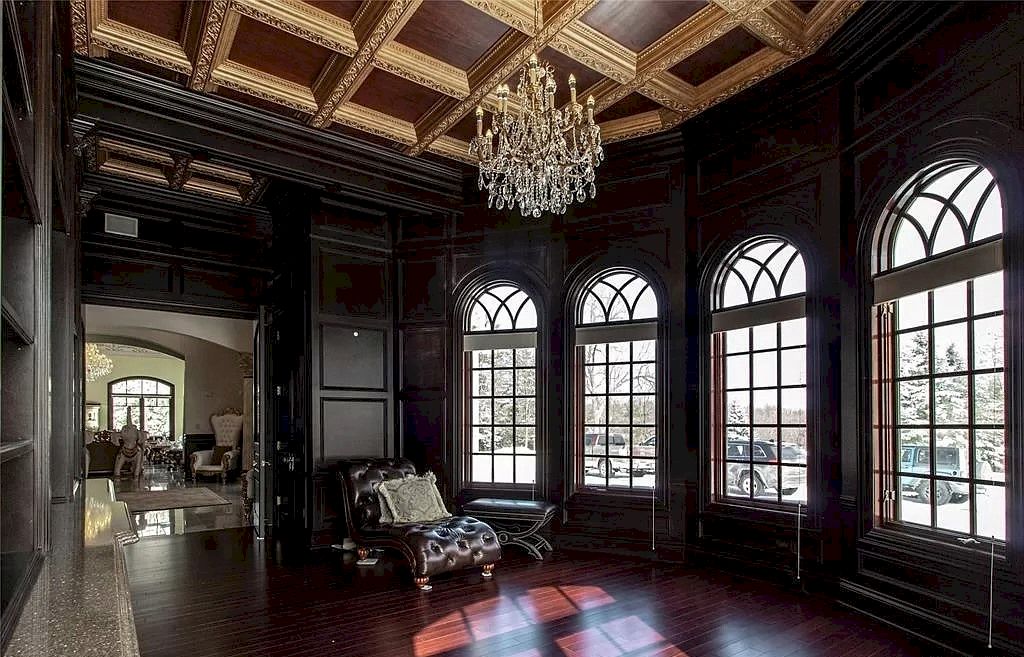 Some combinations are timeless. Black and gold, cookies and milk, and peanut butter and jelly. This living room's color scheme is dark and opulent. Interior design is made stylish, dramatic, and edgy by the use of black and gold. Keep in mind that you should exercise some discipline while utilizing gold. Take some ideas from this picture. In contrast to the dark walls, the elaborate, golden chandelier and ceiling stand out even more. The remaining decorations stick to a black or white color scheme, maintaining the room's elegant and refined appearance. Going through Complete Floor to Ceiling Renovation, this Amazing Home in Michigan Hits Market for $4,900,000.
7. Black Seating Adds To Your Living Room Style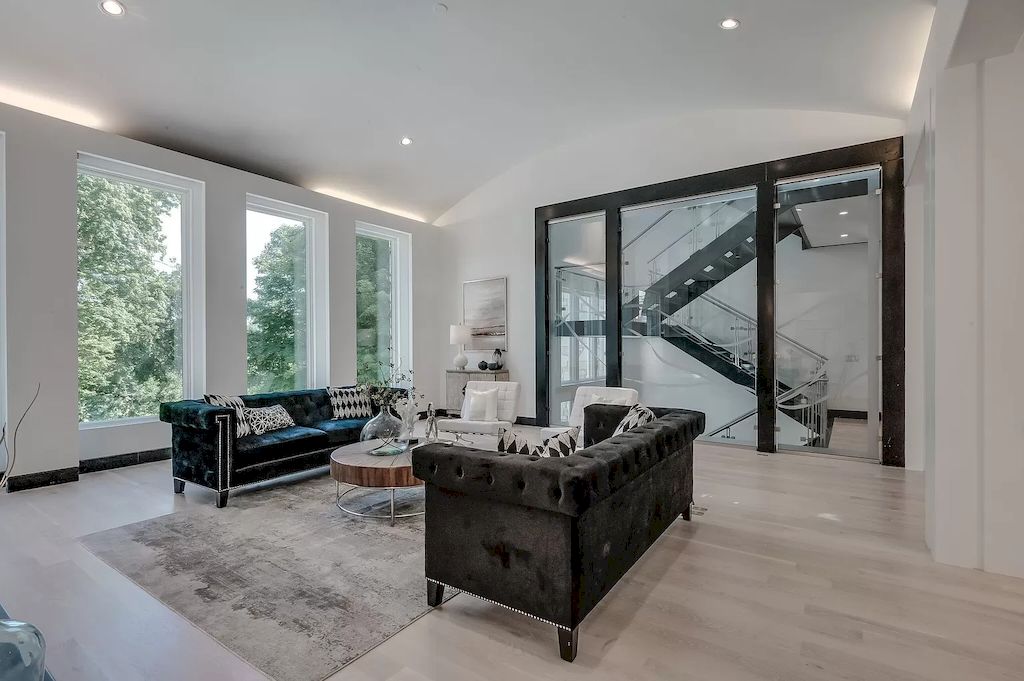 A worldly black chair for the free-spirited or edgy black bar stools for the cosmopolitan would offer additional drama to your living room design. Choose black furniture that fits your style, whether it has thick or rigid backs, manly leather, or plush velvet construction. Consider designing a stylish, multipurpose piece like a bench or ottoman if you only want a little black in your living room seating. Truly One-of-a-kind Property in Tennessee on Market for $4,750,000
8. Color The Trims In Your Living Room Black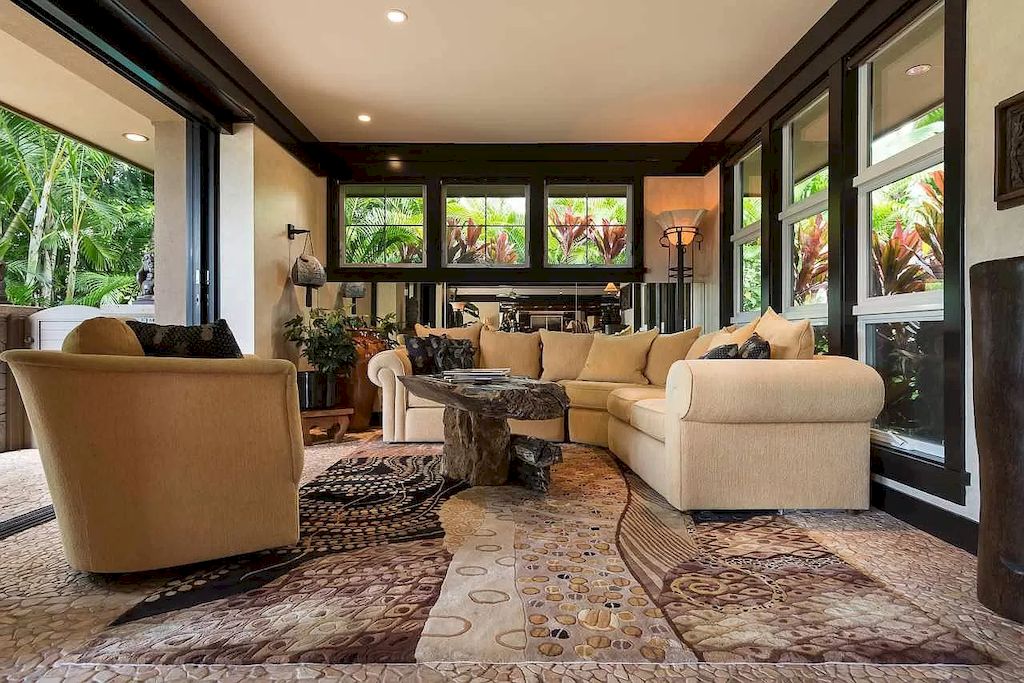 Let's face it: not everyone wants a living room painted entirely in black. If so, think about painting simply your trim work in black or using a dark stain. This black accent may give your room energy, draw attention to a feature on the ceiling or wall, or it might cover up any minor visual flaws. Consider painting the mismatched wood trims in your newly remodeled house black to cover up any minor flaws. The trims may not match the other wood grains in the space. Black trim may also give a simple area a graphic appearance by defining contours and establishing dramatic edges. This $8,995,000 Magnificent Home Offers Finest Indoor-outdoor Living and Incomparable Architectural Design in Hawaii
9. Accentuate Key Architectural Elements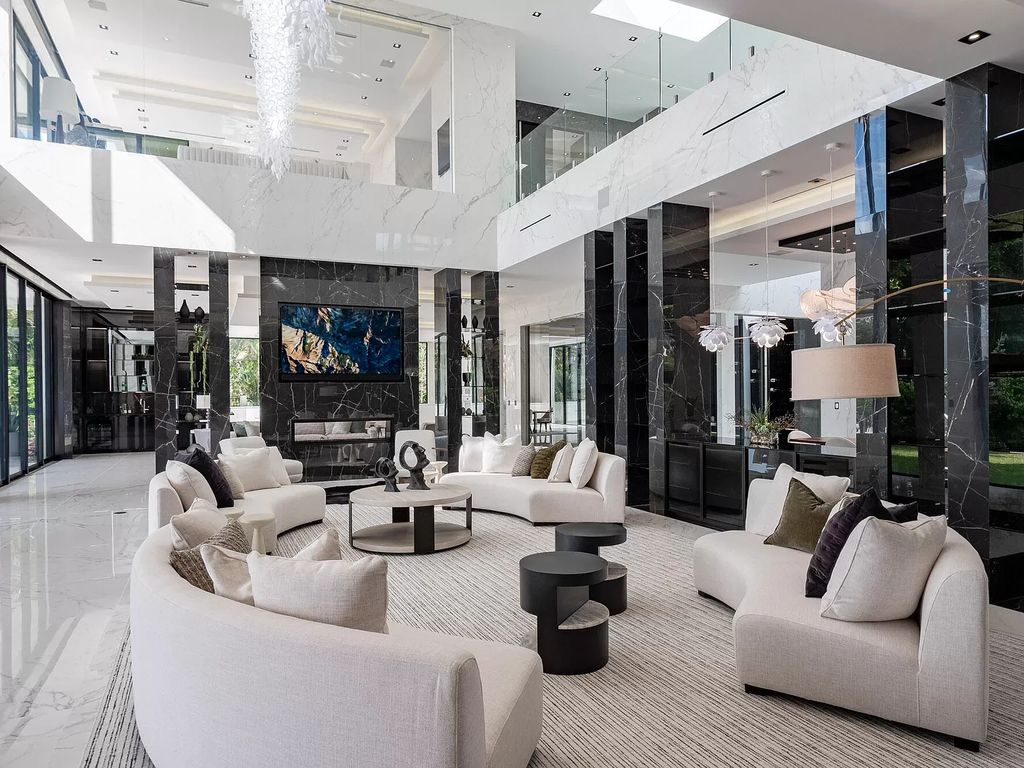 In a few words, black and white decor is classic, beautiful, and highly adaptable. An optical palette will constantly function, keeping your living space looking tidy throughout the seasons and the years. Any interior design may use it! The two hues' dramatic contrast makes it easy to draw attention to distinctive architectural aspects. The design will instantly accentuate and make a focal point out of beams, columns, and even door frames. Inside A Breathtaking Intracoastal Waterfront Mansion in Lake Worth Asking for $29,999,000
10. For A Softer Look, Choose A Dark Grey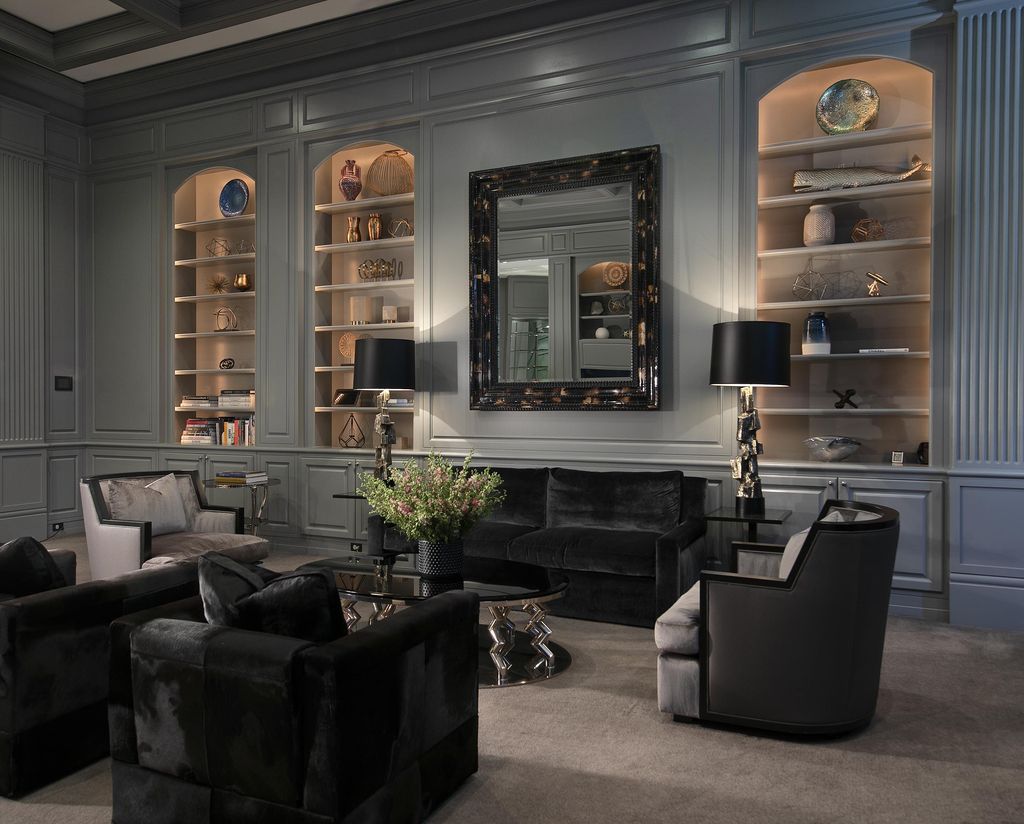 In dark settings, avoid using complete black since it might appear too harsh, especially if the lighting isn't exactly perfect. Instead, use gentler grays. We adore the atmosphere in this room; it is rather dramatic with painted ceiling and all four walls, but it also exudes a homey, modern farmhouse touch. The proper balance is achieved by combining the severe black design with the soft linen finish of the seats. $165,000,000! THE MANOR a Showplace of The Highest Caliber is Back Up for Sale
11. Living Room in Airy Black and Gray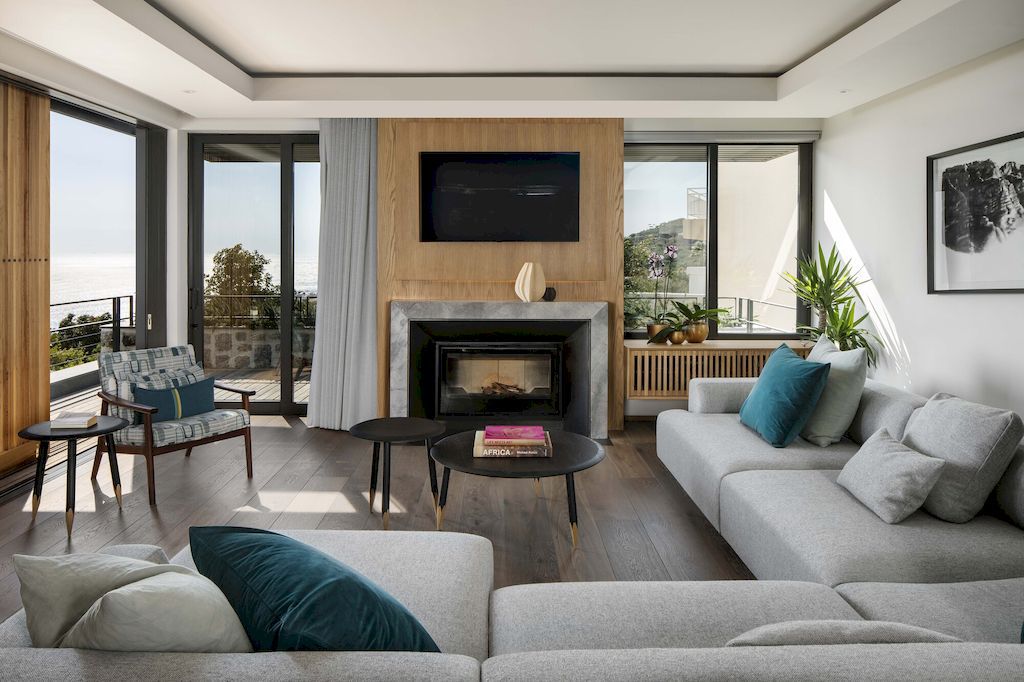 Your black and gray living room doesn't have to be ominous, audacious, or gloomy. These strong colors might occasionally help you produce an airy and energetic look. Pure white walls allow you to decorate a gray couch with a striking black window frame or a large area rug. An Exquisite Urban Architectural Home in West Hollywood for Sale at $6,475,000
12. Warm Black Living Room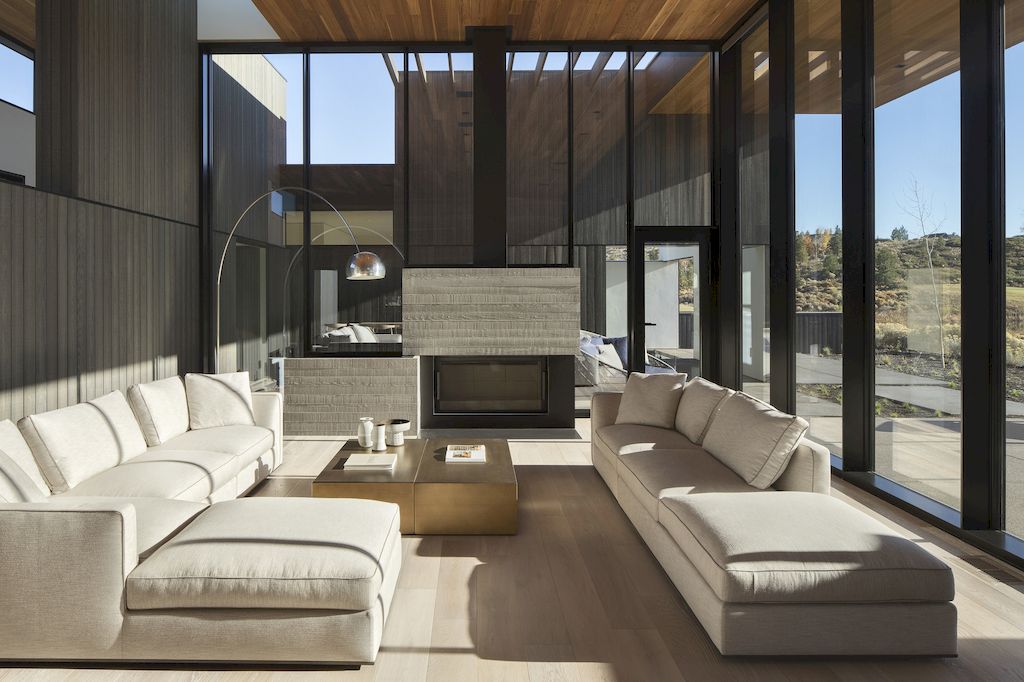 It's not necessary for your black and gray living room to be frigid, cool, elegant, and sleek. With the aid of warm neutral colors, warm rustic wooden textures, fresh indoor plants, and solid hardwood flooring, it may occasionally be pleasant, warm, and welcome. High Desert Residence in volcanic Oregon landscape by Hacker Architects
13. Minimalist Black Living Room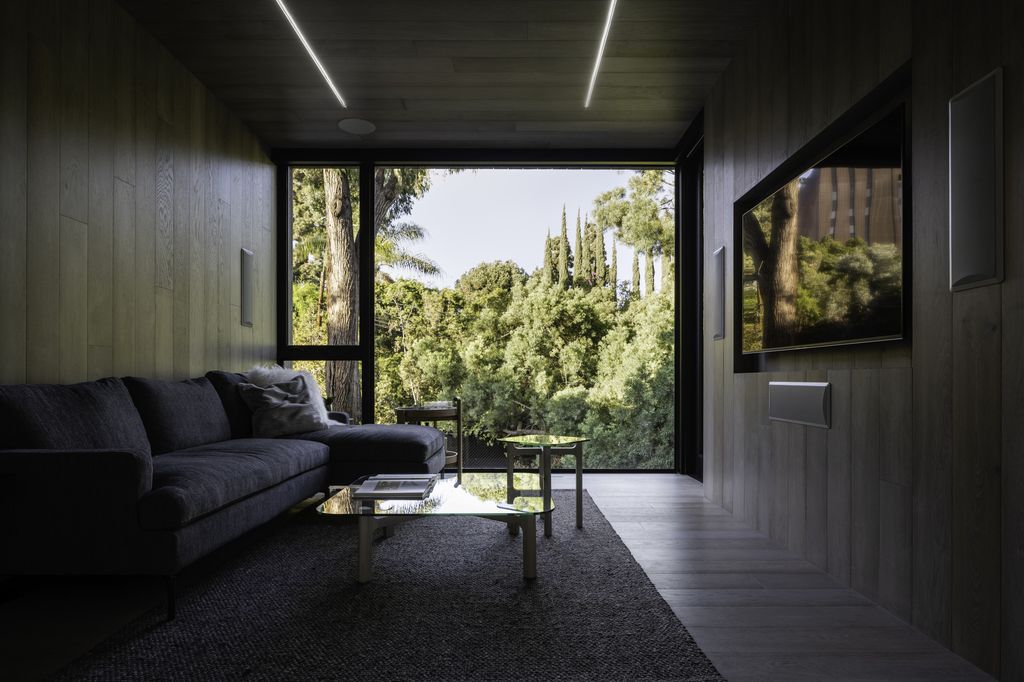 Black window frames, dark gray furniture, and dark hardwood flooring are timeless design elements. This contemporary gray and black living room is sleek and understated, something to look forward to. Bridge House Nestled in Nature in Los Angeles by Dan Brunn Architecture
14. Choose Stunning Contemporary Furnishings For A Black Living Room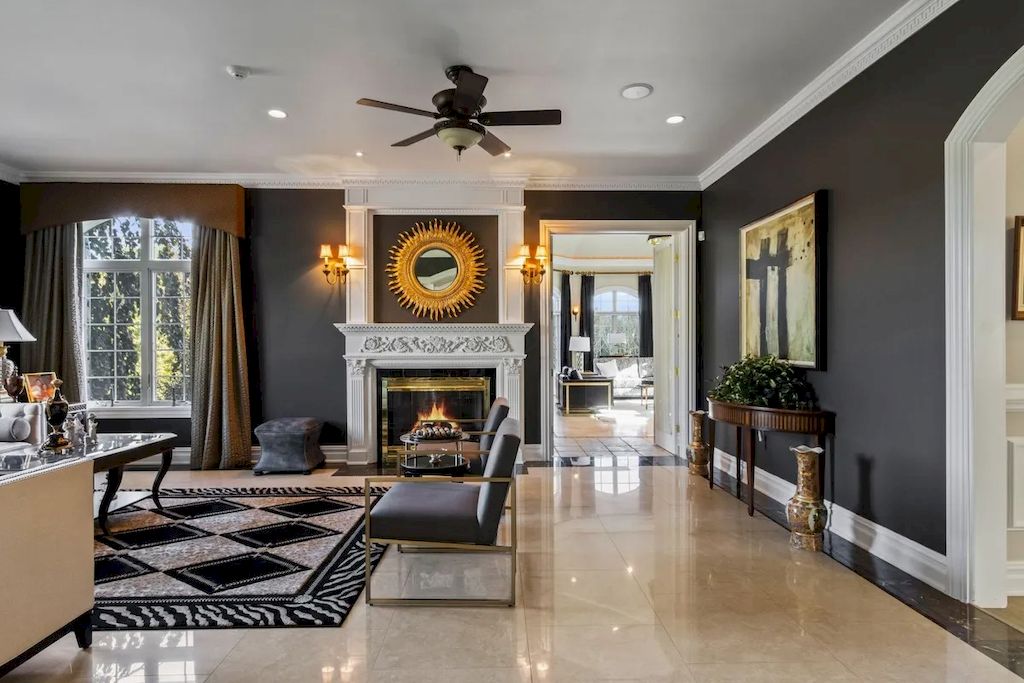 If you want your living area to have a striking, modern feel. If so, you may maintain highly sculptural, slender furniture that will heighten the drama of a dark room. The minimalist area works so well with the mid-century contemporary furniture, which provides a very funky contrast with the classic style of the room. The best advice from this all-black living room is to keep the flooring bright. If your flooring are made of wood, either sand them down to a very light wood tone or try painting them a paler, softer gray. This $3,495,000 European-Inspired Residence in Pennsylvania Features Wealth of Recreational
15. Warm Undertones Are Welcome To Lighten Dark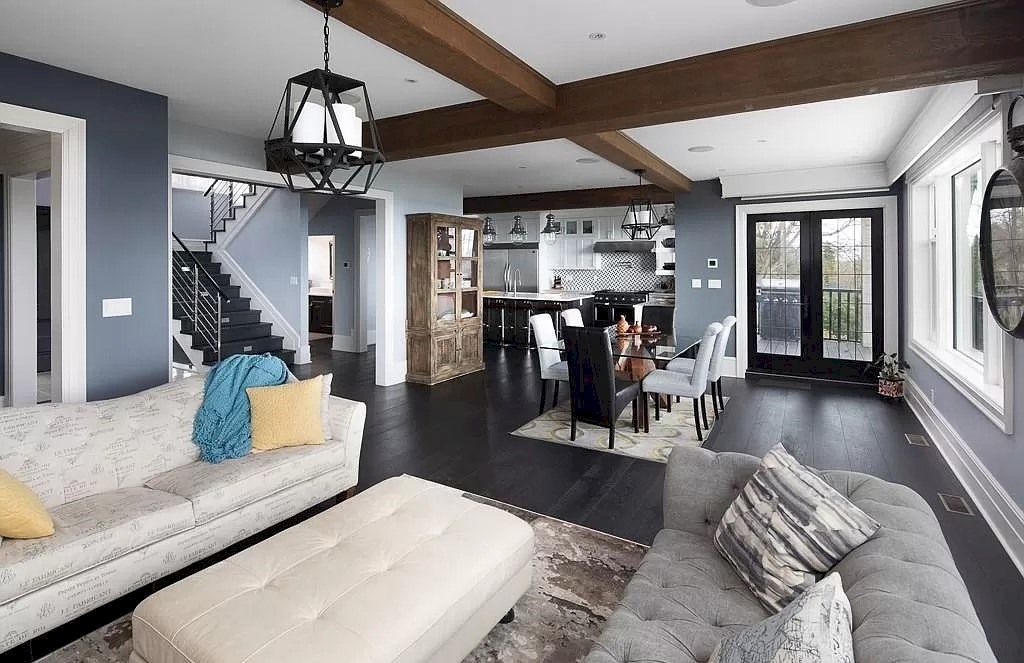 If you want warmth from your walls, black paint doesn't always have to be genuine black; it has many hidden layers. While the idea of painting a space in black or more subtle variations of "black" sounds intimidating. Think nuanced blacks instead than pure, pitch-black colors because they seem a little softer. Examples are the blue-based Railings and Black Blue, the smokier charcoal Off Black, and the warmer tones of Paean Black. Renovated Home in Oak Bay with Exceptional Quality, Superb Finishings Listed for C$3,500,000
16. To Make A Dark Living Room More Cheerful, Add Some Pink Accents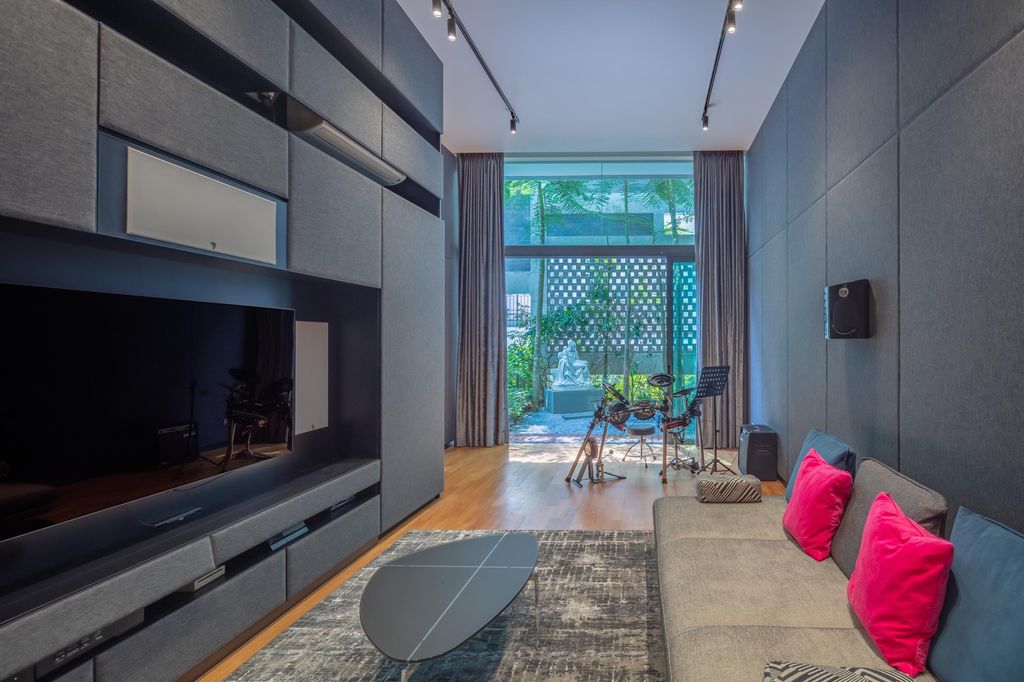 A dash of color may make black, which gives refinement to a space, more vibrant. This sophisticated black living room demonstrates how to use pink and black to add a touch of glitz and femininity to a place. Green Revelation House Enveloped by Lush Gardens by HYLA Architects
It's time to transform your living room into a welcoming but opulent area of your house. And the best color scheme for it is black and gray! This color scheme will never go out of style, whether you decide to paint the walls black and leave the furnishings in gray or vice versa. A black living room color scheme is lovely since it works well with almost any other hue. Decorating with black provides you with the blank slate you need to include texture in rugs, blankets, and other fabrics, vivid color bursts, or warmth with natural materials, like wood. You can read more about living room ideas green to diverse your living room ideas besides black shades.
More Ideas For Living Room:
---
Thousand of high quality images of Living room and more you can see at Livingroom Gallery.