Date of Publishing:
Architecture Design of D3 House
Description About The Project
D3 House is a unique and novel architecture designed by architect Pitsou Kedem. This three storey, 670 square meter property located in Herzliya Pituach, a luxurious beachfront neighborhood to the North of the city. Indeed, the shape of the exterior created with impressive innovative designs that link the modern interior with the state of the art equipment system.
While the upper section of the property presents a facade of exposed architectural concrete, the ground floor is fronted by a wall of white aluminum panels, made up of a repetitive graphic pattern of tessellating triangles. The house's front door, also clad in the white aluminum panels, camouflages into the facade. Besides, the perforation in the white aluminum envelope allows light and shadow to play through. Hence, creating in an otherwise calm space a lyrical and harmonious poetry that seemingly dances across the walls of the building and breathes life into the silent walls.
In addition to this, a large patio at the center of the house forms an interesting meeting point between the internal spaces and the exterior, providing an interlude between being inside the house and the courtyard. Once insides, the interior spaces feature clean lines and luxurious finishes. Such as the bathroom, which is clad in blue marine colored Blue Lava stone from Brazil. Furthermore, much of the furniture bespoke and made by furniture brand Object. Including the brass and onyx bookcase in the dining room, which designed by architect Irene Goldberg.
The Architecture Design Project Information: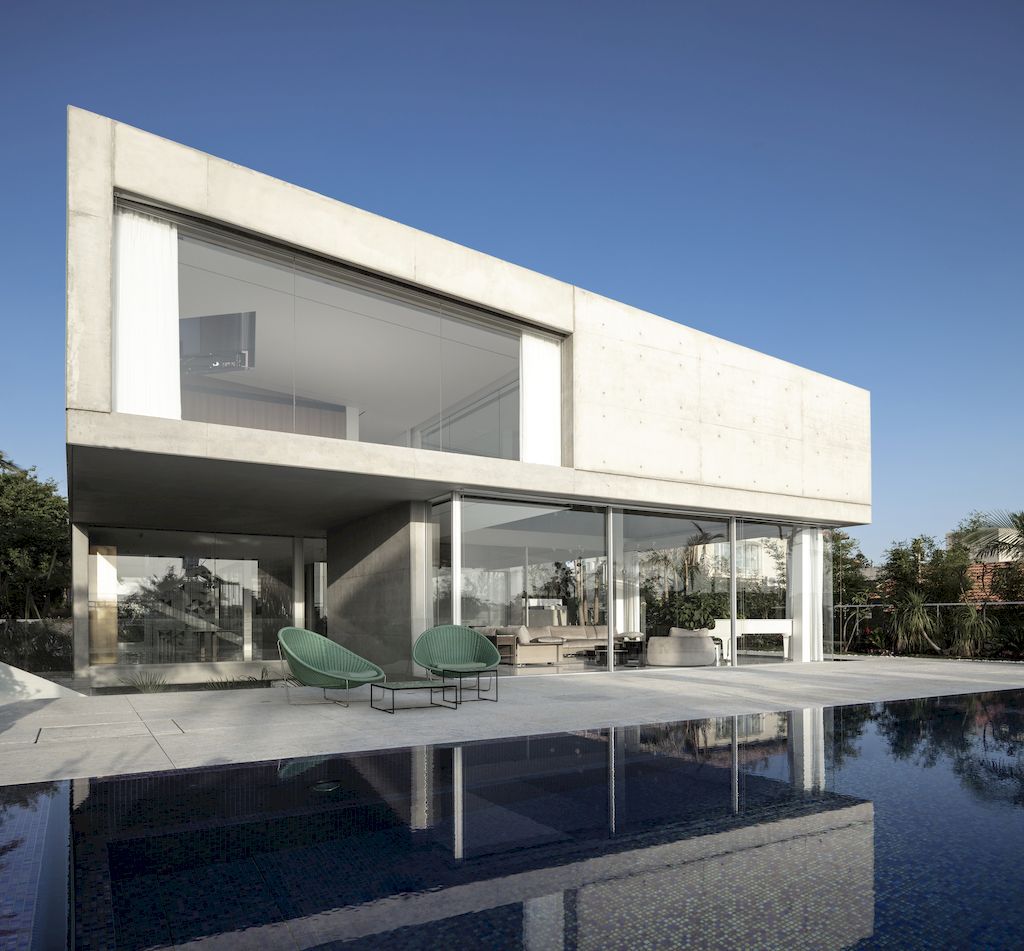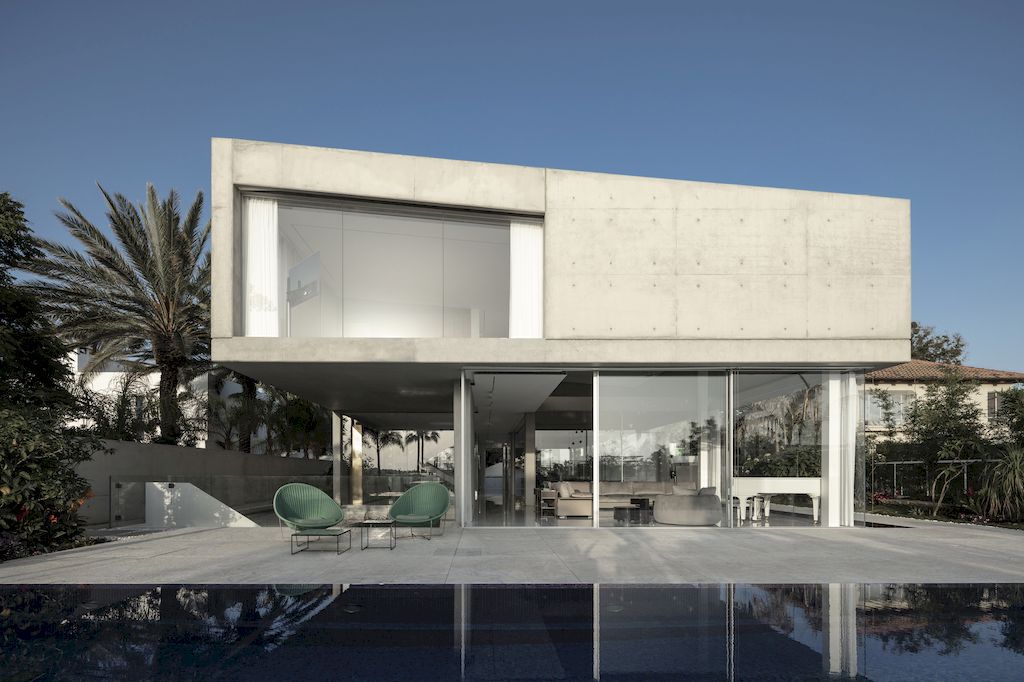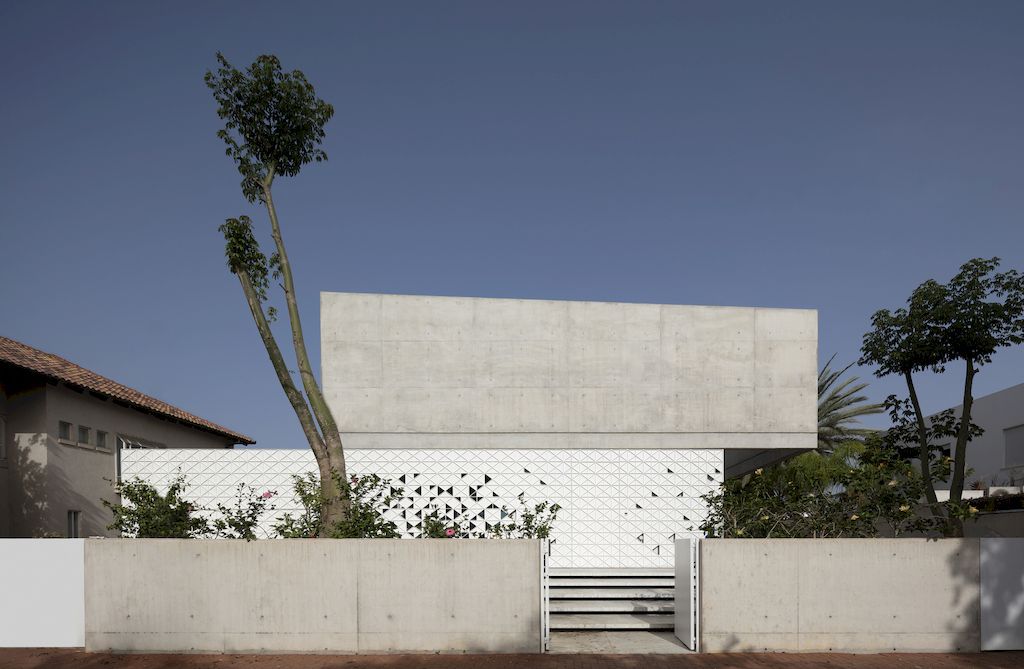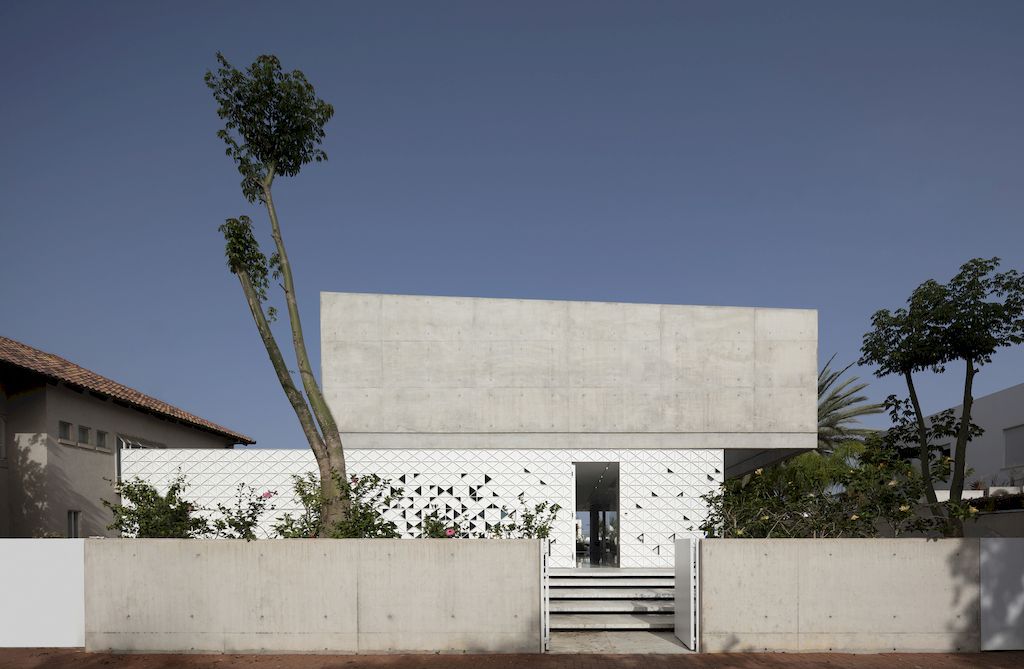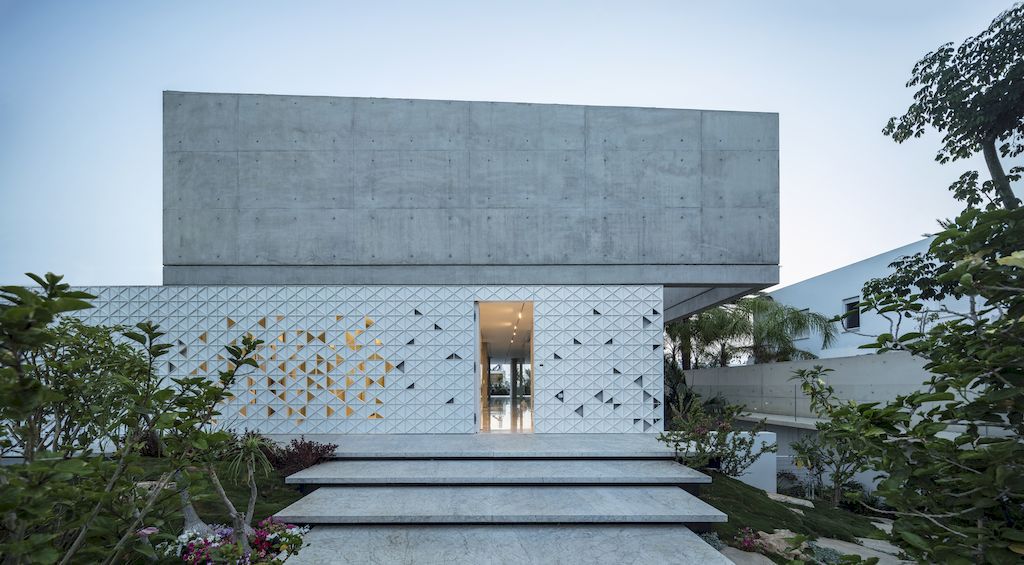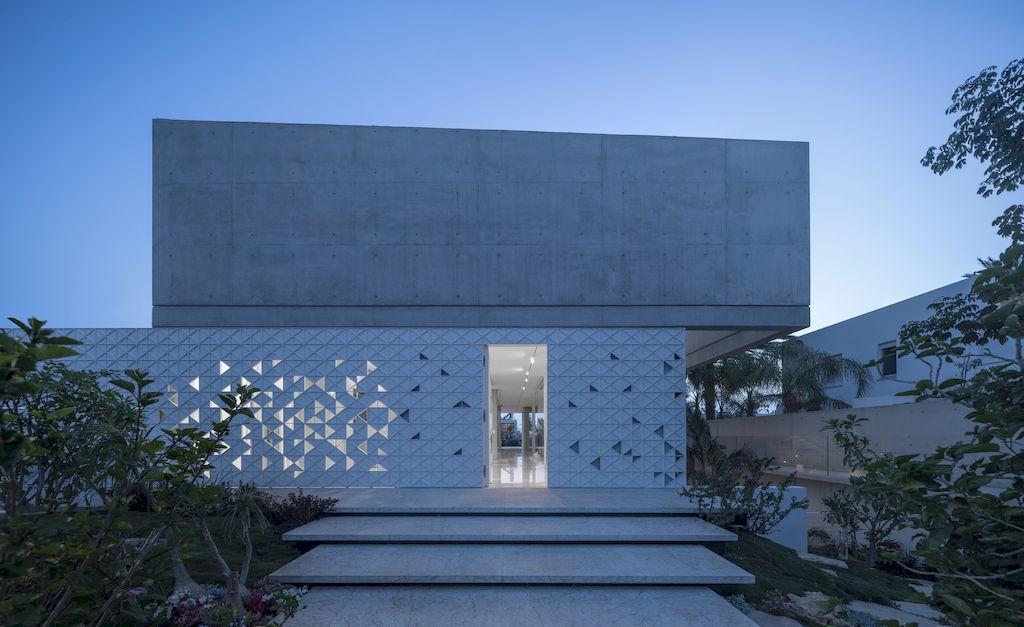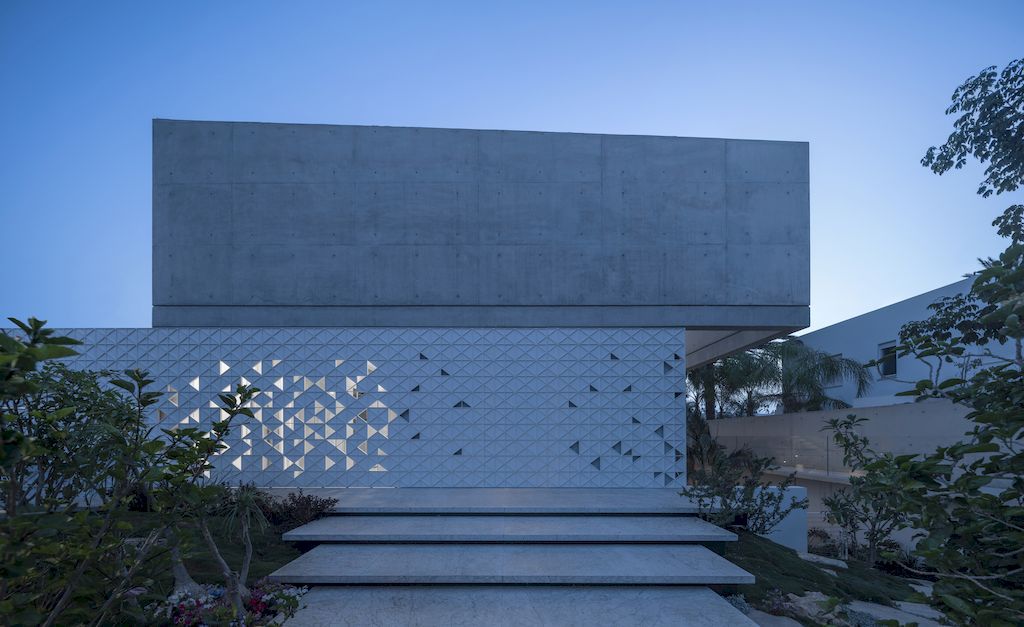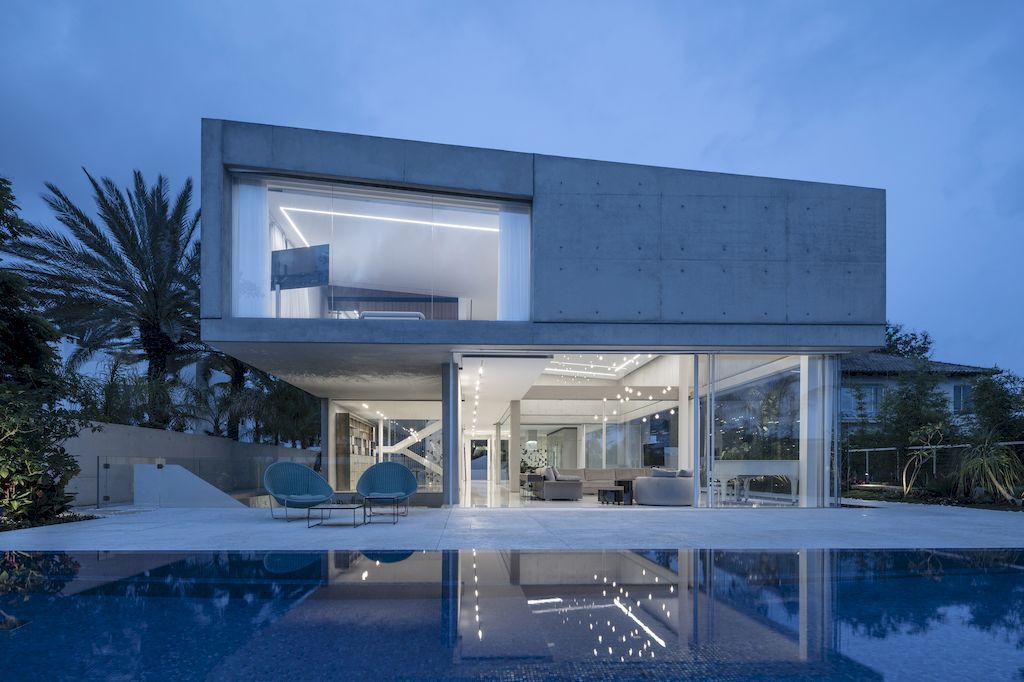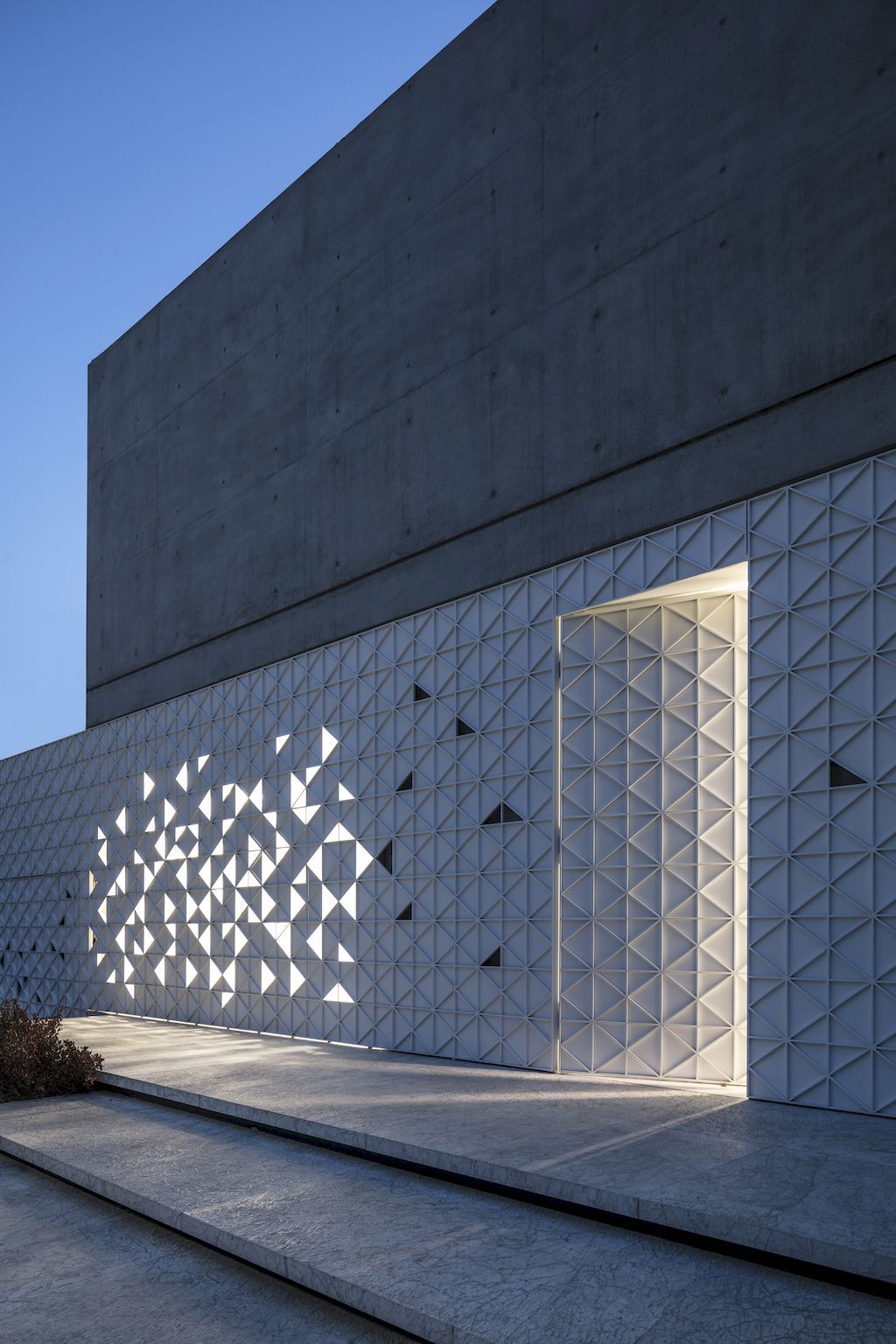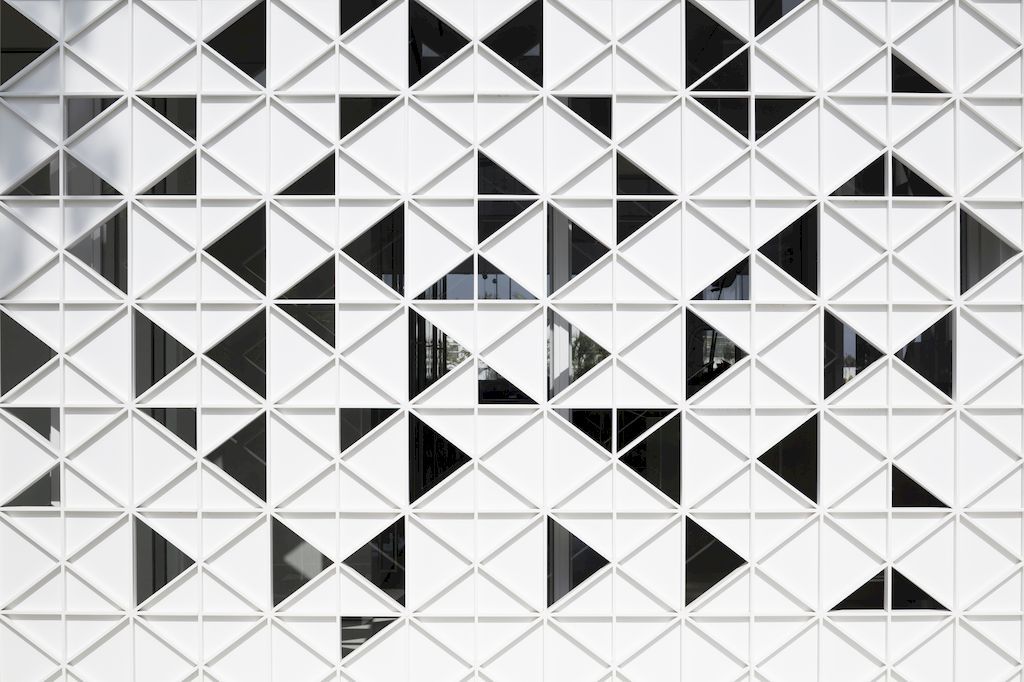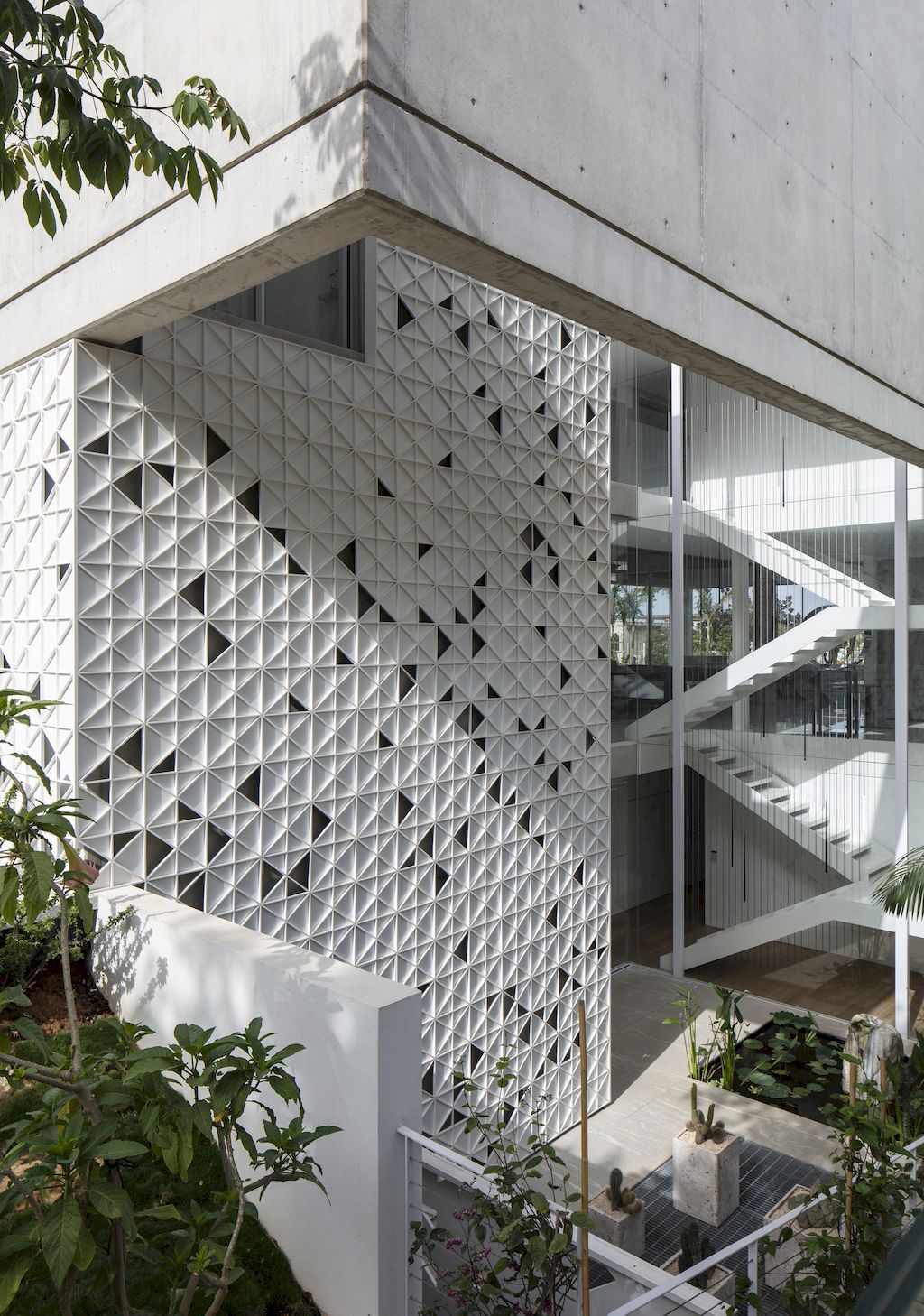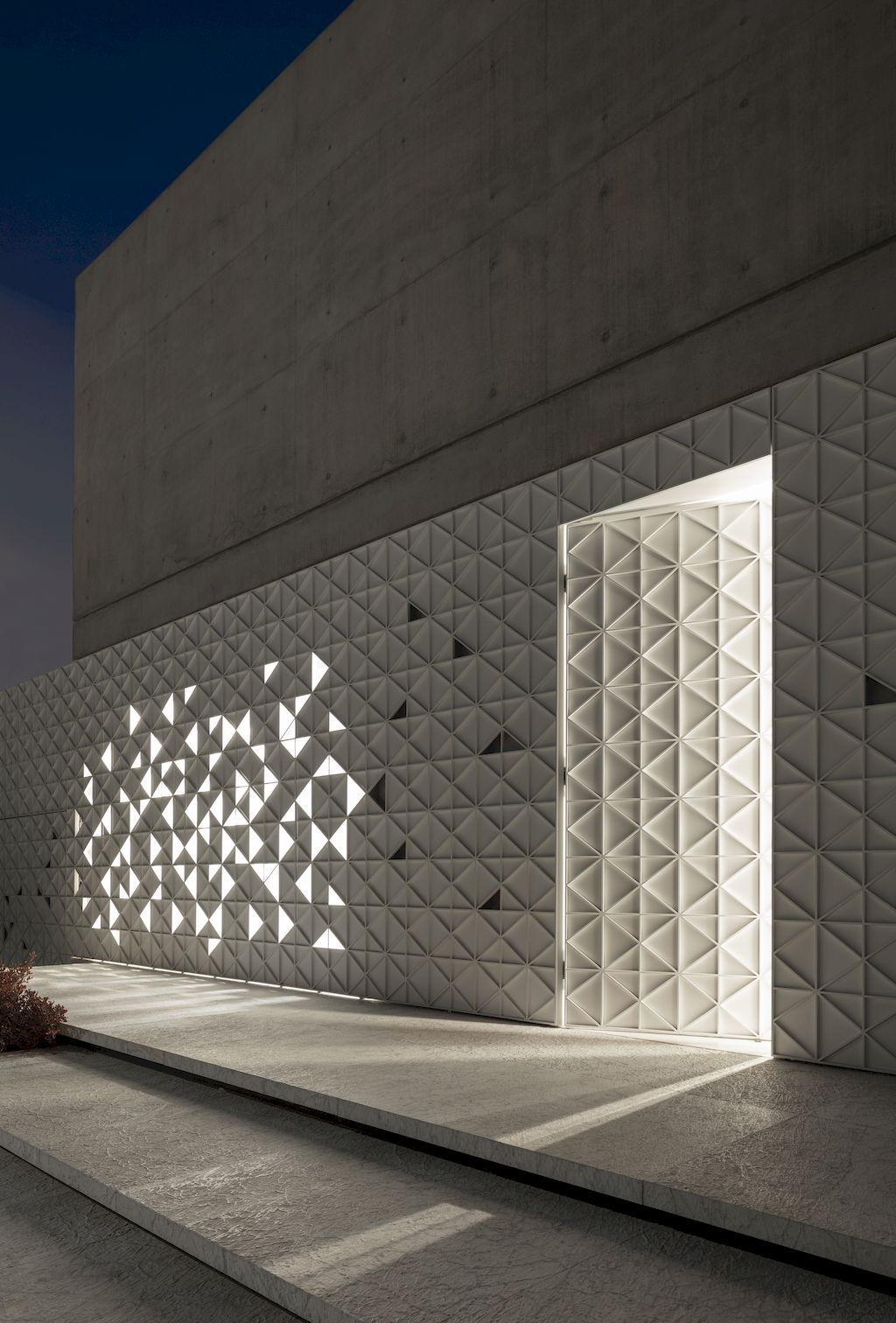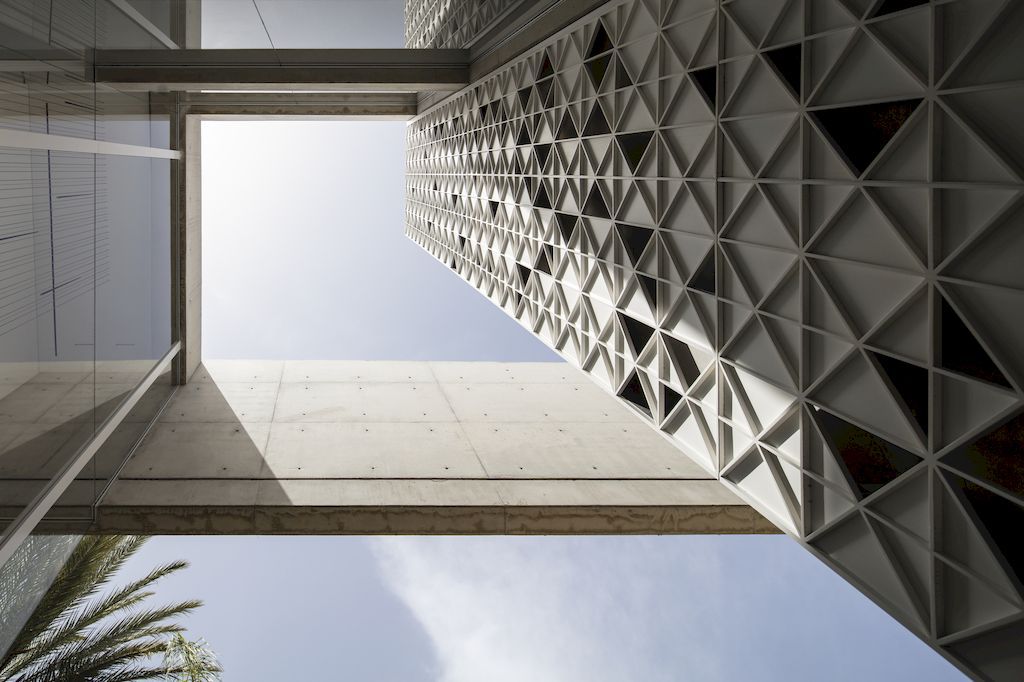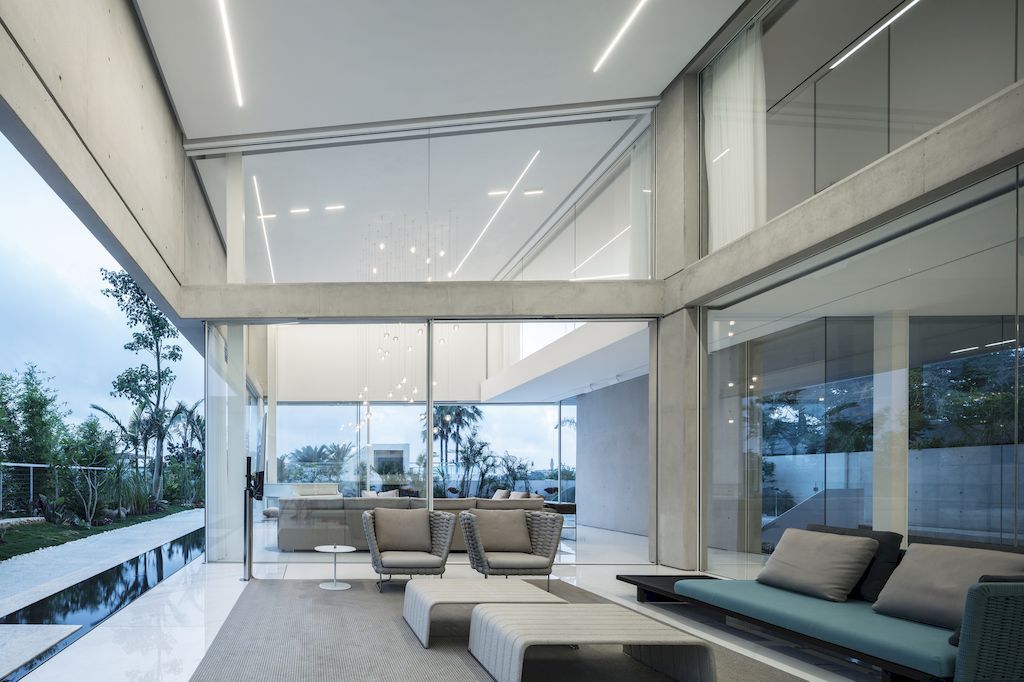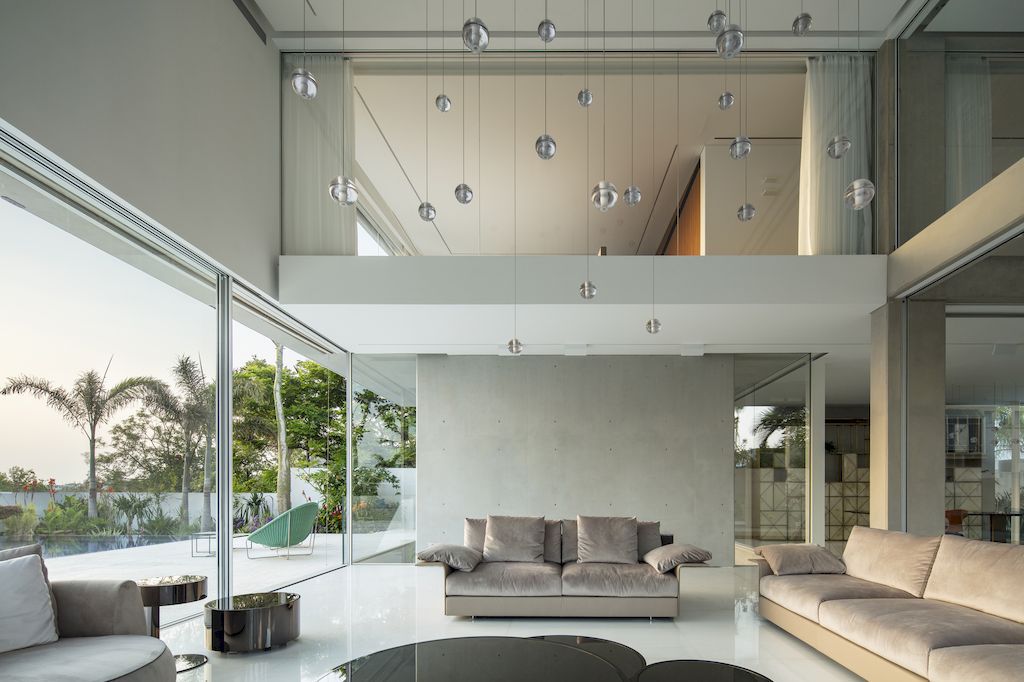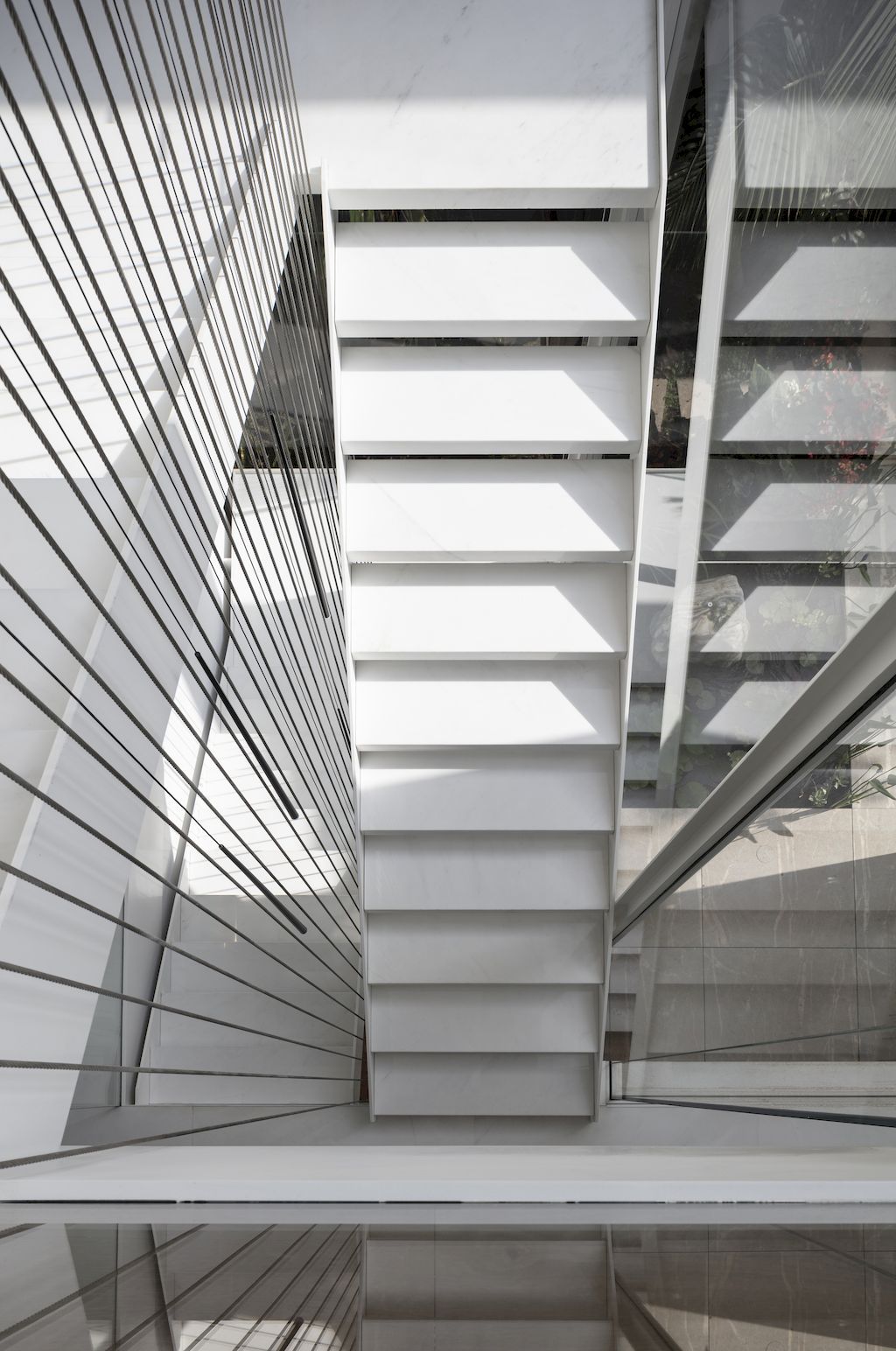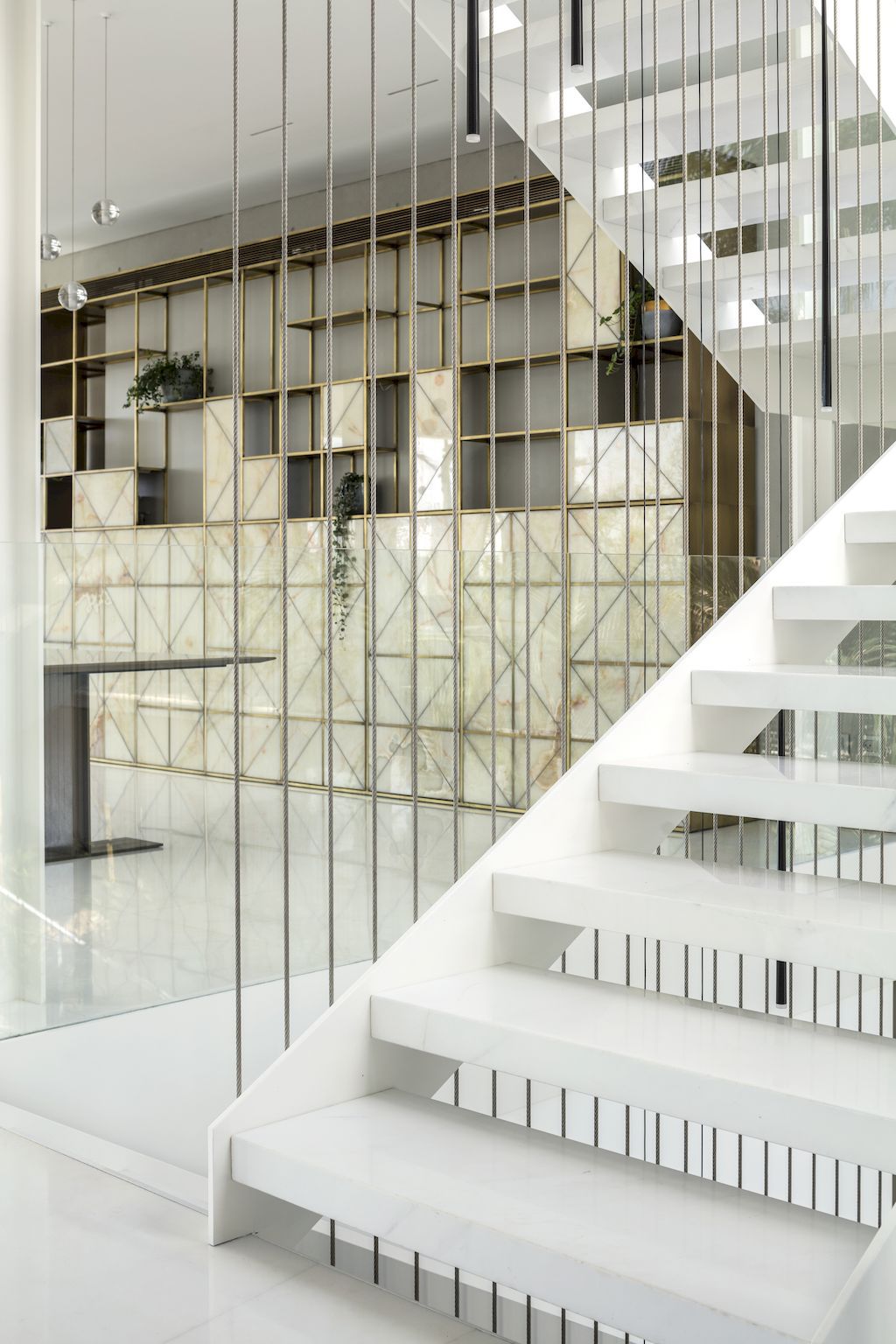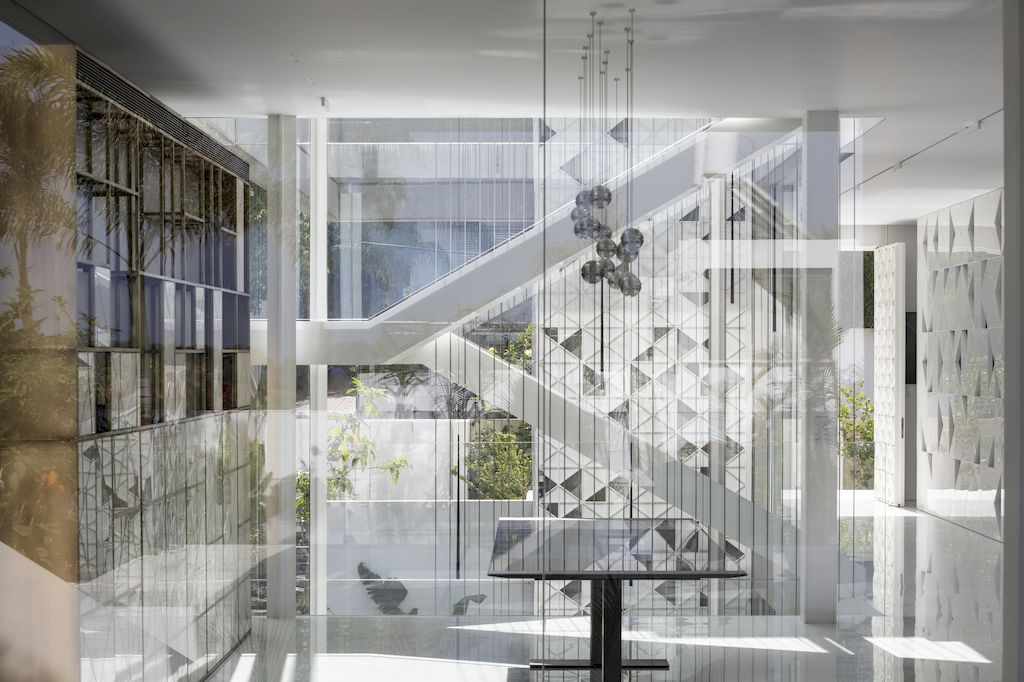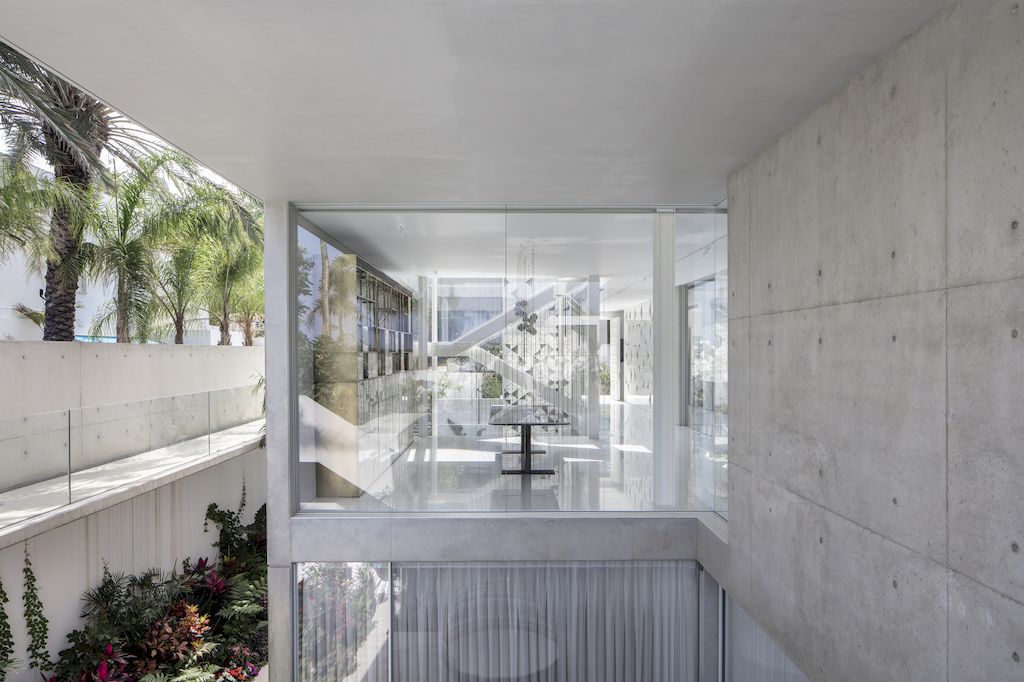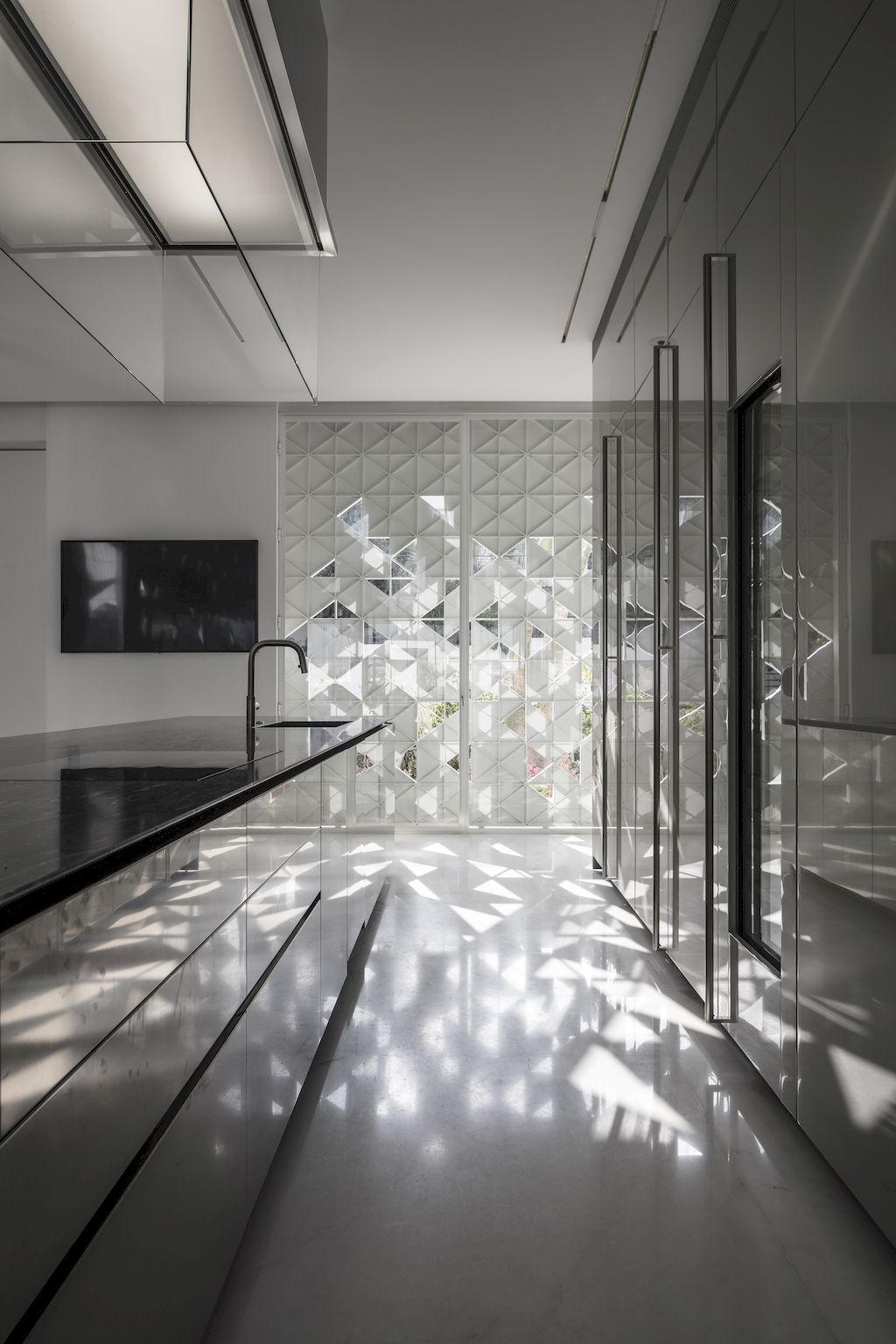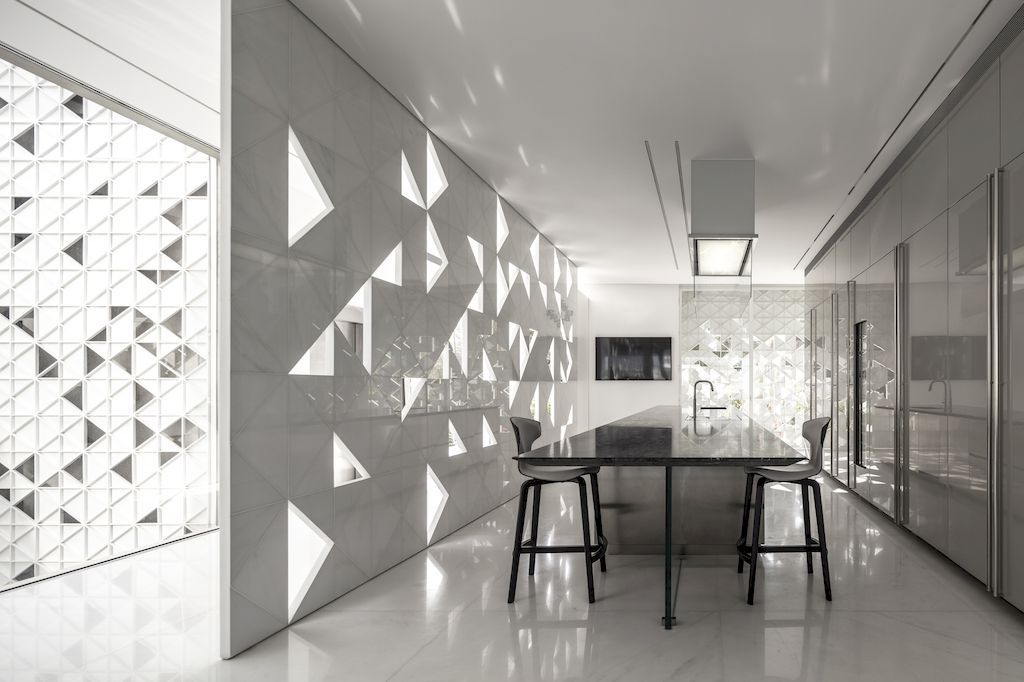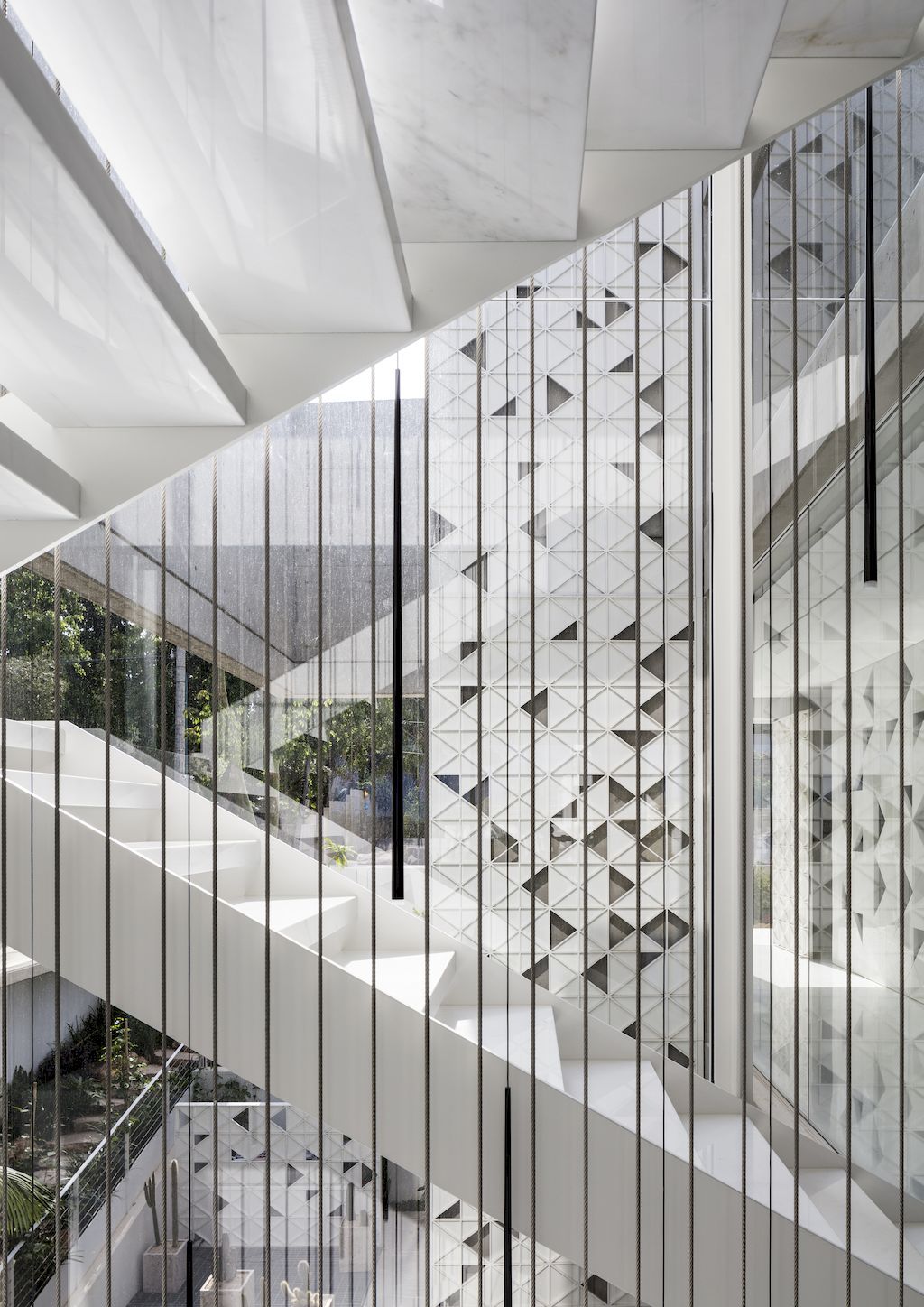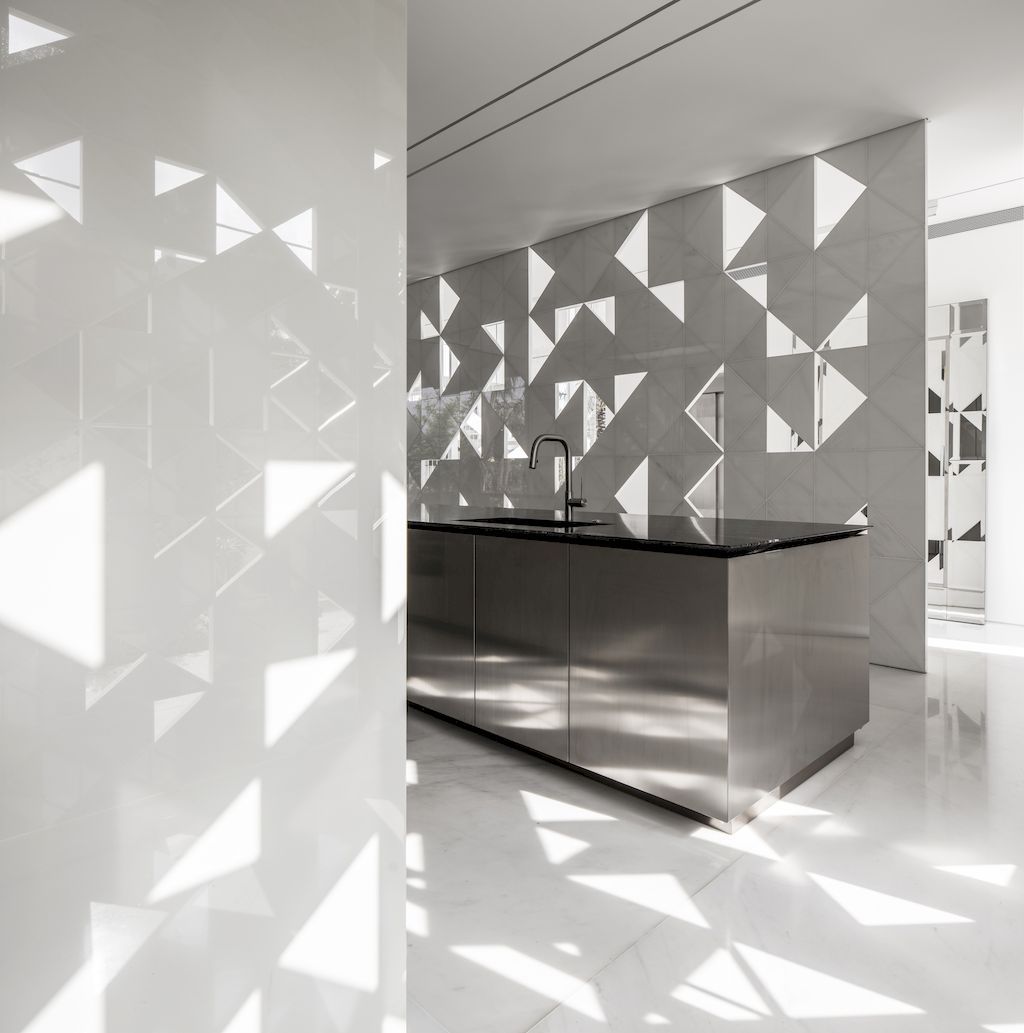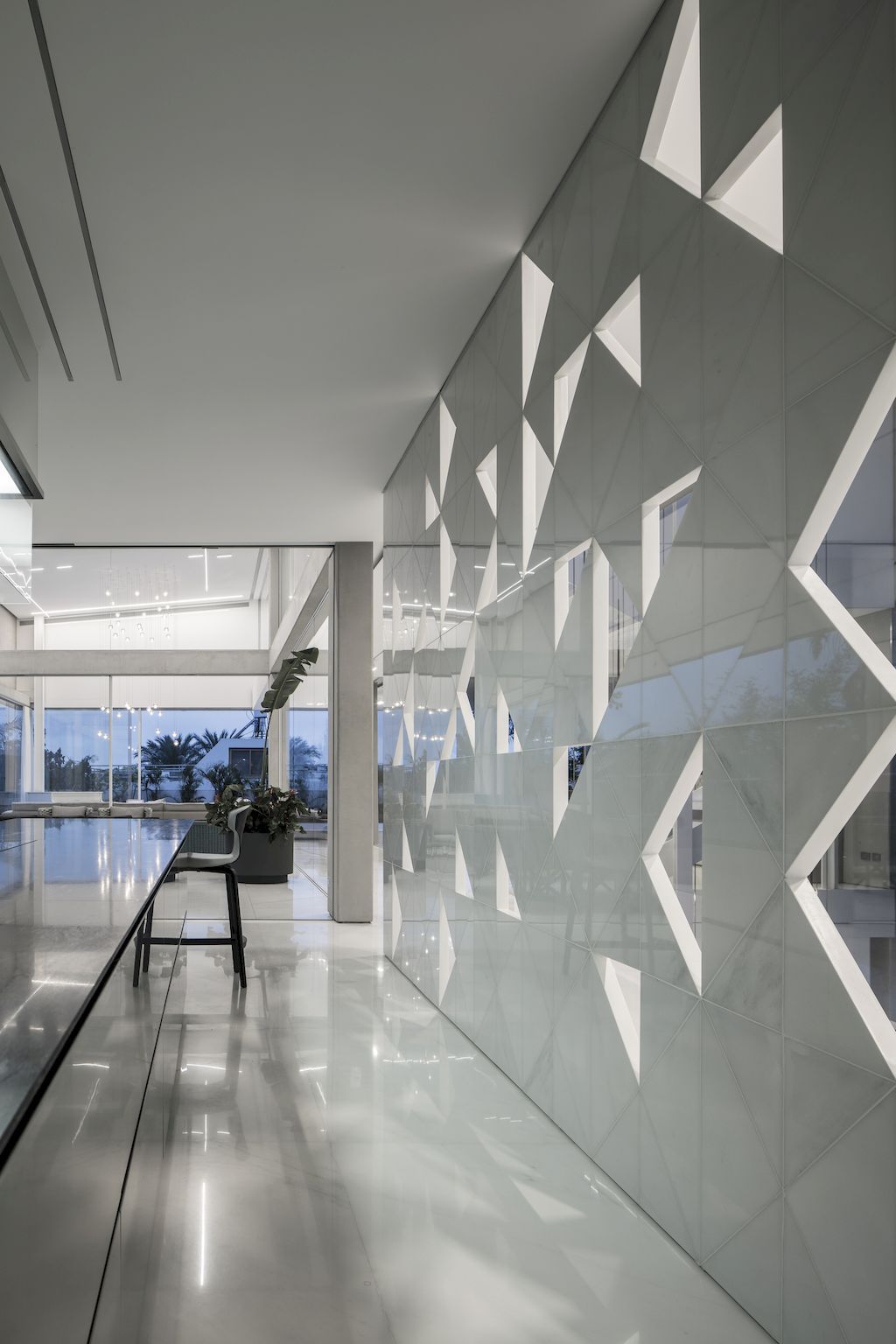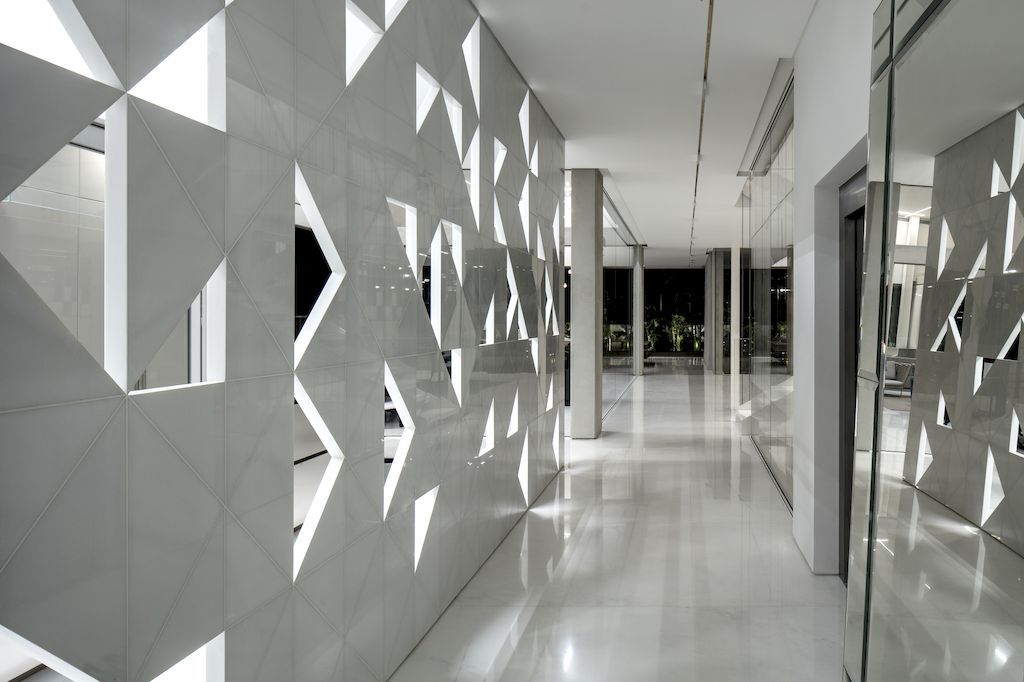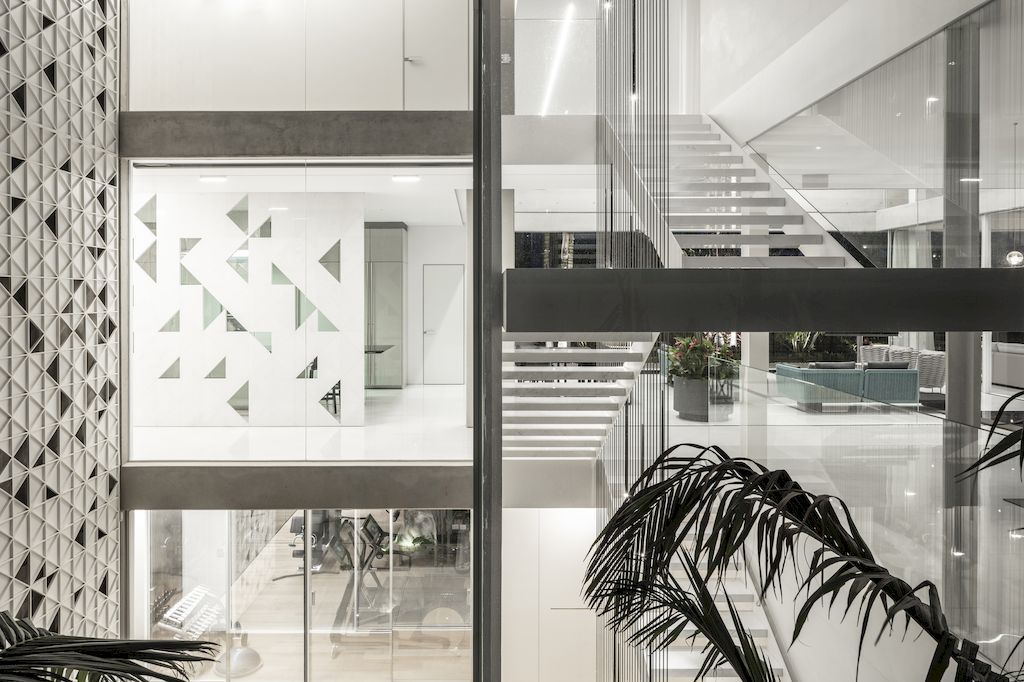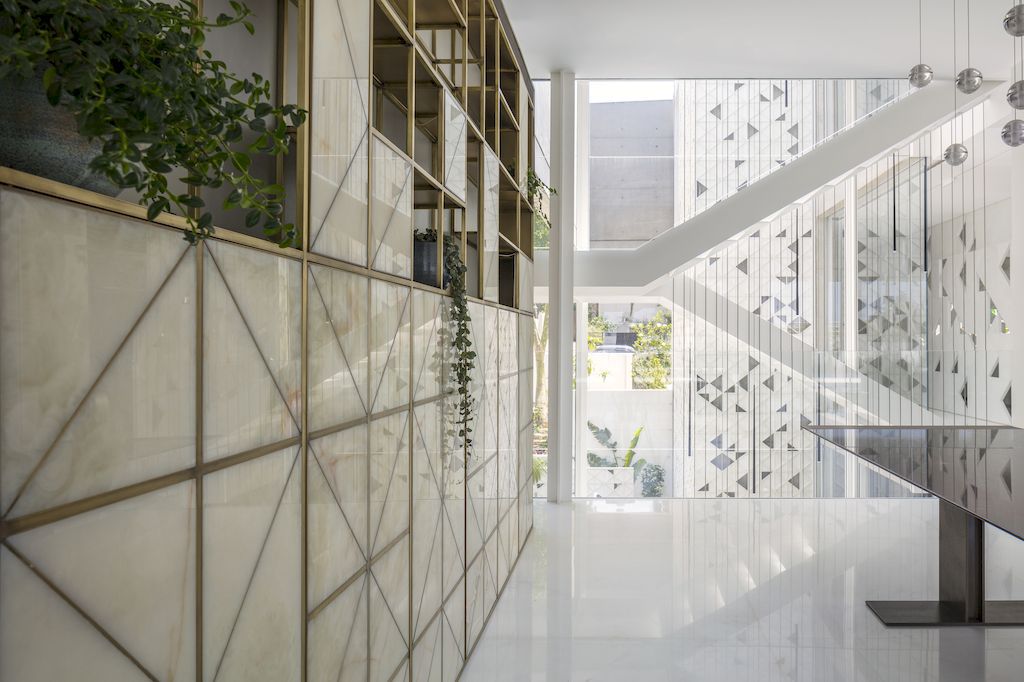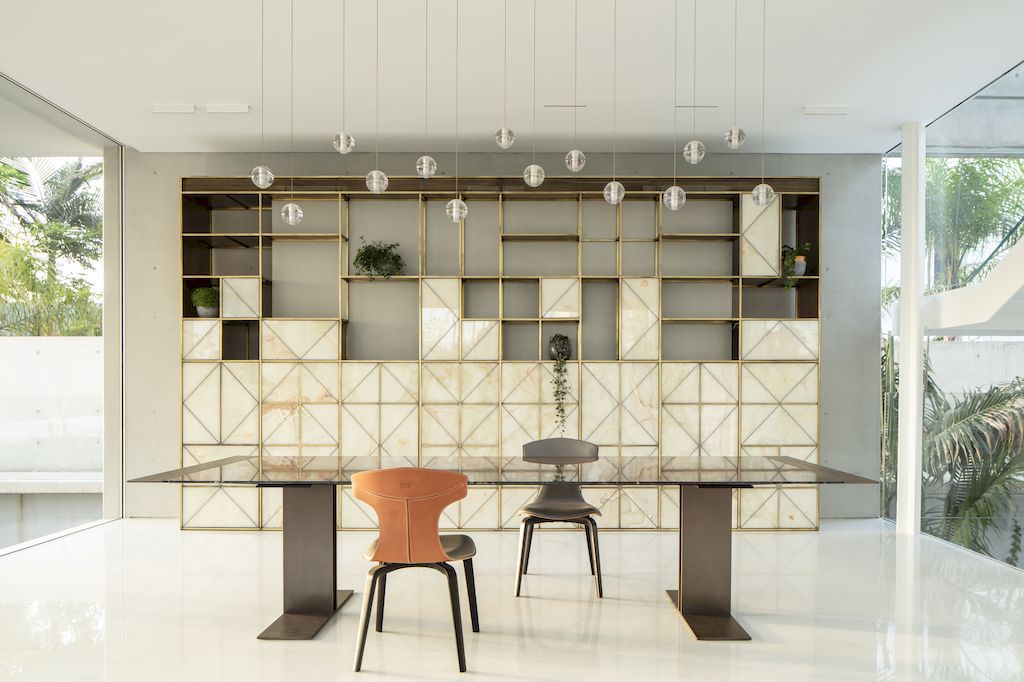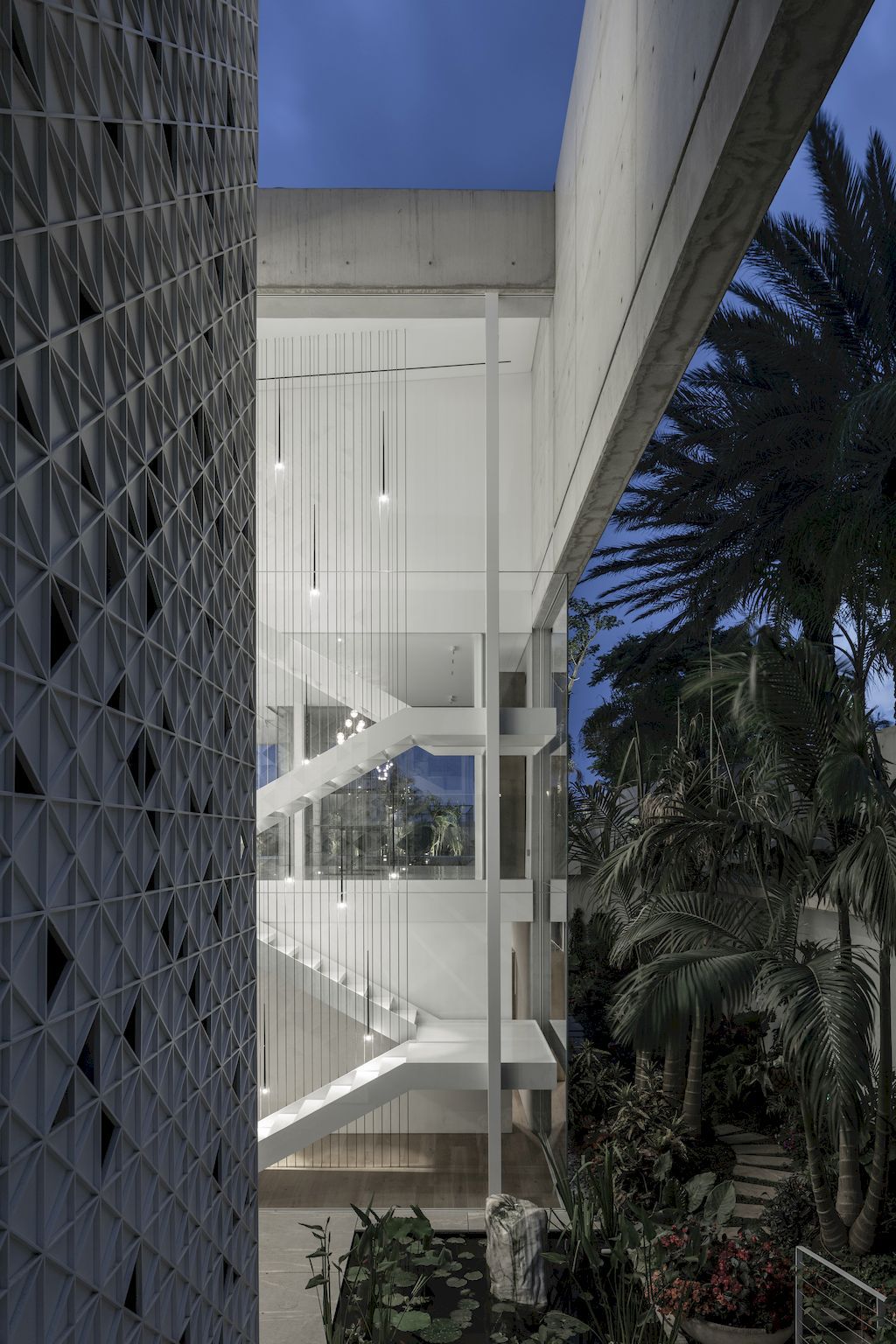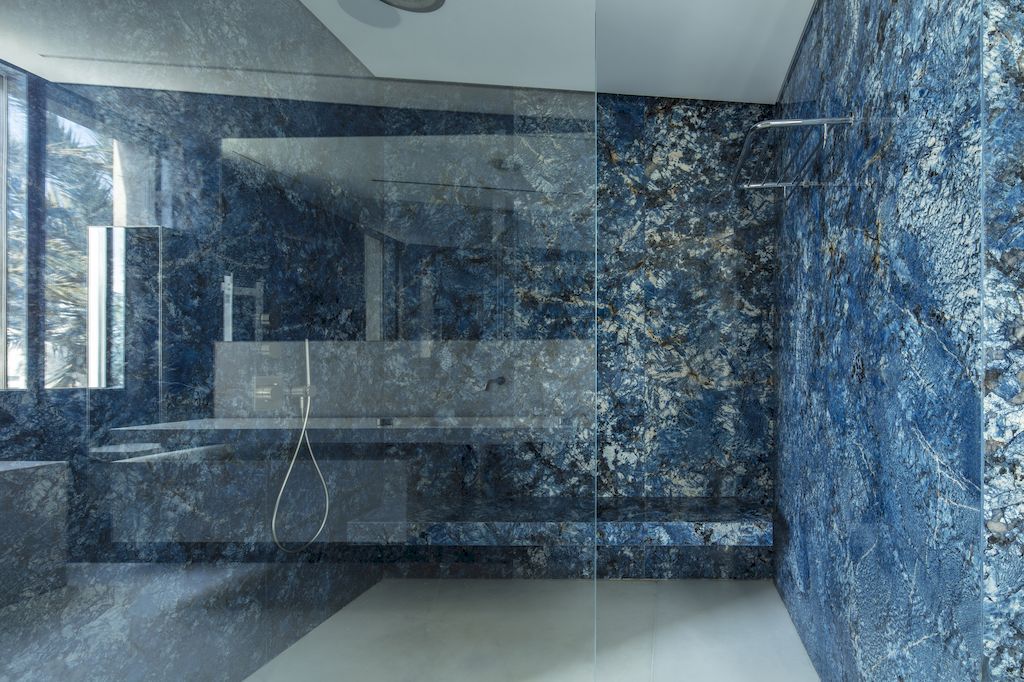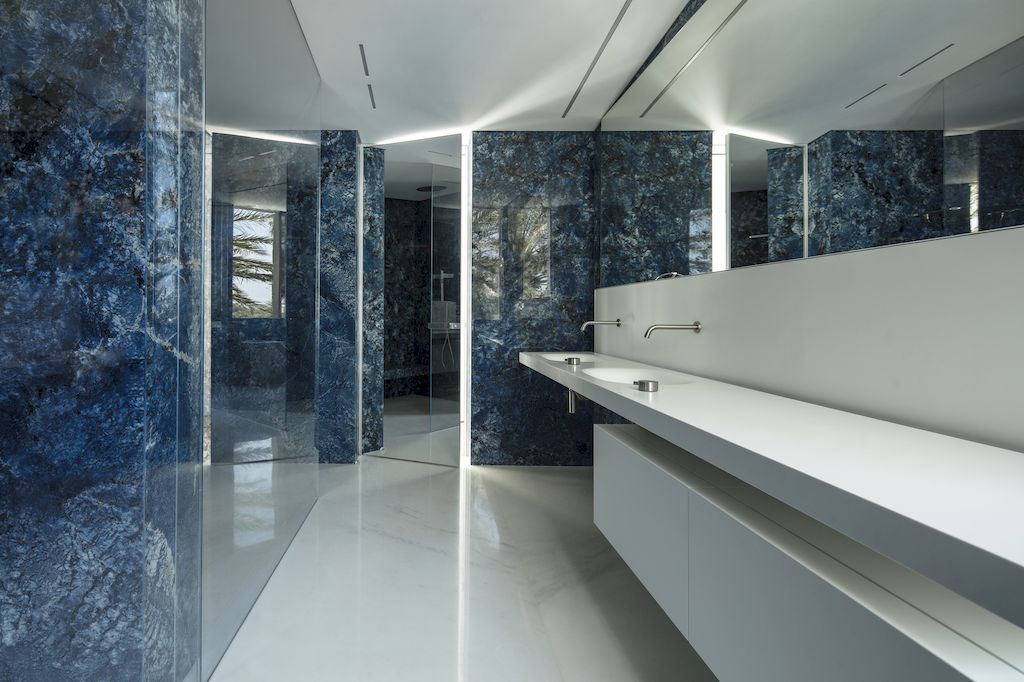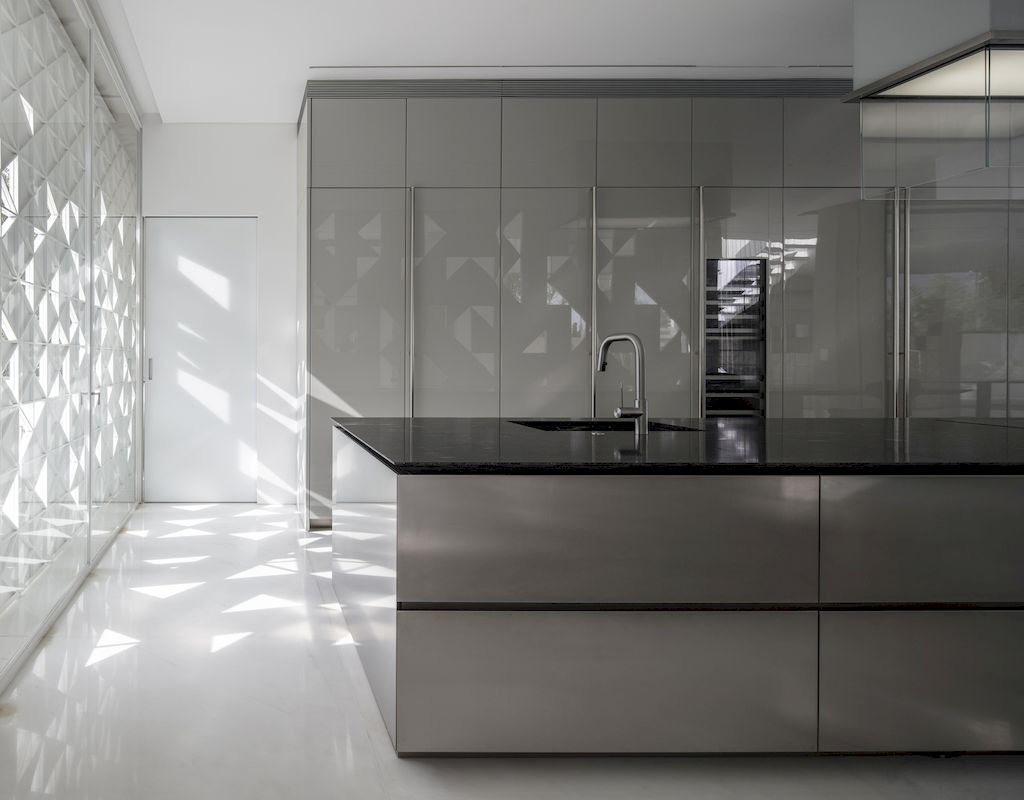 The D3 House Gallery:
Text by the Architects: A private family home located in an urban environment.  The façade of the house is in fact a kind of sealed "box" composed of two large volumes. One horizontal façade made up of a white aluminum skin with a repetitive graphic pattern in which, here and there, in a seemingly random way, cut-out openings allow a glimpse into the house during the day and the filtering out of artificial light at night. The upper volume constructed of exposed architectural concrete to create a tension against the lower volume.
Designed to create a sense of flight, the upper volume positioned on a diagonal and emphasizes the contrast between it and the perforated white aluminum façade. The envelope facing the street forms a minimalistic and polished object that accentuates the monastic and condensed language chosen by the designer. The street-facing façade stands out because of its restraint, successfully fulfilling its purpose of creating a precise and sleek appearance.
Photo credit: Amit Geron| Source: Pitsou Kedem Architects
For more information about this project; please contact the Architecture firm :
– Add: 39 Maze St. Ground Floor Tel-Aviv
– Tel: 03.6204493
– Email: office@pitsou.com
More Projects here:
---