We are all aware that grey and white living room ideas always convey a sense of lightness and calm. It's a more appealing design for a minimalist and modern product that fits today's hectic lifestyle. Grey and white can be monochromatic or mixed with a special accent, depending on your preferences.
1. Mix Patterns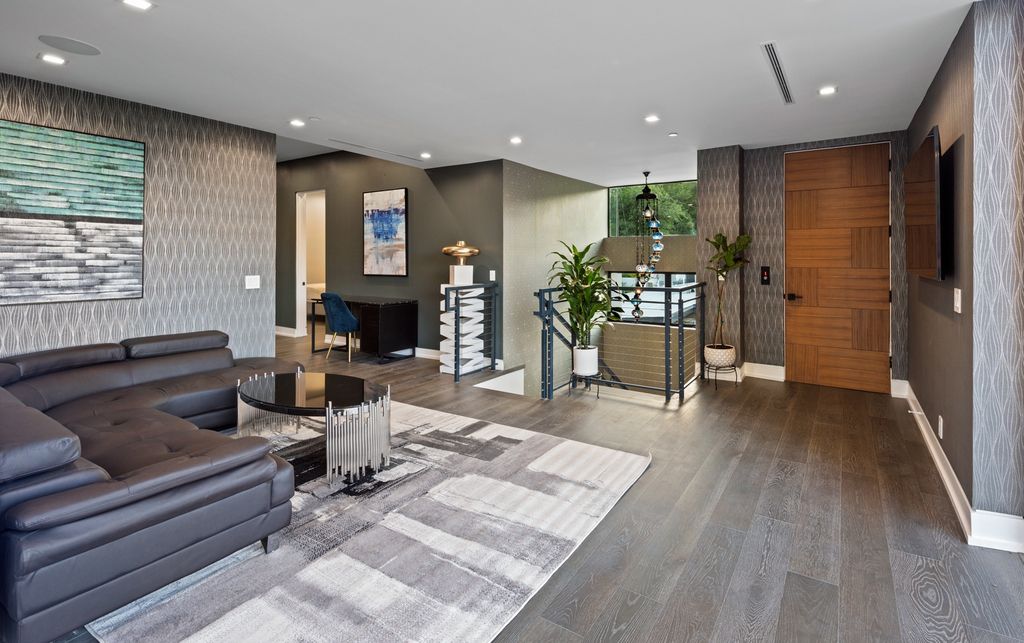 Grey is the ideal backdrop for incorporating textures such as stripes, dots, and other fun designs into your room to add some oomph. The honeycomb motifs on the grey wall add depth to this space while breaking up the monotony of a minimalist living room. The grey and white rug is just what you've been looking for. A Brand New Modern Home in Los Angeles with The Picturesque Surroundings hits The Market for $6,390,000
2. Stick with the same Window Frames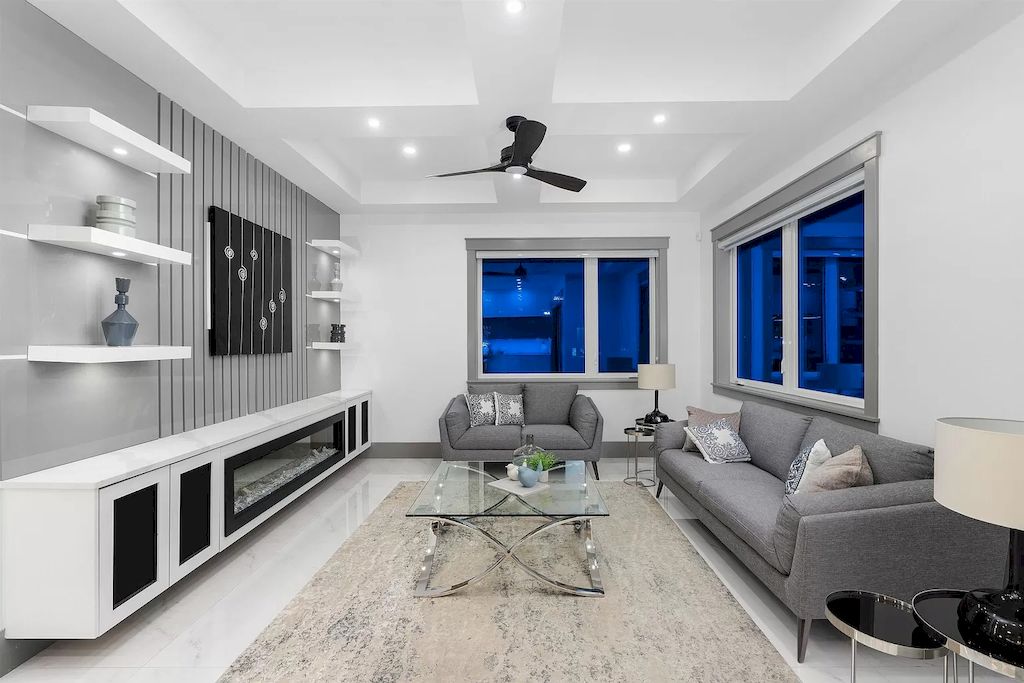 Glossy paint is essential when designing your modern paradise. Designers advise choosing the same color for the sofa fabric and the wall paint to create a unified space. The arrangement principle and care are reflected in the frames of each corner of the room, from the window frames to the wall-mounted shelves. Shiny metal furniture is a must-have in the modern grey and white living room ideas. Luxury & Tranquility Meet in This C$4,298,000 Brand New House in North Vancouver
3. Industriality on the Grey Wall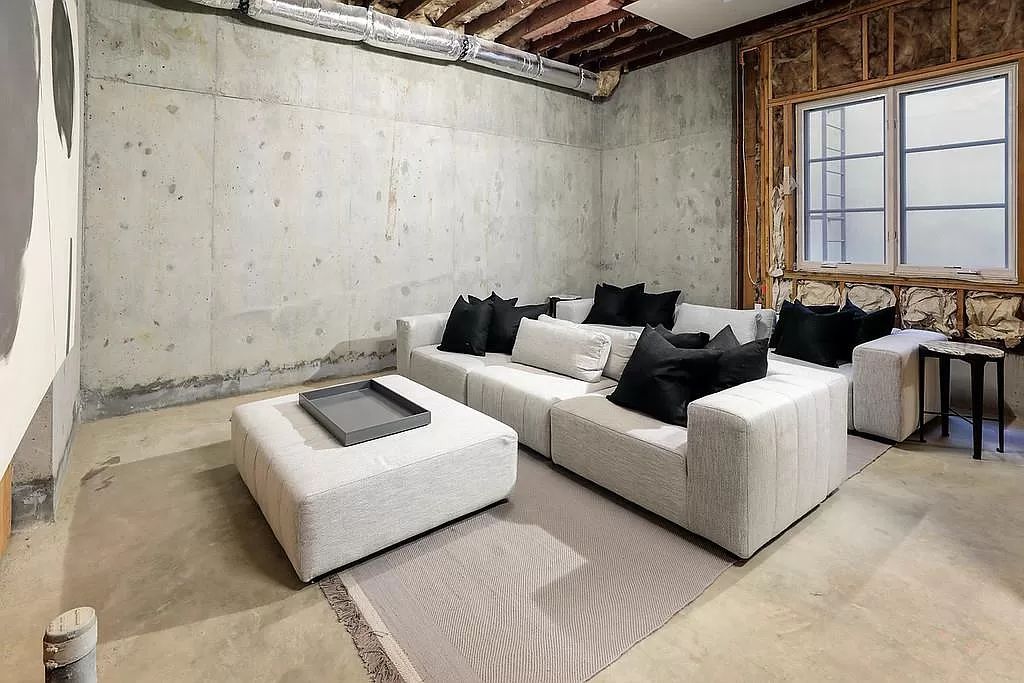 Use neutral colors like grey and white for large pieces of design to keep a room simple. Colors can be mixed in a modern, classic, or even industrial style, depending on your preferences. In contrast to the comfort and lightness of the pure white sofa, clever dark grey dots on the cement wall provide strength. Only the wooden door frames are nature-inspired elements in the living room, adding a sense of lightness. One of A Kind Home in Menlo Park with A Huge Backyard Perfect for Entertainment Asking for $26,499,000
4. Vary Shades of Grey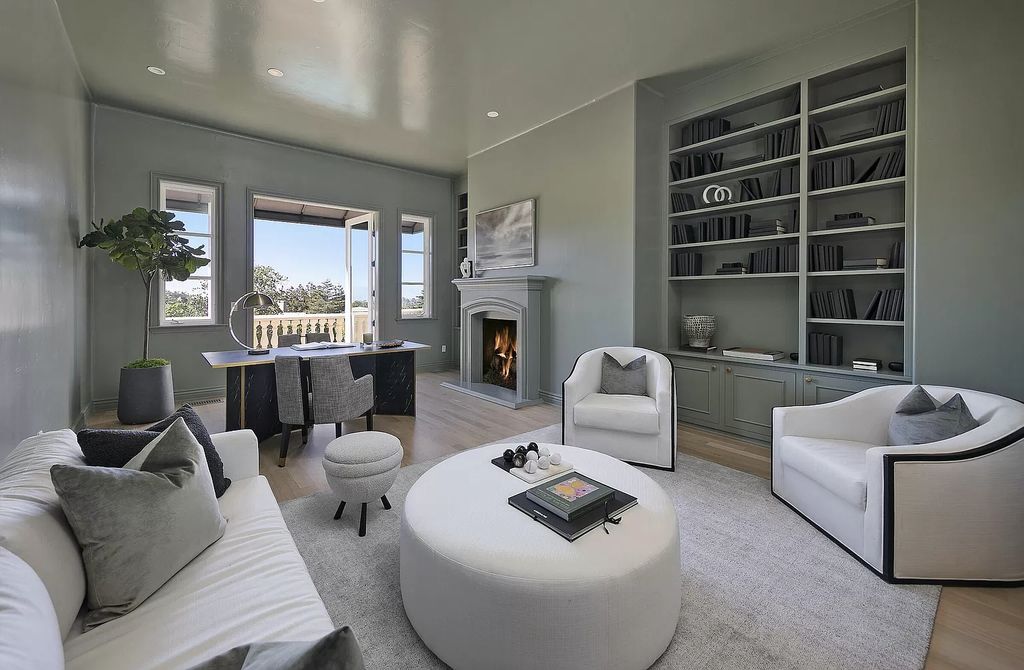 Grey and white can create a sense of calm, but if you don't actively play with the colors, it will become a boring room. While consistency is always important when designing any space, make sure that the varied use of grey shades keeps things interesting while still maintaining a sense of harmony balance. The different shades of grey in this design represent the implicit division between the area boundaries. The homeowner did not forget to prepare grey pillows for the elegant white sofa to ensure uniformity. This $15,750,000 Traditional Mediterranean Villa in Santa Barbara with Jaw Dropping Mountain Views
5. Create Depth with Partition Wall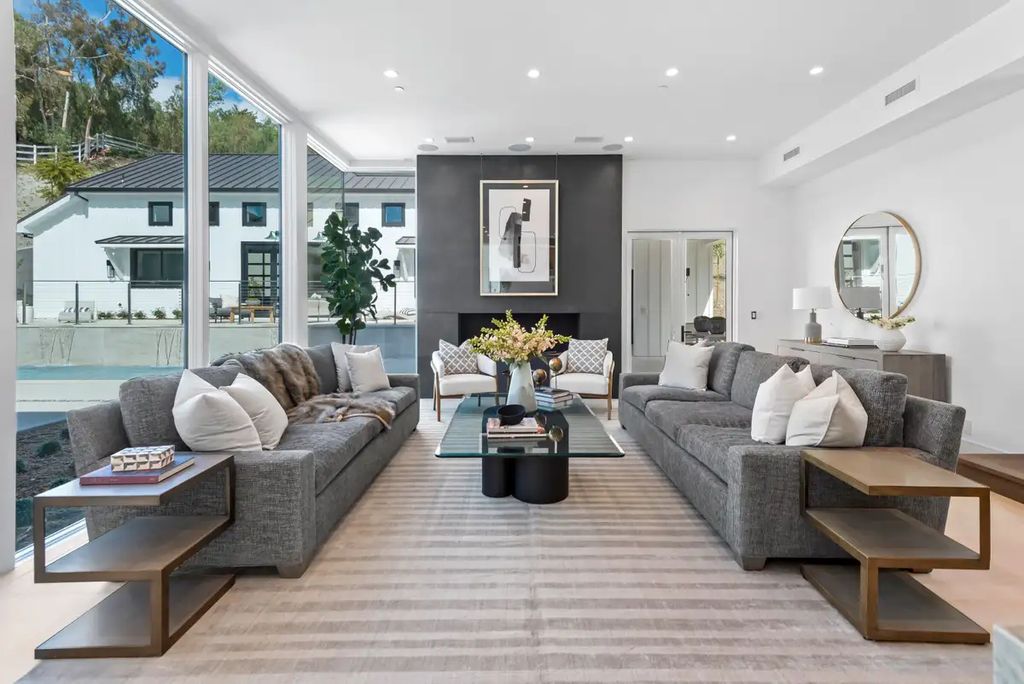 Choose a piece of art or a favorite photo in grey and white tones to add a personal touch to your room. The dark grey partition is the focal point and creates depth in this modern and light-filled living room. When designing a room that is twice as long as it is wide, symmetrical architecture is always the best option. An impressive grey and white living room ideas with unique furniture has been created using only simple colors. Elegantly Brand New Custom Home in Calabasas Flooded with Natural Light Asking for $13,750,000
6. Keep it Simple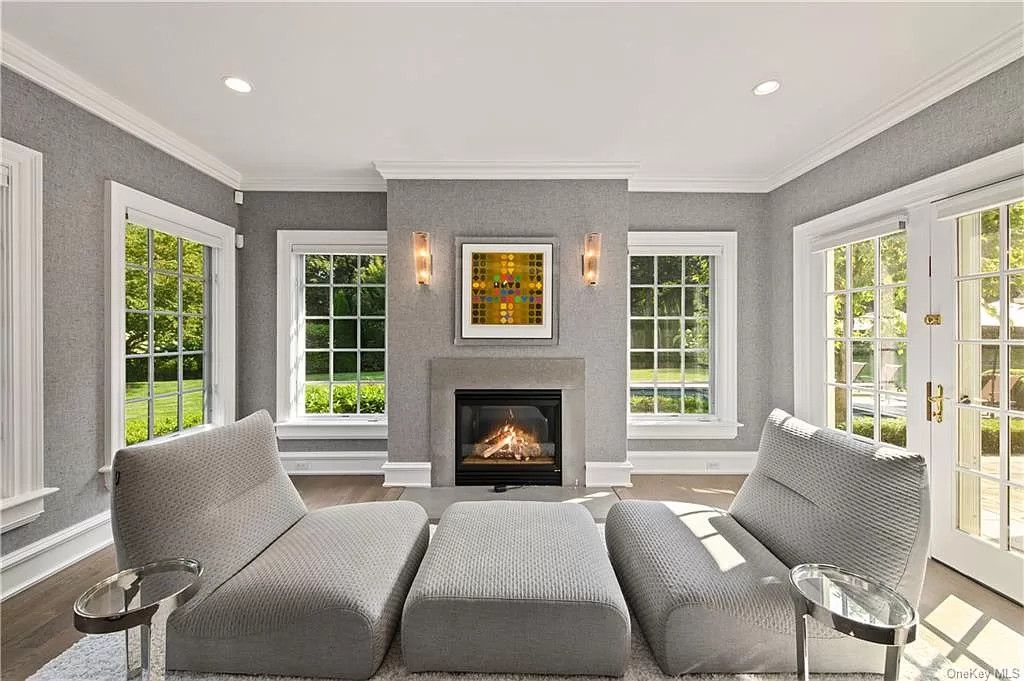 Do you need a design solution for a small room? Neutral colors such as grey and white will make the room appear larger. Grey is still one of the most popular shades of grey, but the owner purposefully used a special paint material to match the fabric on the sofa. The color tone covers the entire space, including the metal fireplace frame. Elegant $3,500,000 Stone and Shingle House in New York offers truly Southern twist lifestyle
7. Get Creative with High Ceiling Living Room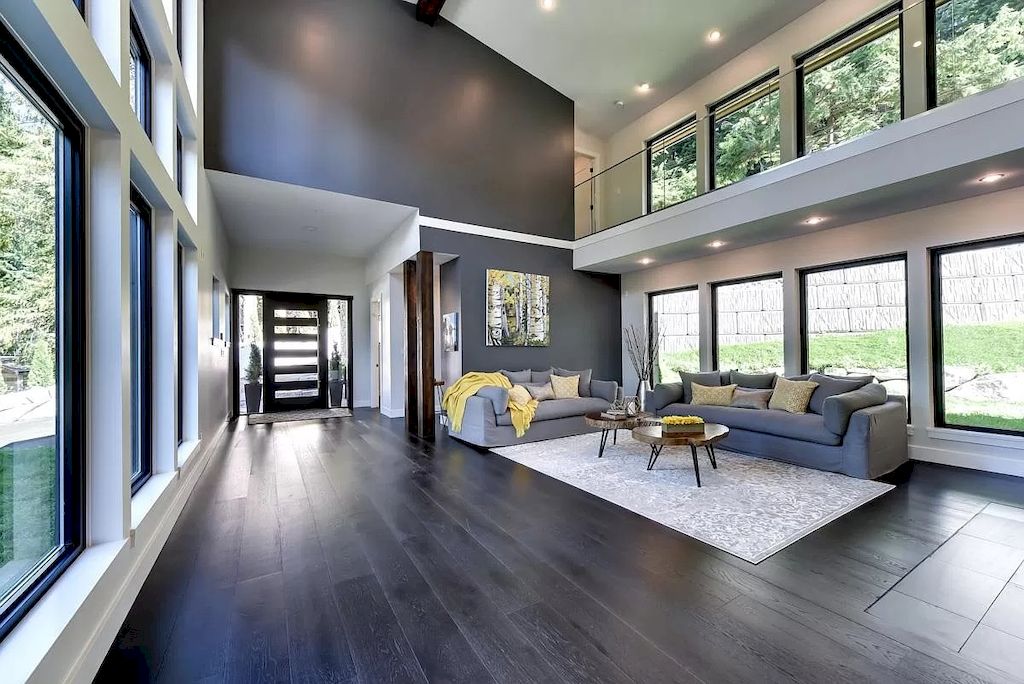 Grey dominates the luxurious living room, from the floor to the walls. Slate, one of the darker grey shades, transforms walls into powerful backgrounds. The entire surrounding wall is painted white and fitted with large glass doors to absorb natural light, which is combined with LED lights to fill the room with light despite the fact that the entire color scheme is dark. Add a few more colored scarves to liven up this living room. Spectacular Ultra-Modern Luxury Home Overlooking the Ocean Lists for C$3,880,000 in British Columbia
8. Grey in White Living Room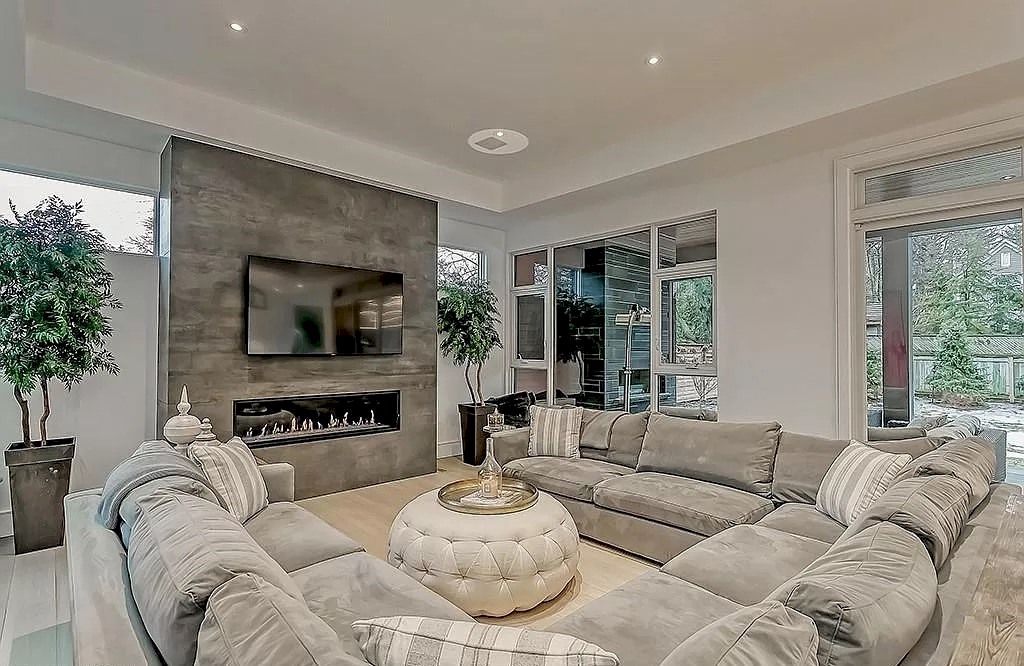 Did you know that grey shades are made up of different proportions of grey and white? To achieve harmony in a room with a white background, the furniture should be in light colors. Grey is always associated with industry, so people tend to incorporate green plants into the space or combine it with other natural elements. A classic sofa set with sunken cushions is another option for adding softness and comfort to grey and white living room ideas. True Beauty of This C$5,249,000 House in Oakville Goes beyond the Common Eye Inside and Outside
9. Be Inspired by a Statement Piece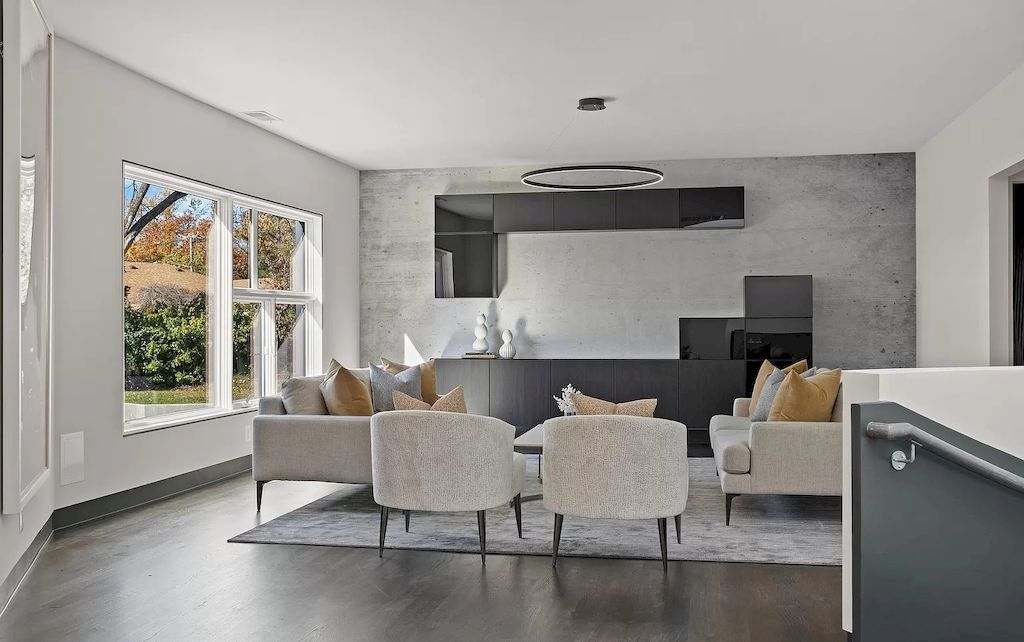 Every color scheme requires an accent piece, whether it's artwork, rugs, or wallpaper. Simple but artfully arranged wall-mounted kitchen cabinets are at the heart of this design, and their color stands out against the grey and white walls. In a boring living room, add some color to the grey sofa with a few colorful pillows. Modern Masterwork in Virginia on Market for $8,700,000
10. Make a Statement with Black Pillow and White Sofa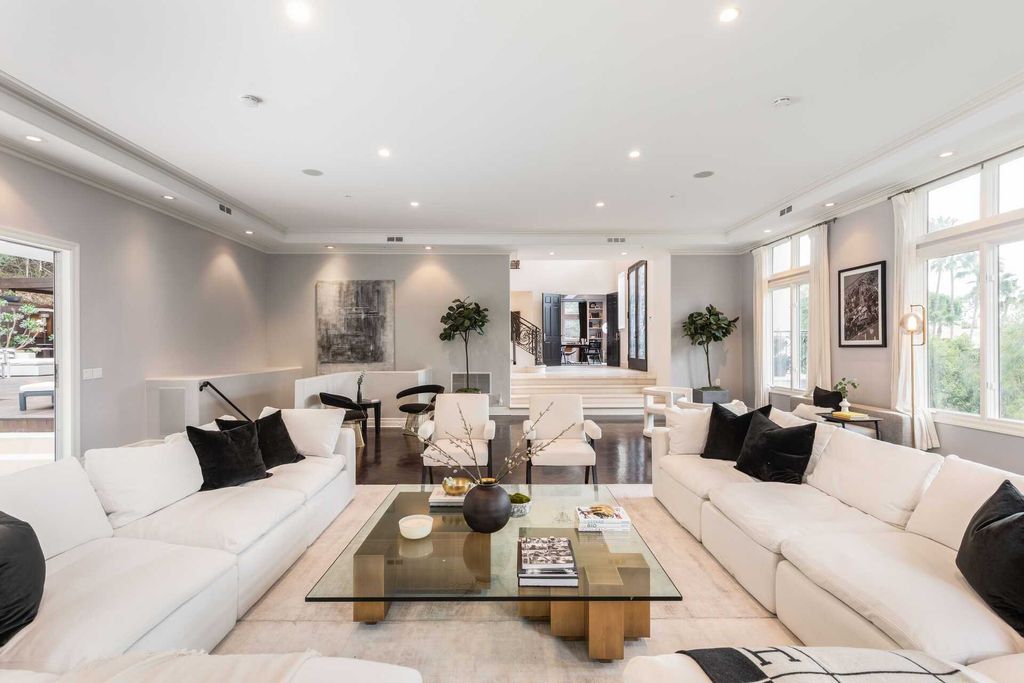 When using grey and white living room ideas, you can still create an airy and natural space. A few potted plants and flower pots are also sufficient to soften the living room space. To add contrast and accent to a neutral living room, place some jet-black pillows on a pure white classic sofa. Finally, paint the walls silver, which is one of the most light-absorbing grey. This $7,950,000 Beverly Hills Home is An Entertainer's Paradise with Comfortable Living Spaces
11. Christmas in the Grey Living Room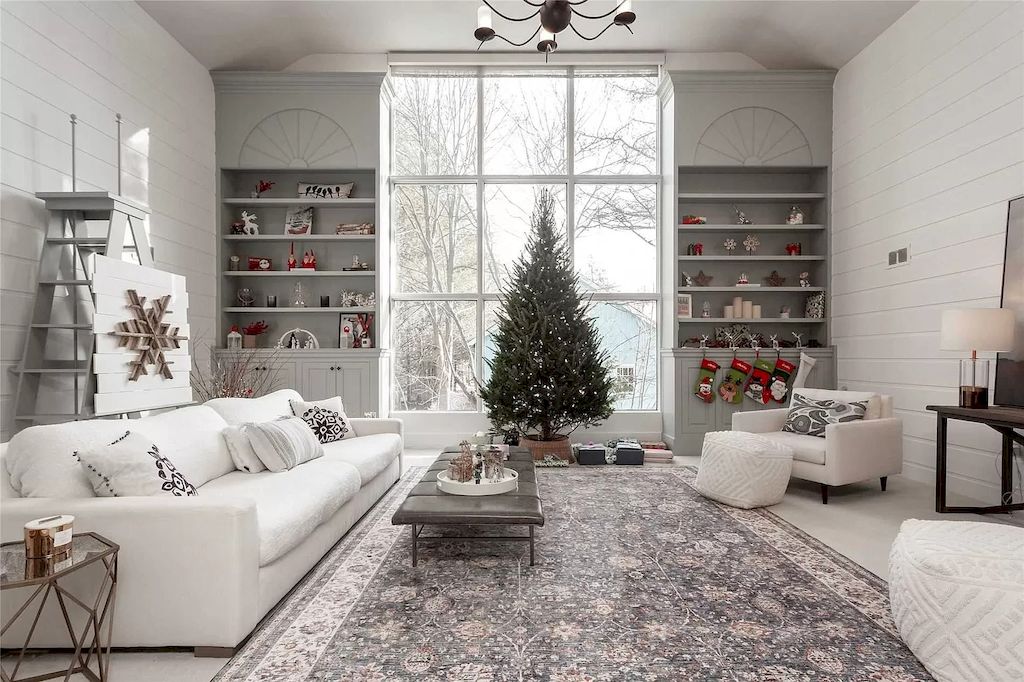 White and grey have many nuances, and it's critical that they match and fit the context. So make sure you've carefully considered which colors will complement each other. The use of this light grey suggests and enhances the winter feeling, as well as the symbolism of the Christmas season. The white sofa set's appearance is symbolic of snowflakes. This is an excellent design. Spectacular Upgraded Multi Generational Home in Ontario on the Market for C$3,495,000
12. Strong Living Room Style With a Grey Couch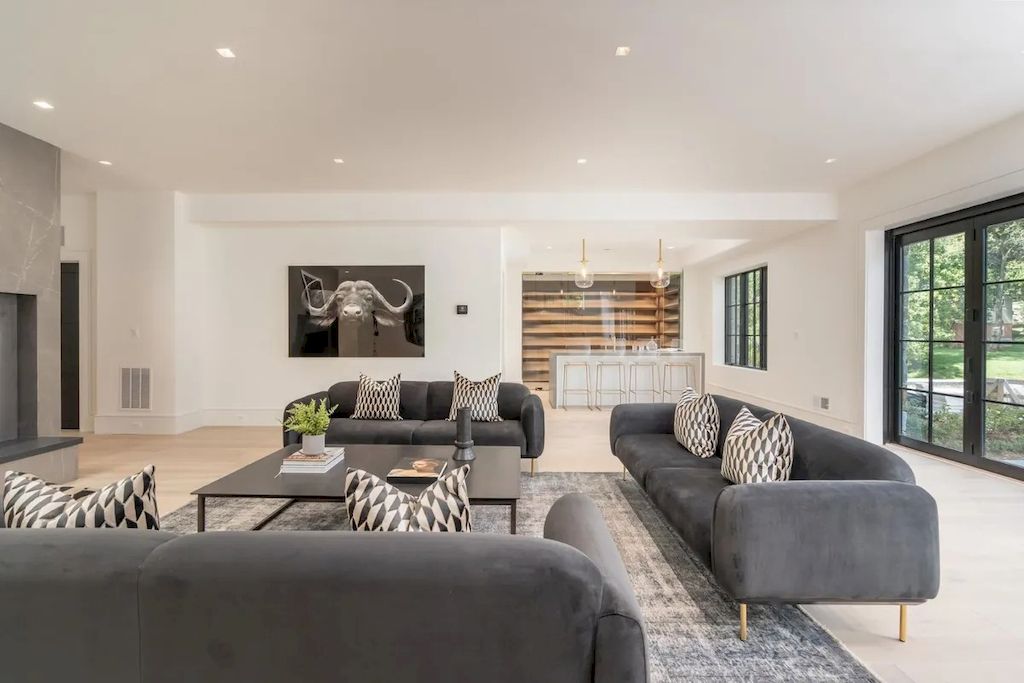 How do you select grey and white tones? Grey and white appear to be the easiest colors to work with when designing a neutral minimalist room. However, you must carefully consider which colors will work best in your space. If you choose to paint the surrounding walls white, complement it with a dark grey sofa set and a few textured pillows. Stunning New Modern European Country House in Virginia Listed for $8,295,000
13. White Sofa Contrast To Bold Grey Wall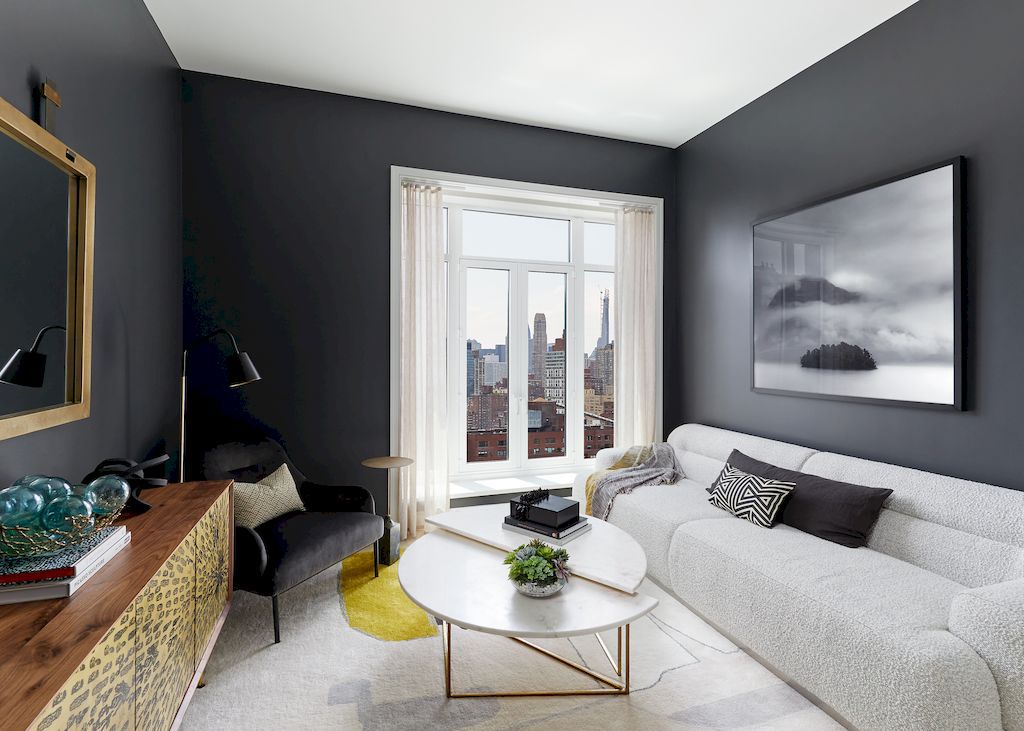 Dark grey shades are the first option to try if you're looking for some grey and white living room ideas that really stand out. Despite the small size of the room, the dark grey walls create cohesion and warmth in the most comfortable way. There are also pure white areas that bring light into the room, such as windows or sofa sets. Plants, flowerpots, and even wooden furniture can help to bring nature into the living room, making it more relaxing. 40 East End Boutique Condo, Stunning high end luxury project in New York
14. Brighten Up the Living Room With Glossy Paint.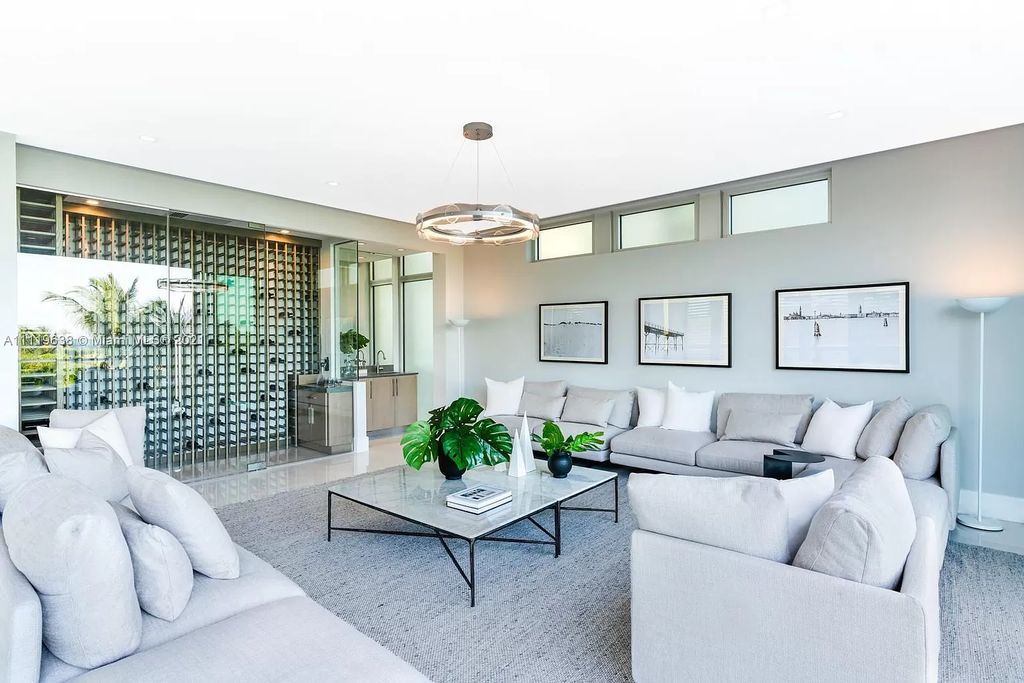 Grey and white are an excellent combination for small living rooms because the right shades make the space appear larger. So paint the walls a glossy silver grey and add metal furniture to reflect light throughout the space. A glass door, though not always a glass door, is another viable option for a modern grey and white living room. Yes, you can use both grey and white for your sofa and pillows. Perfect Miami Beach Home in the Esteemed Gated Oceanfront Community Asking for $26,500,000
15. Fun With the Palette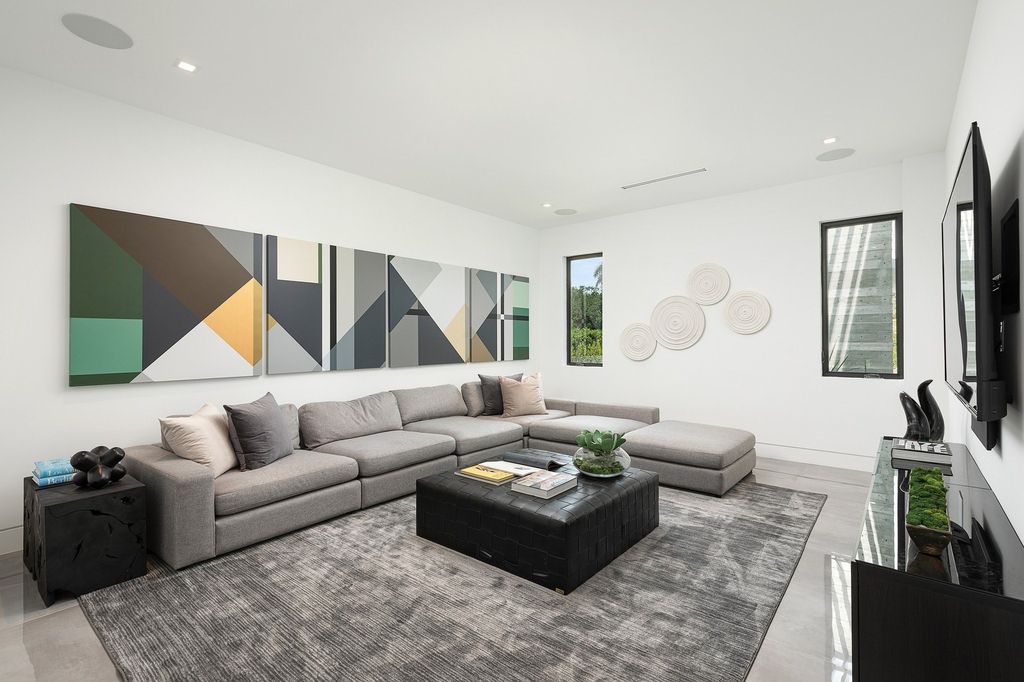 Of course, you can choose a cheerful room even if the main colors of the living room are grey and white. If you've chosen a fog grey floor but don't want the living room to feel gloomy, consider adding artwork to brighten the space. Furthermore, the living room with the main grey color should incorporate more white throughout the interior to soften the space. Stunning Brand New Modern Home in Miami with The Finest Finishes for Sale at $6,500,000
16. Mix Color Into a Grey and White Living Room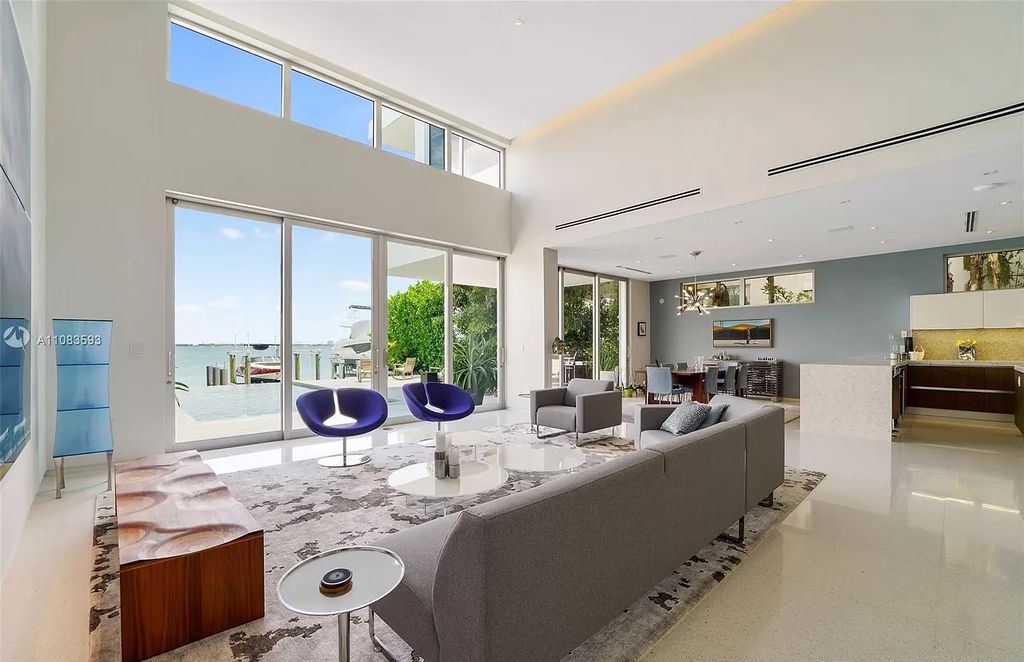 It is extremely difficult to incorporate color into grey and white living room designs. However, we are particularly drawn to the navy blue chairs in this living room. This color palette of various shades adds richness and softness to the room. You can easily change the complementary colors of the room by selecting a swivel chair. This $16,400,000 Venetian Home is the Epitome of the Highly Sought after Miami Lifestyle
17. Decorate With White Wooden Beams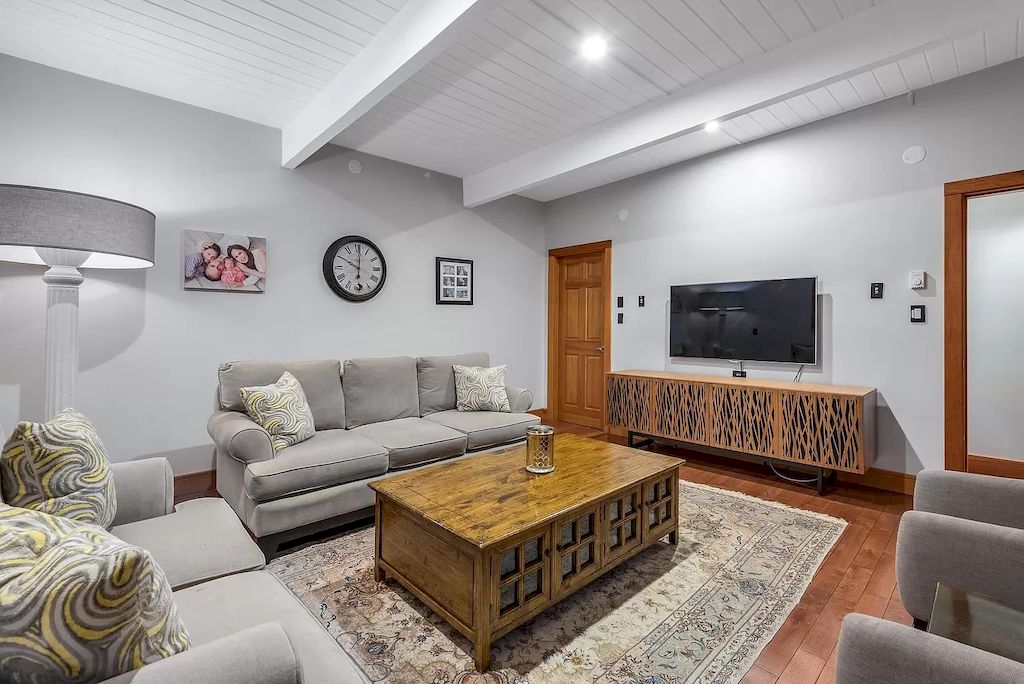 There's something wonderful about grey and white that can be used in any living room, regardless of style. Light colors look great in farmhouse living rooms because they are naturally suited to neutral, gentle color palettes. Fortunately, this space has been combined with lamps with cool lighting as well as other wooden accessories. Peace and Tranquility Retreat in West Vancouver with Astounding Ocean Views Listed for C$3,999,000
18. Dazzling With Light and Contrasting Colors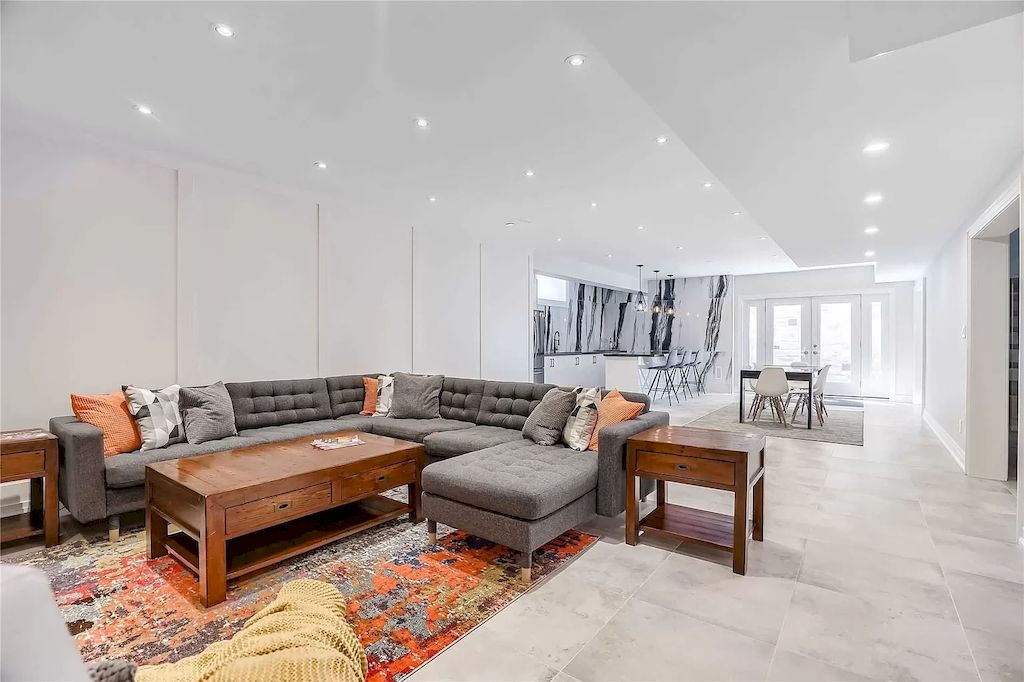 The great thing about simple living room color schemes is that you can go all out with patterns. Don't be afraid to use contrasting colors; it won't be too overwhelming or too minimalistic. The Persian rugs, pillows, and pillows in this living room all have a pattern and color that contrasts with the rest of the room. Because of the simultaneous combination of wooden furniture, they blend seamlessly. Custom-Built High Efficiency Luxury Smart Residence in Ontario Asks for C$4,800,000
19. Grey Couch in the White Living Room Farmhouse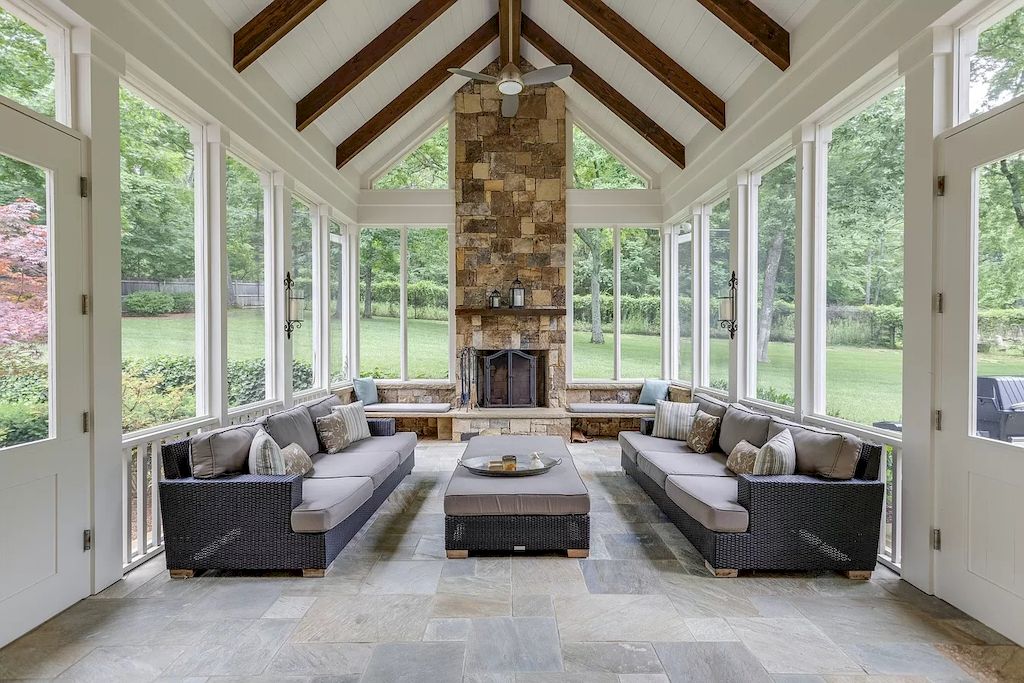 This is exactly what we mean when we say that the background should be dark grey and pure white. The pyramidal roof and surrounding glass doors give this living room a very high and airy feel. The sofa's body is made of sedge material, which is popular in farmhouse living rooms. Stone wall panels add interest and depth to the room. Exquisite Custom Built Home in Tennessee Listed for $3,250,000
20. Get Creative With Tonal Effects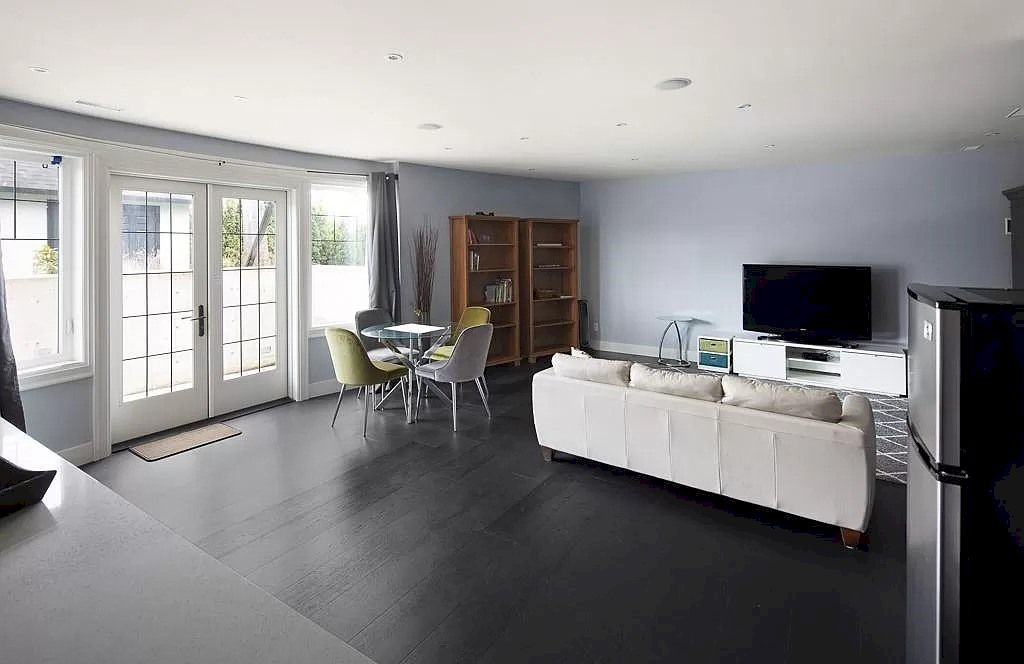 Use your dark grey on the wall or floor to add dimension. Not only are they more convenient than strewing a rug around the house, but they also produce a full and consistent finish. To have a perfect design, different color tones must blend but still harmonize with the overall shades. Renovated Home in Oak Bay with Exceptional Quality, Superb Finishings Listed for C$3,500,000
The grey living room, like any other room, has its own distinct style. The color trend is becoming more minimalist, making decorating with color palettes more difficult. In addition, grey is a safe bet for high-profile designs. It's also a neutral color that can be mixed and matched with various styles and color palettes as your tastes and trends change. Other articles with green living room ideas can be found here.
More Ideas For Living Room:
---
Thousand of high quality images of Living room and more you can see at Livingroom Gallery.