Date of Publishing:
Creative With Green Bedroom Ideas
Energized and connected to nature, these are things that we can feel from surrounding ourselves with greenery – or even when that green appears as interior, decoration, and wall paint. From a psychological perspective, shades of green help us control nervous tension and balance body conditions. With these fantastic benefits above, there is no reason why we should not try to bring green into the bedroom so that we can feel the positive effects as soon as we wake up in the morning. We've put together excellent tips for you to bring green into your bedroom, expressing your personal style through these 16 unique and useful Green Bedroom Ideas right below. Don't miss any details and check it out!
1. Add Green Floral Prints To A Neutral Bedroom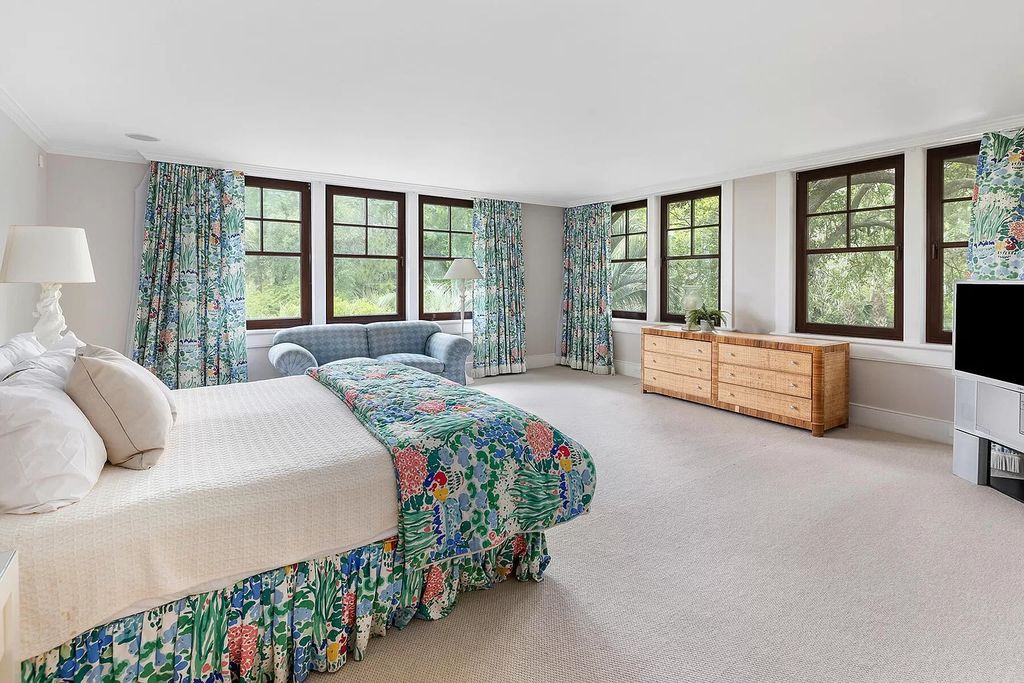 Bringing atmosphere and beautiful nature into your bedroom is nothing easier than using a bedding set and curtain with green floral prints. The synchronization in the use of fabrics, textures as well as colors makes your bedroom a royal garden in spring with hundreds of blooming flowers. The prominence of green floral prints also makes the neutral bedroom more lively and attractive than ever. Providing an Uncompromising Beach Lifestyle Unique to Kiawah Island, This House Lists for $20,000,000
2. Use Green Emerald For Eye-catching Focal Point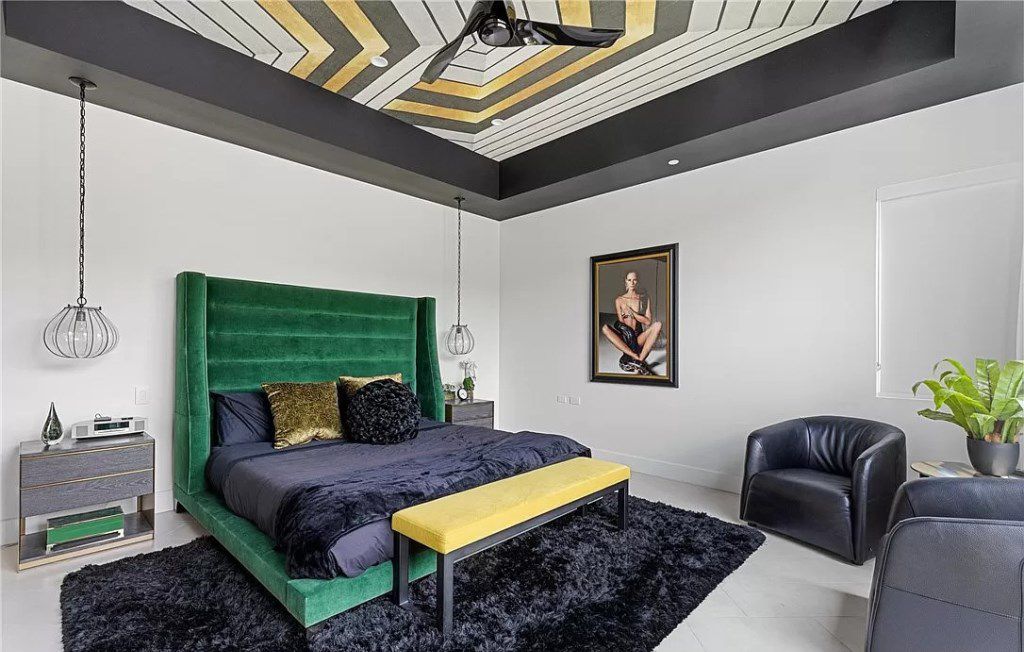 Emerald green is one of the darkest of greens. Therefore, the emerald green will be extremely eye-catching and also meant to become the focal point for any space. As in the Green Bedroom Ideas above, the king bed becomes even more prominent and luxurious with its large headboard and emerald green velvet upholstery. This $11,400,750 stunning Home in Nevada has the single best view in Las Vegas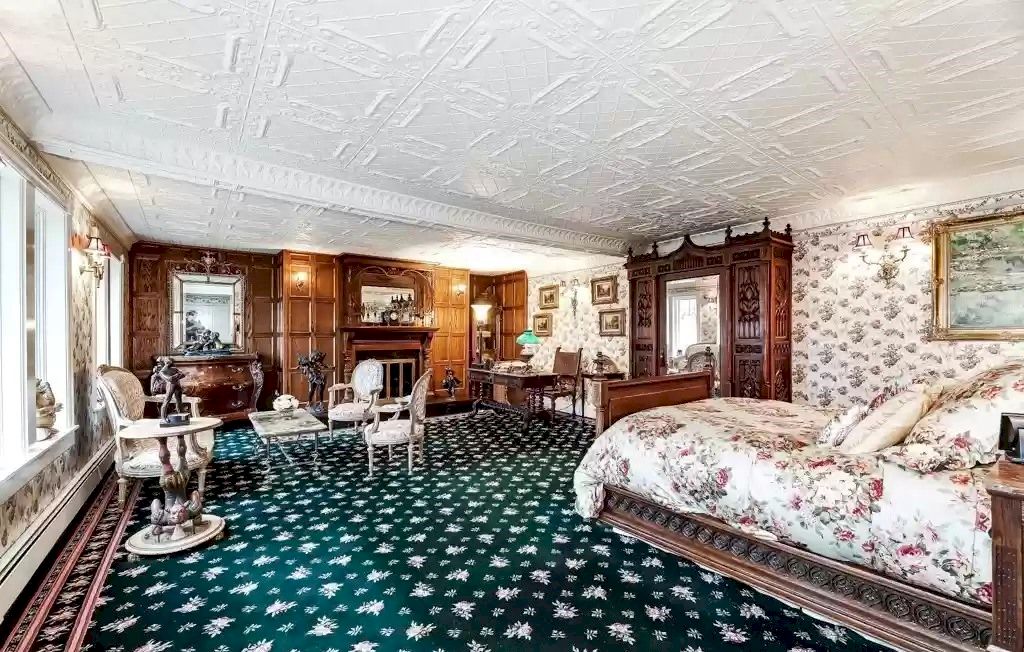 In addition, the emerald green full-size floor rug with floral motifs is also a good idea to bring green tones to your bedroom. The attraction, as well as the warmth and comfort that it brings, is undeniable, so much so that you don't even need to wear slippers. This $3,250,000 Masterfully Crafted Home in Washington Is a Stunning Combination of Art, History, and Design
3. Focus On Mint Green For Airy Feel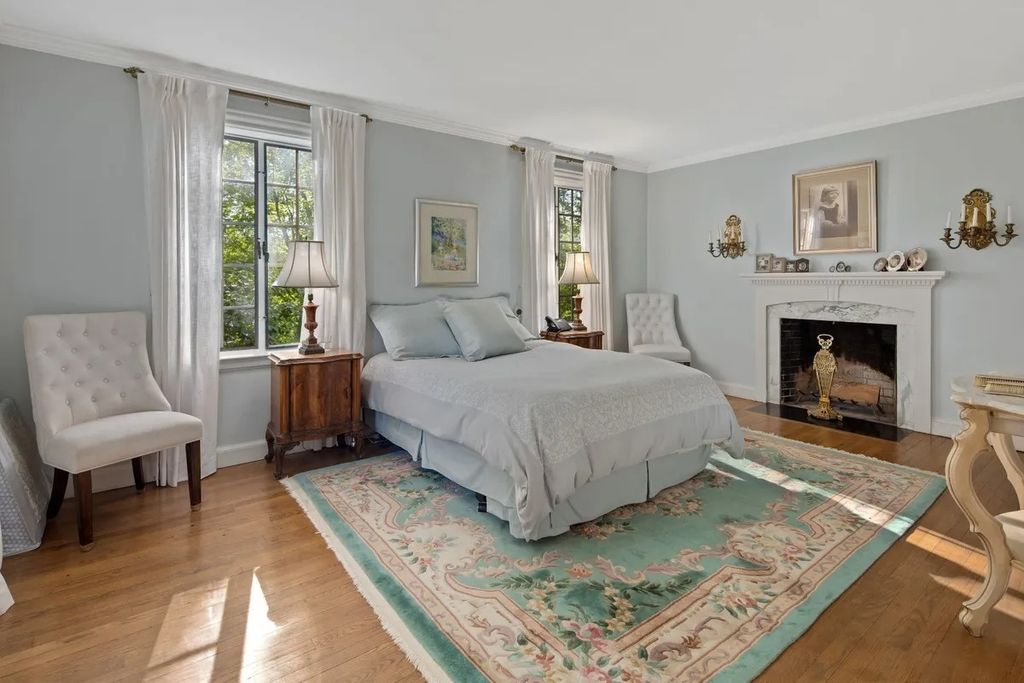 Mint green brings an airy, gentle, and sophisticated feeling and will be a great choice for living rooms, bedrooms, or even bathrooms. Mint green can combine well with striking color furniture such as blue, purple, pink, yellow, etc. In addition, mint green also pairs very well with monochrome tones such as white and light gray to create a harmonious overall, at the same time very luxurious and sophisticated for the bedroom. The Architectural Details of this $3,775,000 Manor Reflect Exceptional Quality and Craftsmanship in Connecticut
4. Use Neon Green For Some Details Of Your Bedroom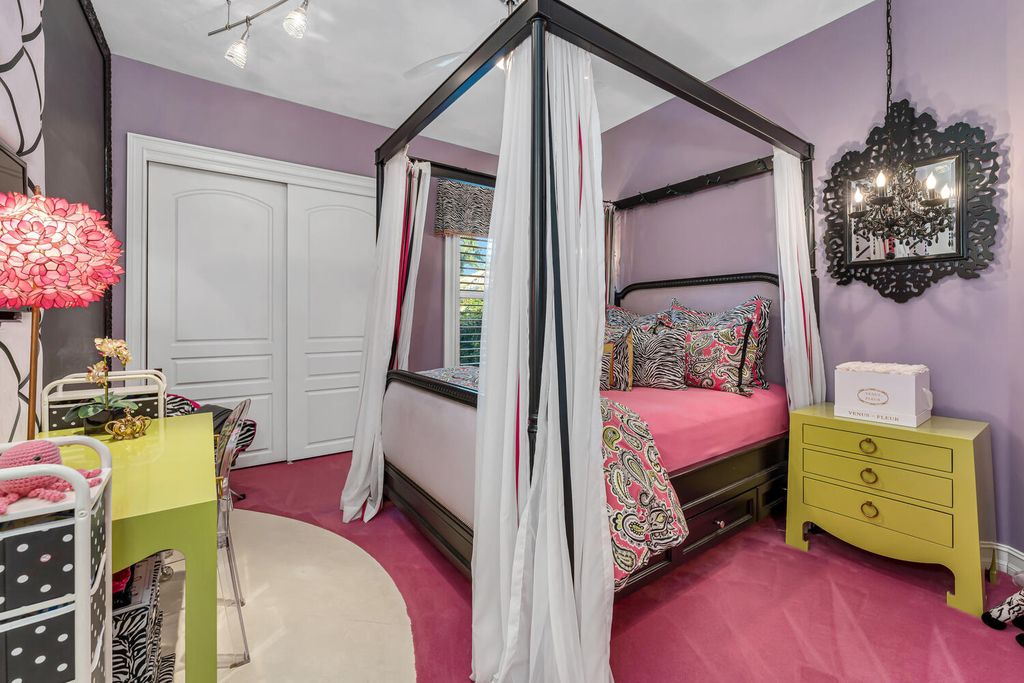 Most people tend to be cautious in using neon colors for their bedroom designs. The reason is that most people want to live in a light and delicate space. However, neon colors often carry a strange charm, especially green neon. Along with that, choosing colors to combine is also a matter of concern. Neon green will work best on dark backgrounds like brown, or shades of gray. But if you're a fan of striking color combinations, there's nothing stopping you from combining neon green with other pops of color like pink and purple like in the Green Bedroom Ideas above. This $5,499,777 Exceptional Custom Home in Naples is Ideal for Entertaining with Luxurious Amenities
5. Set Up A Vintage Space With Pastel Green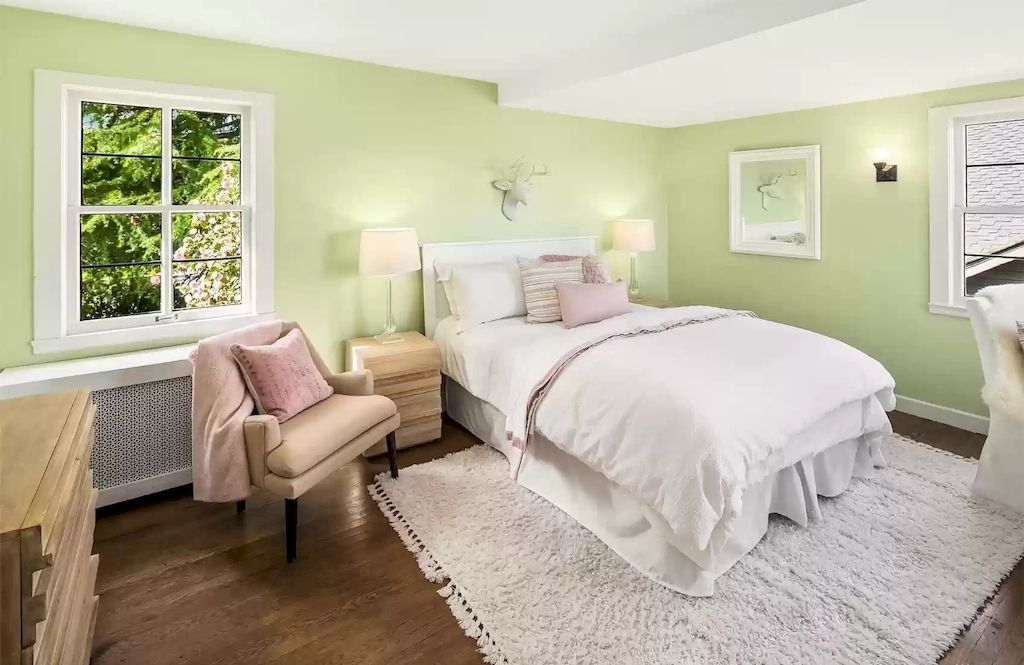 Pastel Green is often preferred to decorate bedrooms with a small area from wall paint to furniture to create the feeling of having a larger space. You should combine pastel green with other bedroom furniture of light colors such as white, cream, and beige to bring the effect of contrast and optimal space expansion, as in the Green Bedroom Ideas above. Summer, no matter how hot, will be swept away when you are curled up in a true, airy, and comfortable pastel green space like this. Impressive Spanish Revival Style Estate Featuring Classic Elegance in Washington Listed at $3,495,000
6. Upgrade Your Bedroom With Hot-trend Olive Green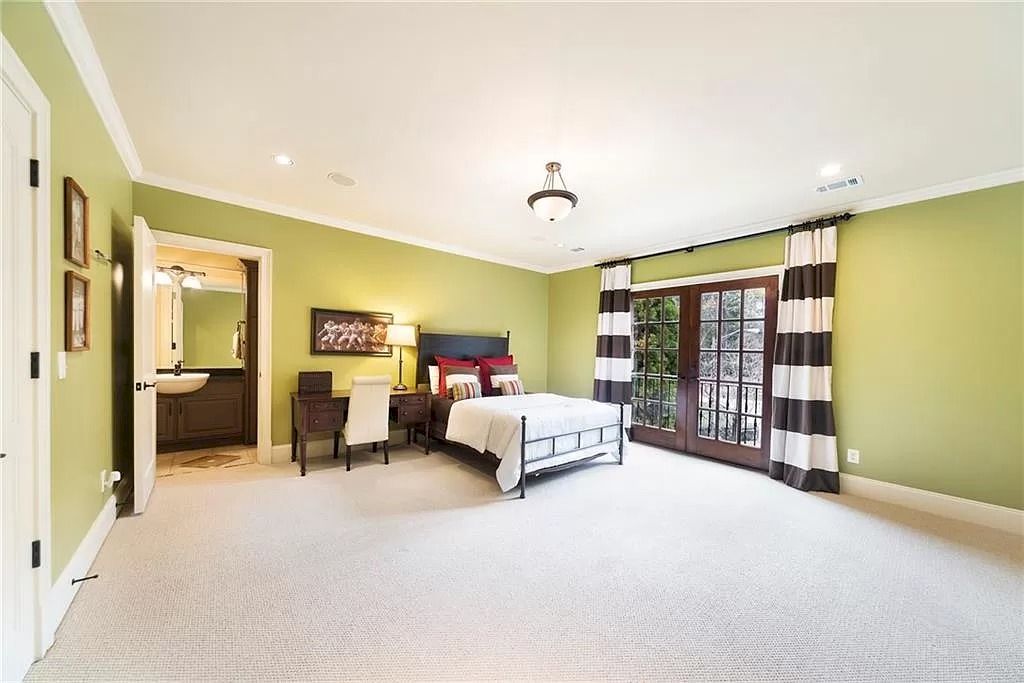 Many people consider olive color in the interior to be quite old-fashioned, but there is no doubt that this color is gradually returning and gaining popularity. Olive green symbolizes mystery and calm. Olive Green is an extremely consistent to choose for bedroom wall paint, especially in bedrooms with large areas with many large windows to make the most of natural light. Because all shades of olive look great in direct sunlight or well-lit spaces. Coveted Home in Georgia of Unmatched Construction and Thoughtful Design Listed at $3,250,000
7. Green Bedroom Ideas With Tropical Vibe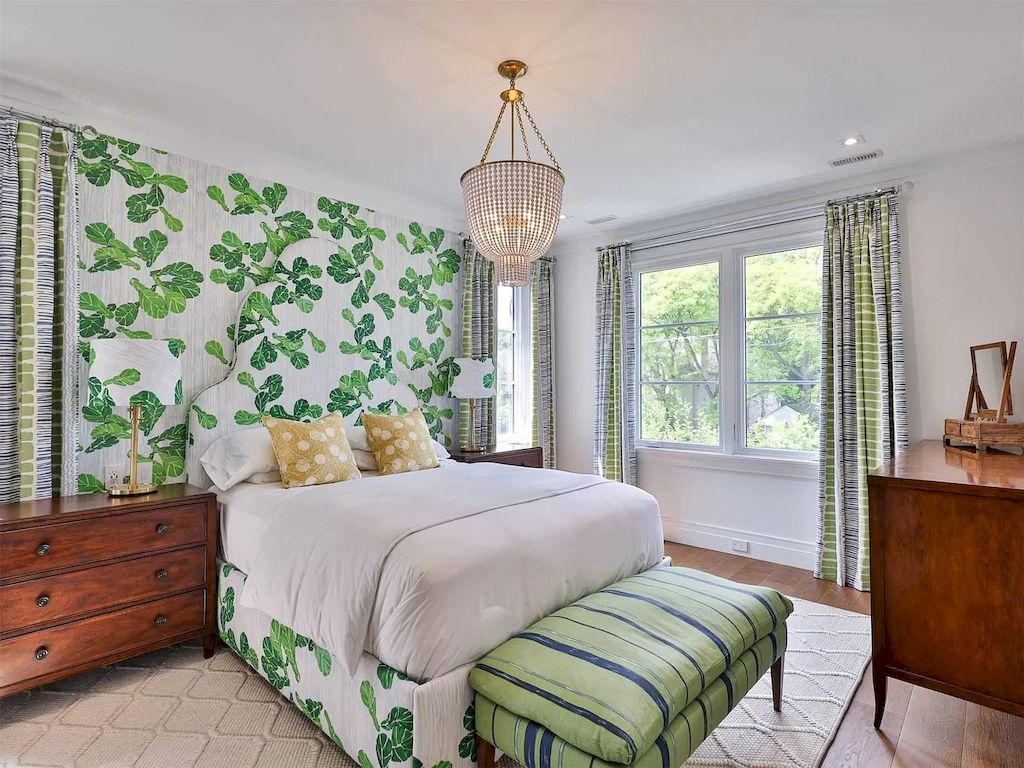 No green bedroom would be completed without a tropical design idea. A tropical mural, plant-print headboards, and ceiling fans or chandeliers will work well to create a tropical holiday vibe (Whether you're on holiday or not). Supplement some wooden elements, wardrobe doors, and rattan furniture to enrich the idea. Contemporary Georgian Masterpiece in Toronto on the Market at C$8,750,000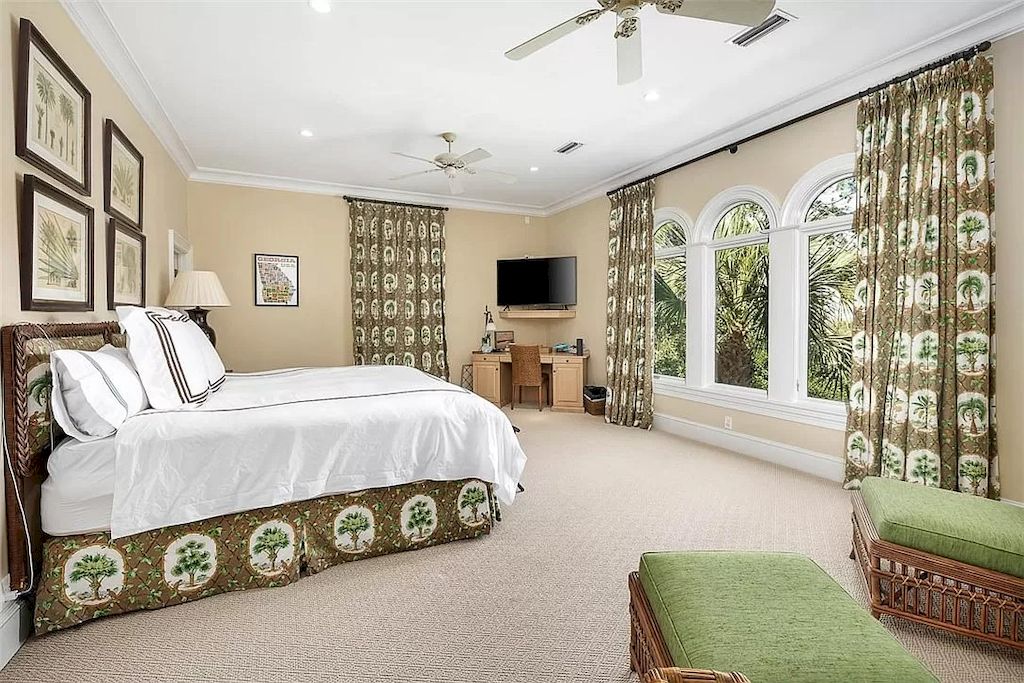 Another idea for green bedroom ideas with a tropical vibe that you can refer to. You may follow and apply the rule of twos to set up artwork frames with tropical vibes such as pictures of palm trees, etc, or any other decorations for the space above your bed. This $4,625,000 Charming Home in Georgia is a Perfect Retreat for Your Family and Friends
8. Green Bedroom Ideas For Maximalism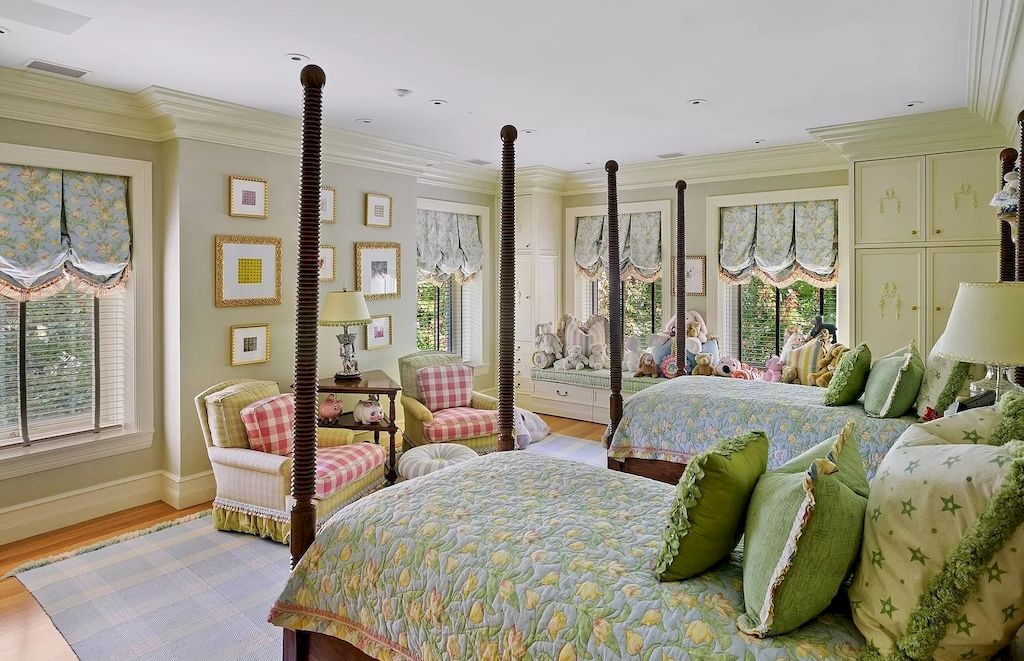 If you are crazy about maximalism style with the appearance of a variety of textures, you should consider the above Green Bedroom Ideas. This bedroom idea appeals with layers of botanical prints on the bedding set and curtains in light green hues. This is also a great way to combine greens with red or yellow tones. Magnificent Residence of State-of-the-art Infrastructure, and Meticulous Architectural Design in Illinois Listed at $18,750,000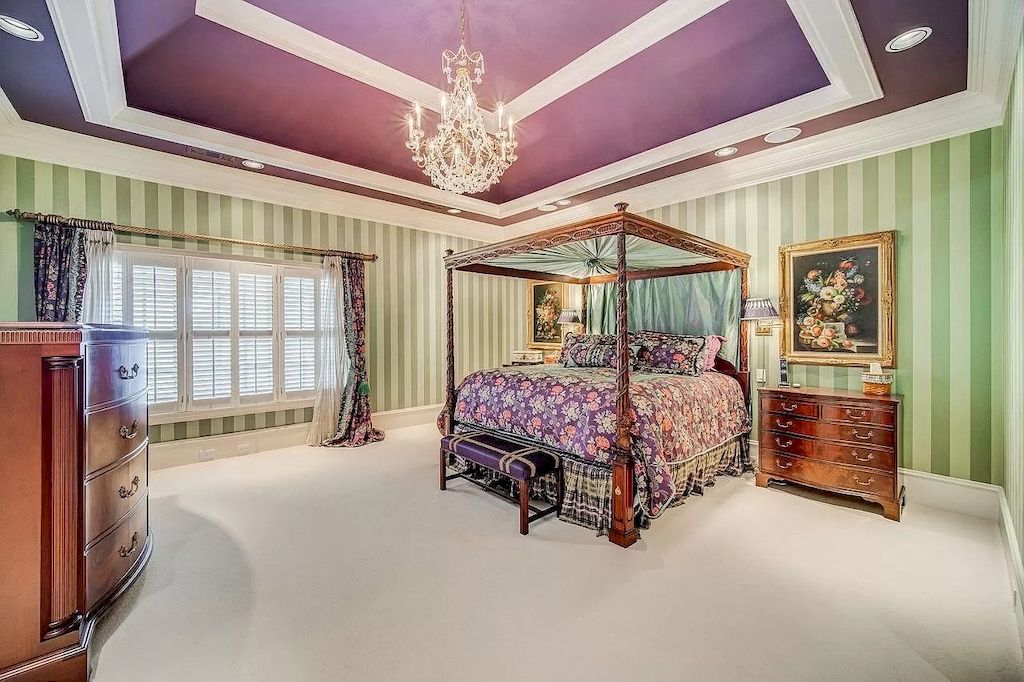 Another example of Green Bedroom Ideas for maximalism. Wallpaper with a plaid pattern with two alternating green tones makes your bedroom space really unique. This is also a great way to combine blue with purple without making the overall bedroom look unmatched. Exquisite Custom-Built English Estate in Georgia Hits Market for $5,750,000
10. Arrange The Place For Indoor Greenery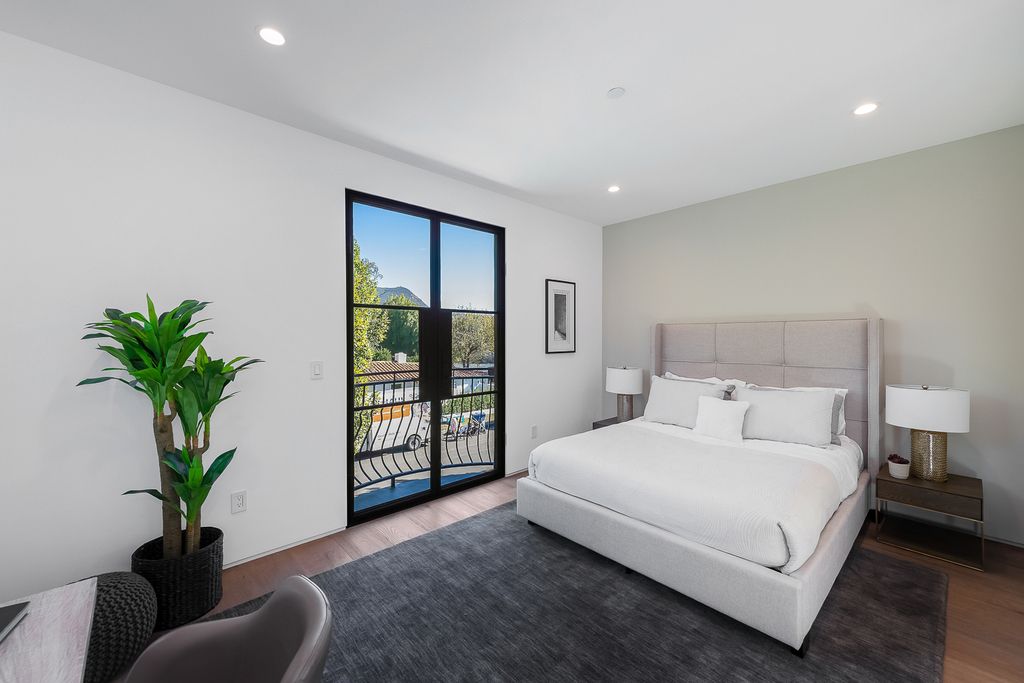 Bring green to your bedroom by adding indoor greenery. You can choose any plant, but make sure it blooms regularly. Plants that grow and bloom in containers are best because they don't take up too much space on your table or shelf as well as are easier to care for. Marvelous Spanish Contemporary Home in California built by Arzuman Brothers
12. Use Green As Background For Beds And Decorations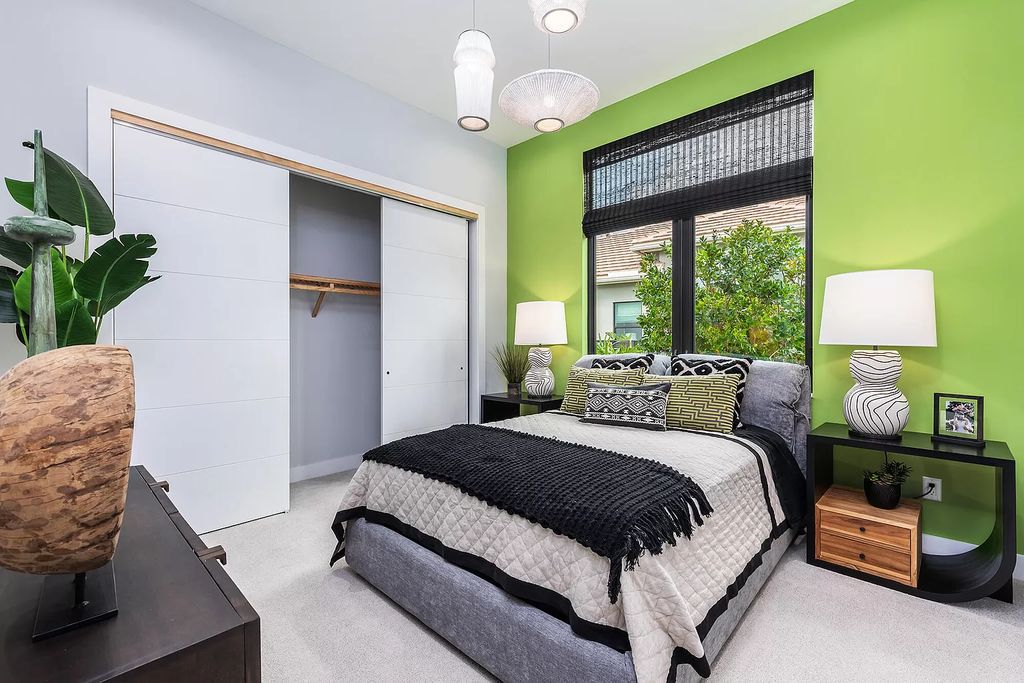 Illuminate your bedroom look. The appearance of lime green color used for the wall adjacent to the bed and the window has brightened the whole bedroom with the main color of black, white, and gray. A headboard and other neutral hues accessories balance and soften the bold accent wall. Brand New Modern One Story Home in Boca Raton with Fabulous Backyard hit Market for $4,600,000
13. Combine Shades of Green In A Space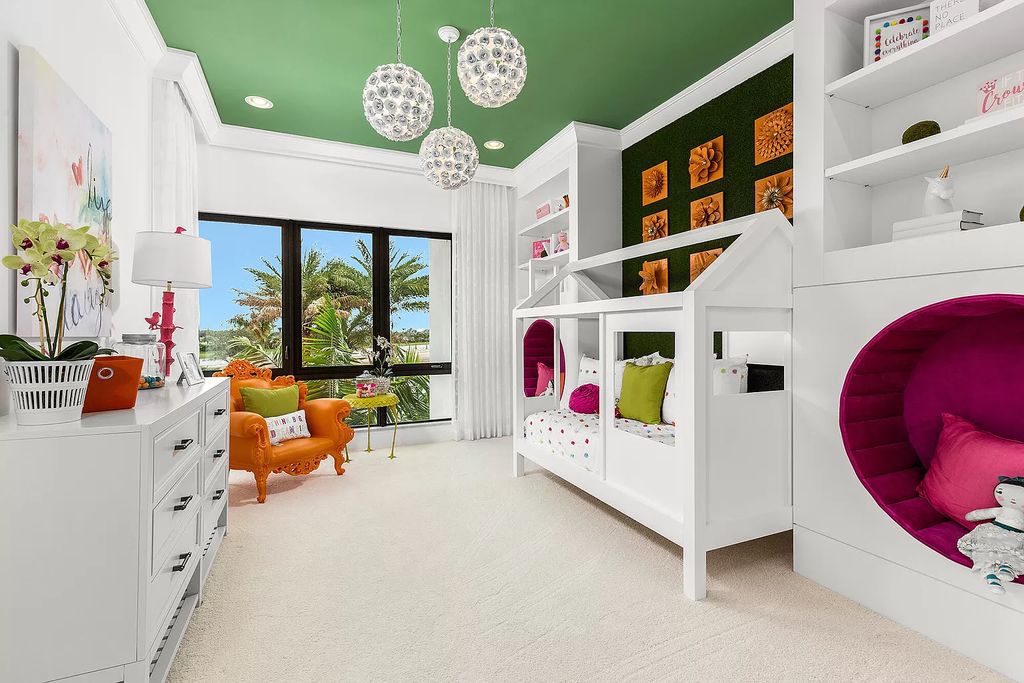 Who says you can only use a single shade of green for your entire bedroom? You can completely combine many different green tones in one space, depending on your purposes and ideas. Use deep green tones such as fern green, emerald green, and dark teal green for walls, ceilings, or any other area you want to become the focal point of the room. Use light green tones like pear green, pastel green, or neon green for decorations, throw pillows, etc to create a balanced overall color scheme. Brand New Boca Raton Home on a Magnificent Point Pie Lot for Sale at $5,7000,000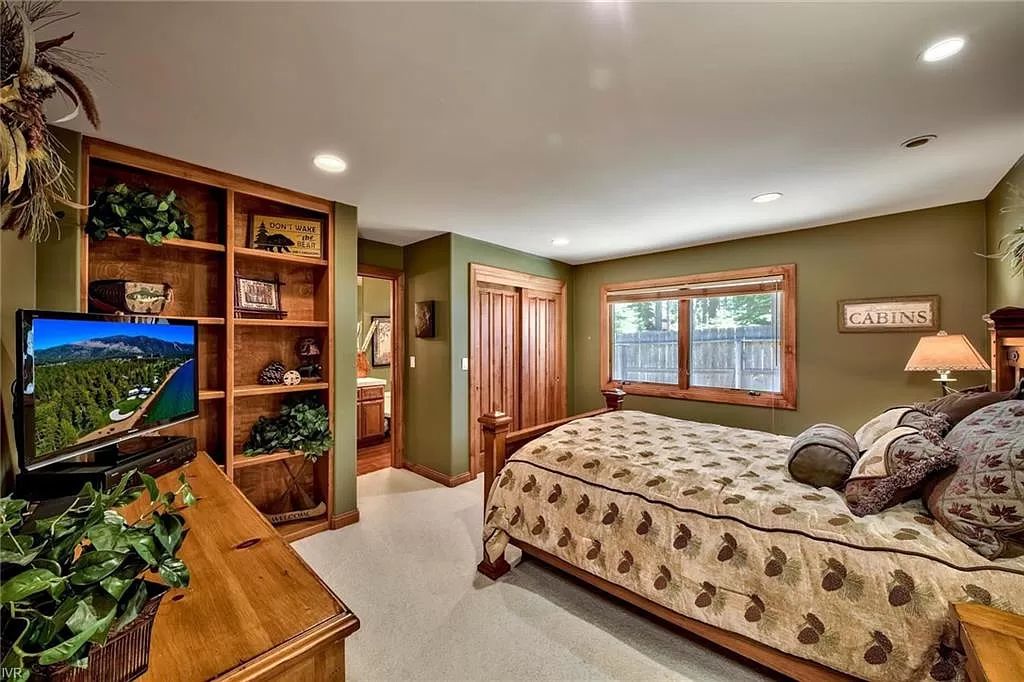 If you are in need of something new for your bedroom, then choosing a navy green for the main tone is definitely a great choice for you to start freshening up your space right away. Navy green allows you to combine with many other color options in the room to bring about different emotional states, from elegant to dynamic. Navy green is very suitable for spaces that use a lot of wooden furniture. As in the above Green Bedroom Ideas, the new Cabin Log Bedroom uses navy as the main color to create the feeling that you are at a campsite right in your own bedroom. Charming mountain home in Nevada with stunning water feature sells for $8,450,000
15. Do Not Forget Teal Green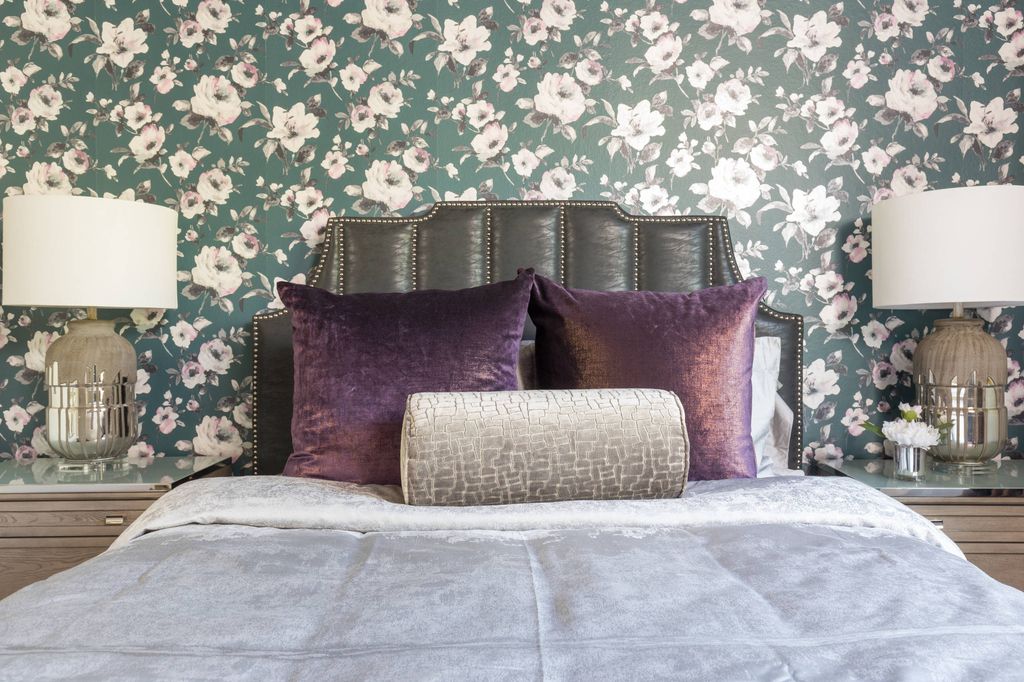 In pairing colors, teal green is said to blend the tranquility of blue with the optimism and healing properties of green – a great combination to use in the bedroom. Because they tend to be quite dark and sophisticated, teal green works brilliantly on materials like velvet or glossy fabrics, as in the bedroom design above. Adding a few brass decorations is also a perfect idea to combine with teal green and enhance the elegance of the bedroom. A Stunning Makeover of Orange III by 27 Diamonds Interior Design
To sum up, the green tone is the ideal color for a bedroom without a doubt. If you love nature and expect to create a quiet space, a quality sleep, and a refreshing wake-up, then green is the color that you should choose. In addition, green can be combined with many different colors and there are many shades of green to be versatile so it will suit different styles; from vintage style, and maximalism to minimalist style. For more bedroom design ideas and inspiration, you may refer other our article 16 Loft Bed Ideas That Will Upgrade Your Bedroom.
More Ideas For Living Room:
---
Thousand of high-quality images of Bedrooms and more, you can see at Bedroom Gallery