Date of Publishing:
One of the most important parts of the house are the bathrooms and toilets. A beautiful, sophisticated bathroom not only reflects the owner's style, but it also makes us feel more at ease. Let's look at 27 new and unique bathroom ideas to help homeowners think of new ways to use their bathroom space. Thousands of other amazing home design ideas can be found at LUXURY PHOTO.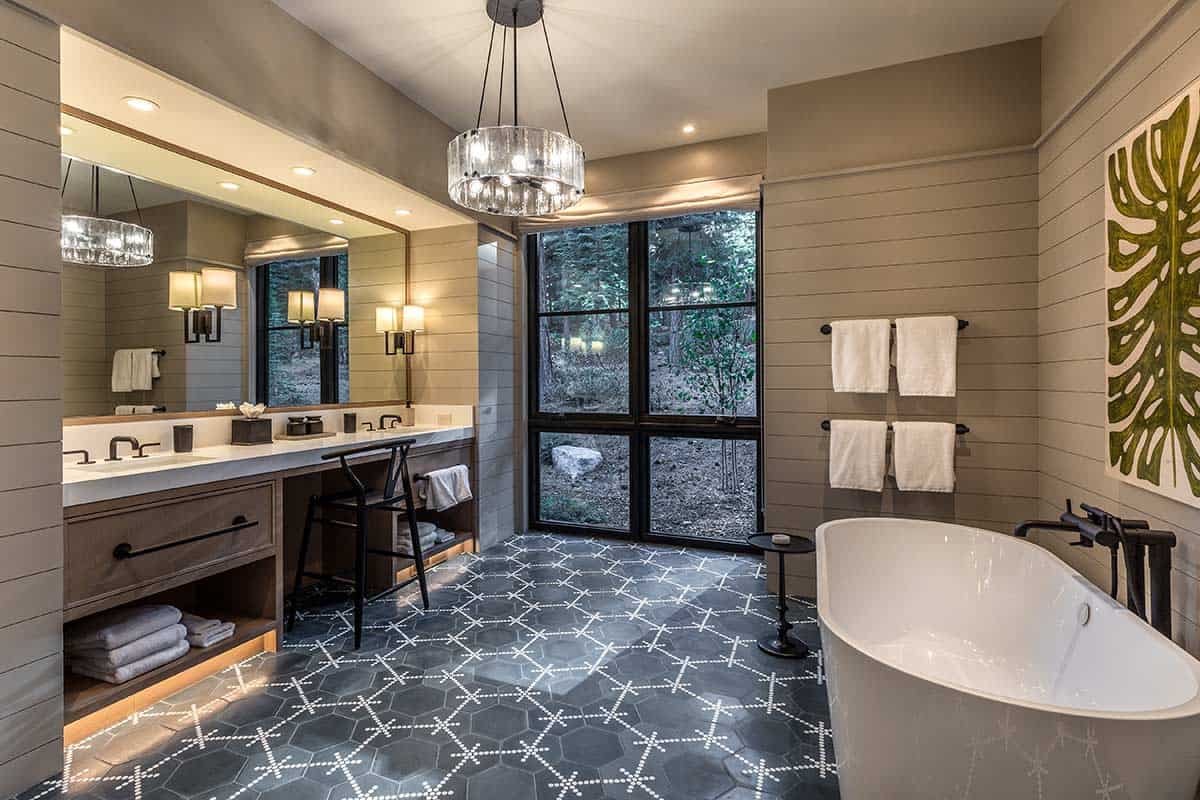 1 | The basic foundation of this large bathroom is subway tile walls and a large vanity. A patterned concrete tile floor elevates it to seriously chic status. Martis Camp Mountain Home 14 by Walton Architecture + Engineering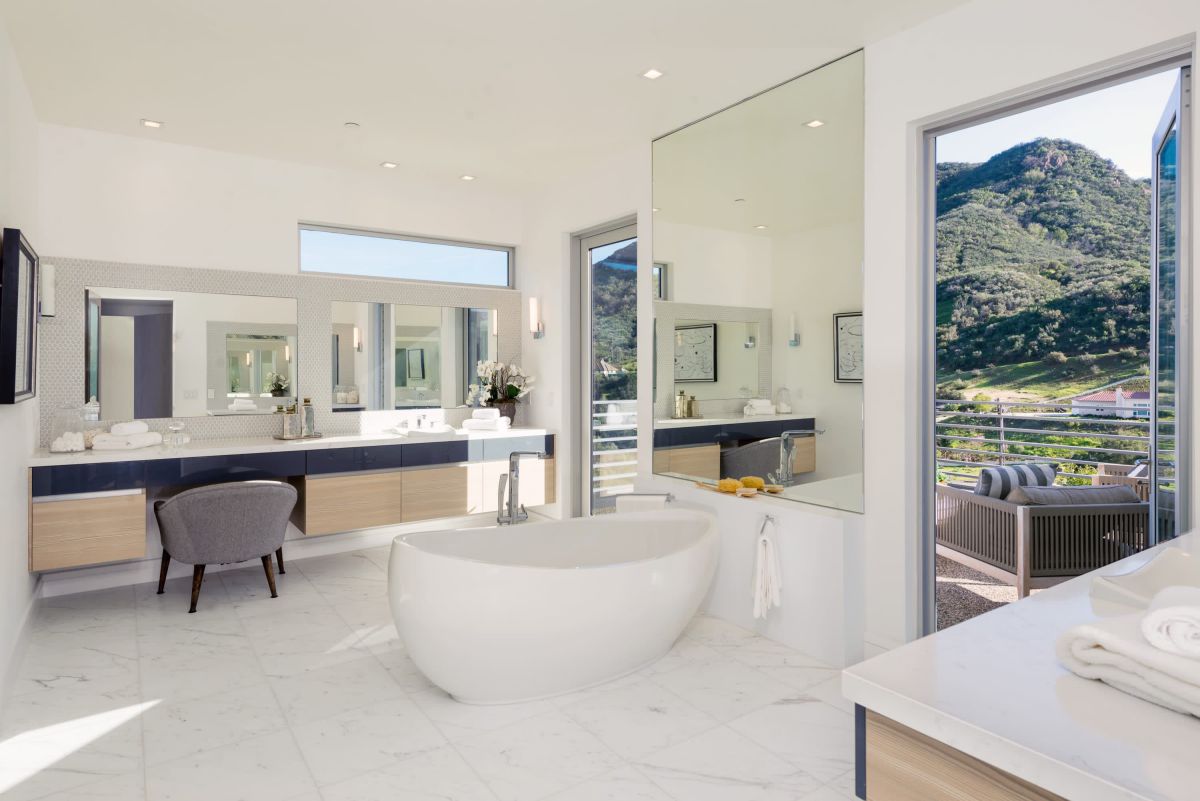 2 | This main bathroom is brightened by the use of a pure white bathtub and ultra-white walls. California House with Exceptional Design in Agoura for Sale $4.25 Million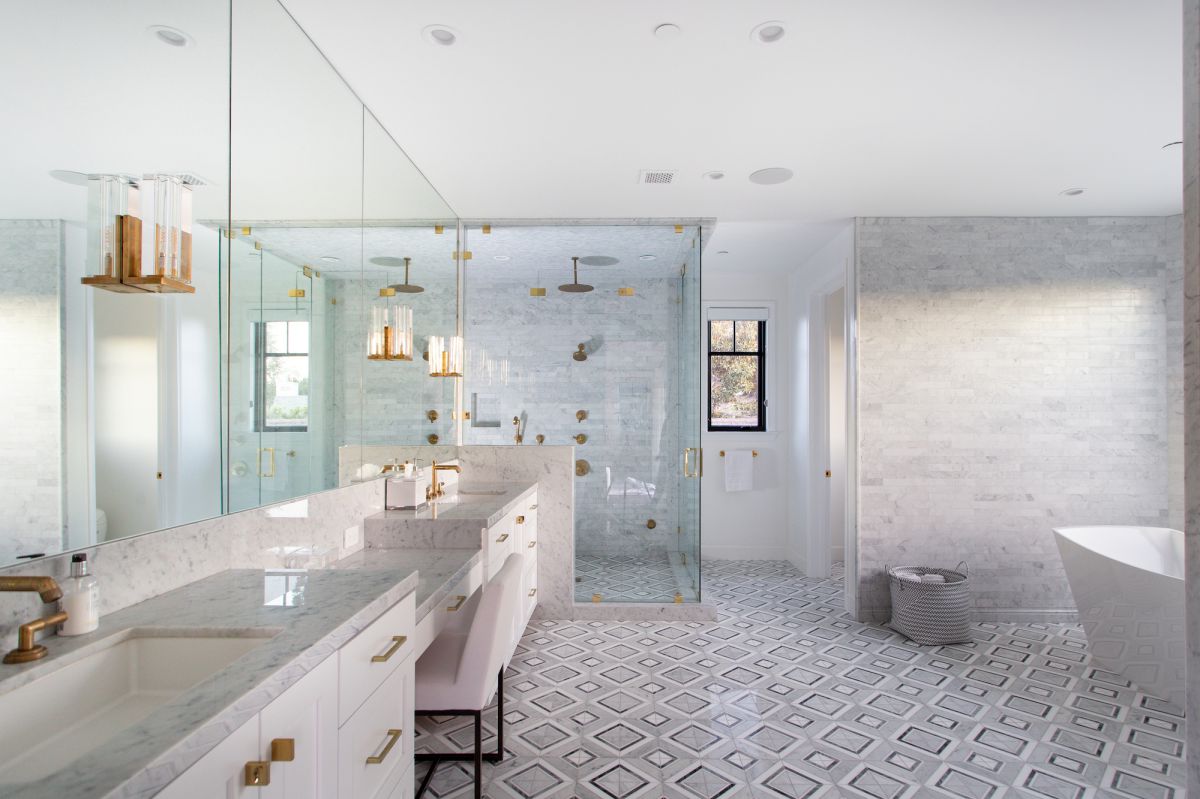 3 | The bathroom's brass mirrors, sconces, and fixtures are set against a sophisticated gray wall and intricate pattern floor. Los Angeles New Construction Modern Farmhouse for Sale at $9.7 Million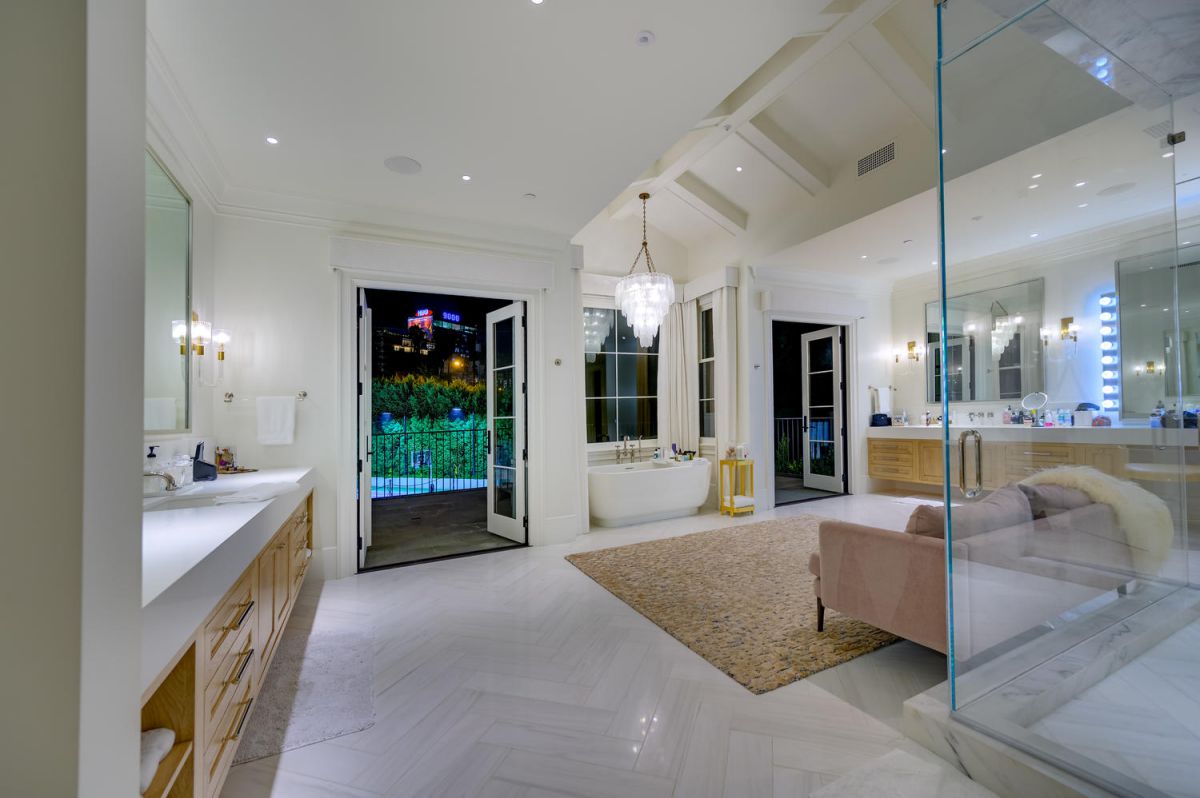 4 | The main bathroom's large main doors let plenty of natural light into this neutral, remodeled space, giving it a warm feel. Georgian Transitional Home in Beverly Hills hits Market $29.99 Million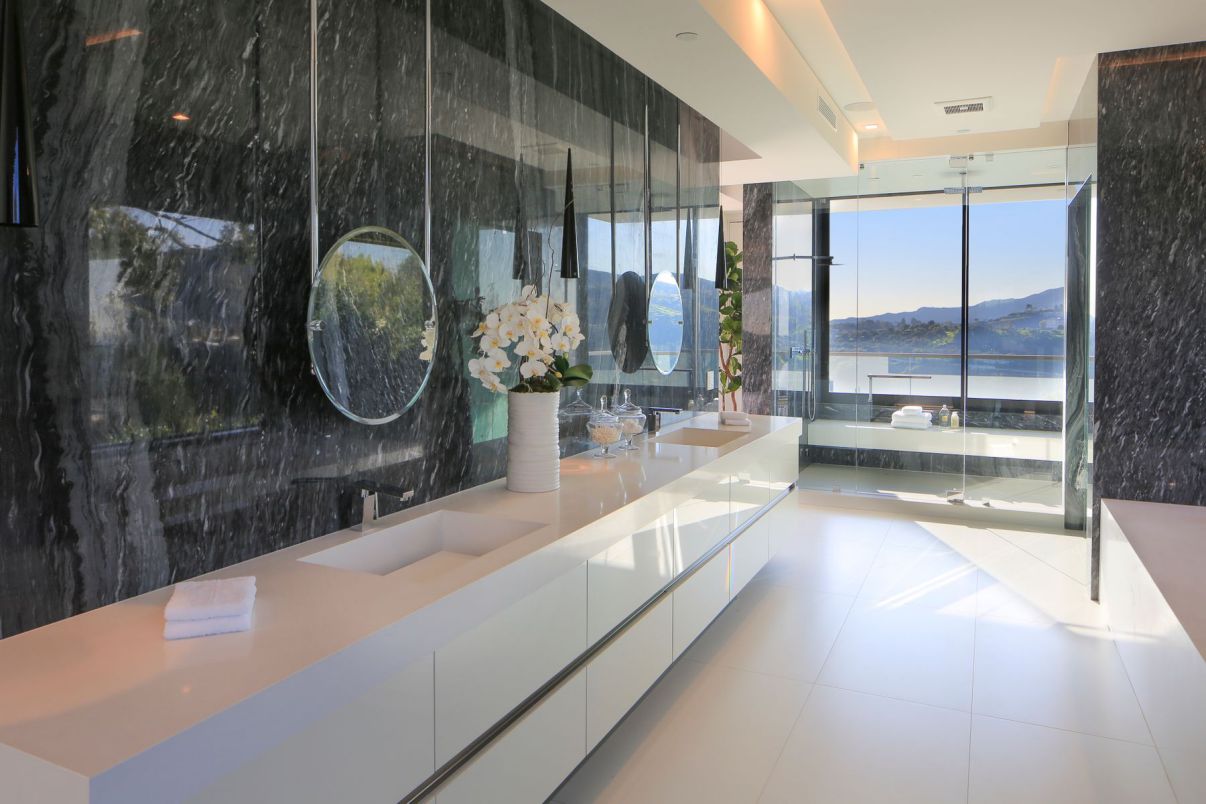 5 | The black and white space is given a natural, warm touch by the wooden, flat panel vanity drawers. Timeless Sophisticated Bel Air Estate by Architecture West Inc
More Ideas for Kitchen: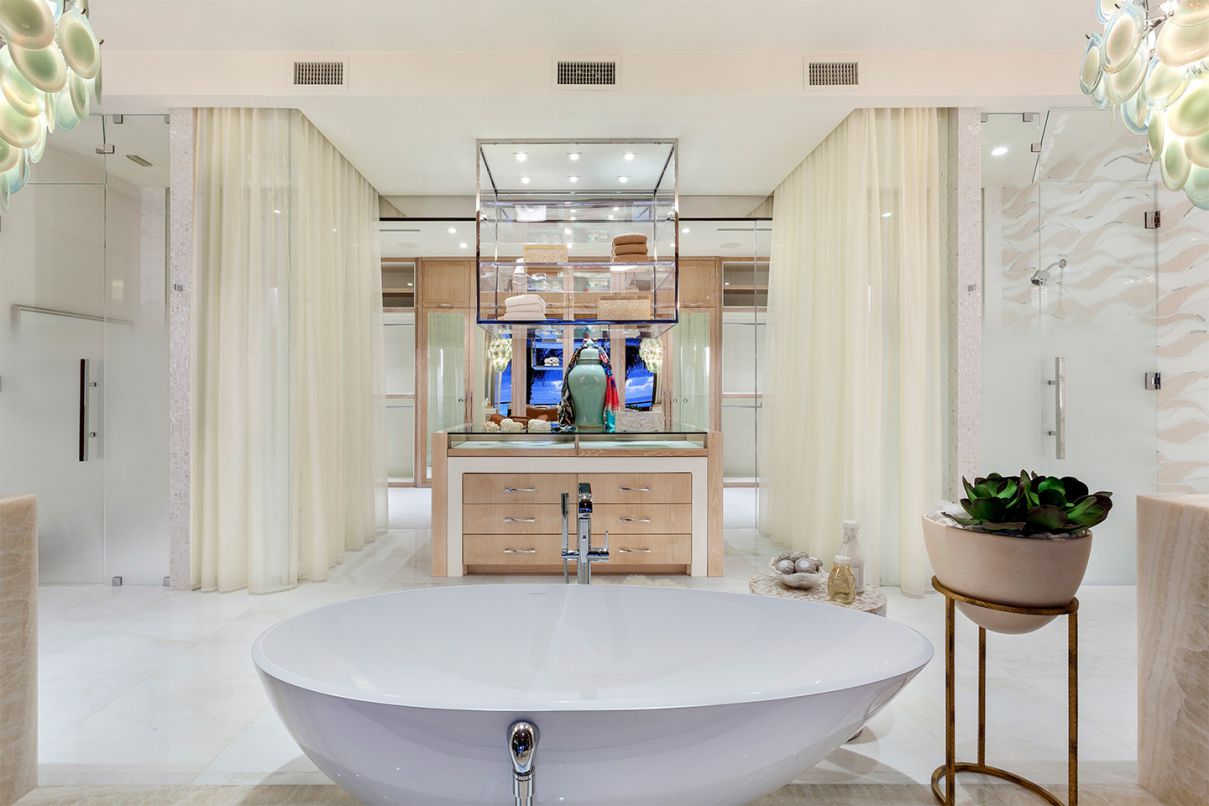 6 | A wood-supported vanity adds a touch of warmth to this white bathroom's cool and bright look. Stunning Palm Beach House in Florida built by Mark Timothy Inc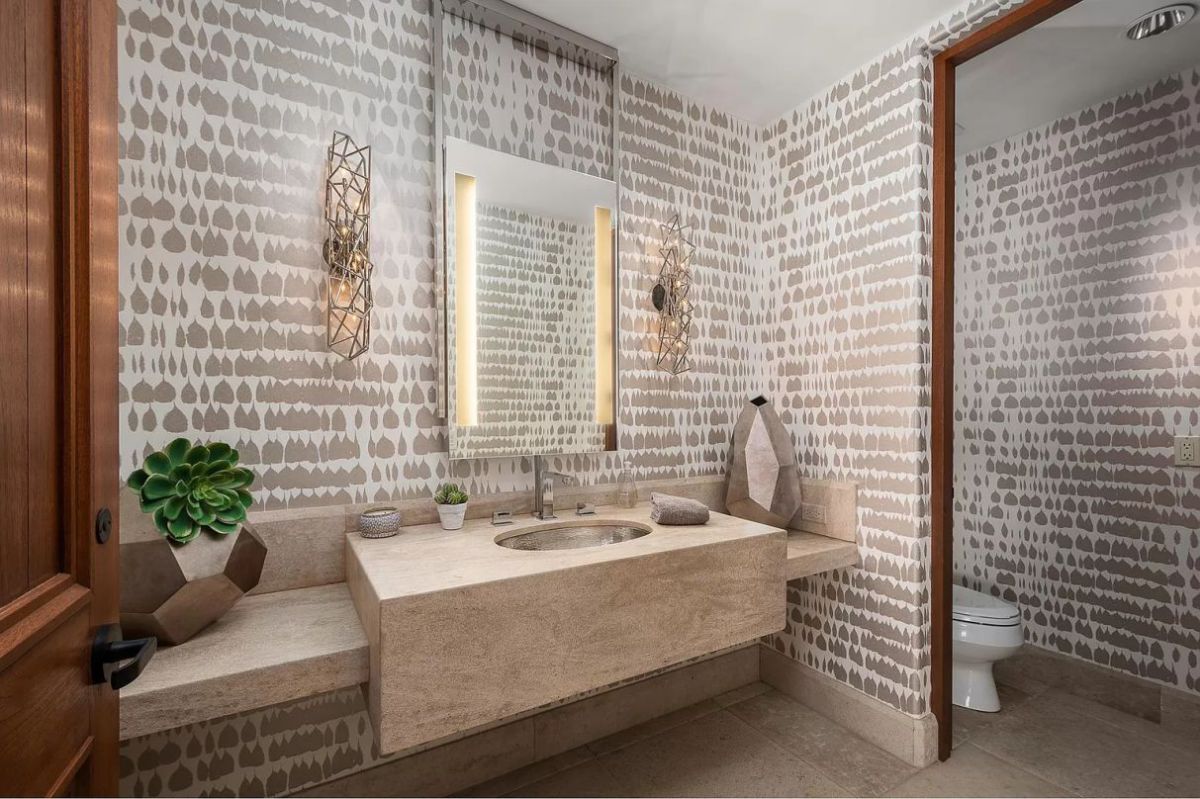 7 | To add accents to the room, they added geometric sconces and soft-textured walls. Unmatched Laguna Beach House with Shimmering Views asks $60 Million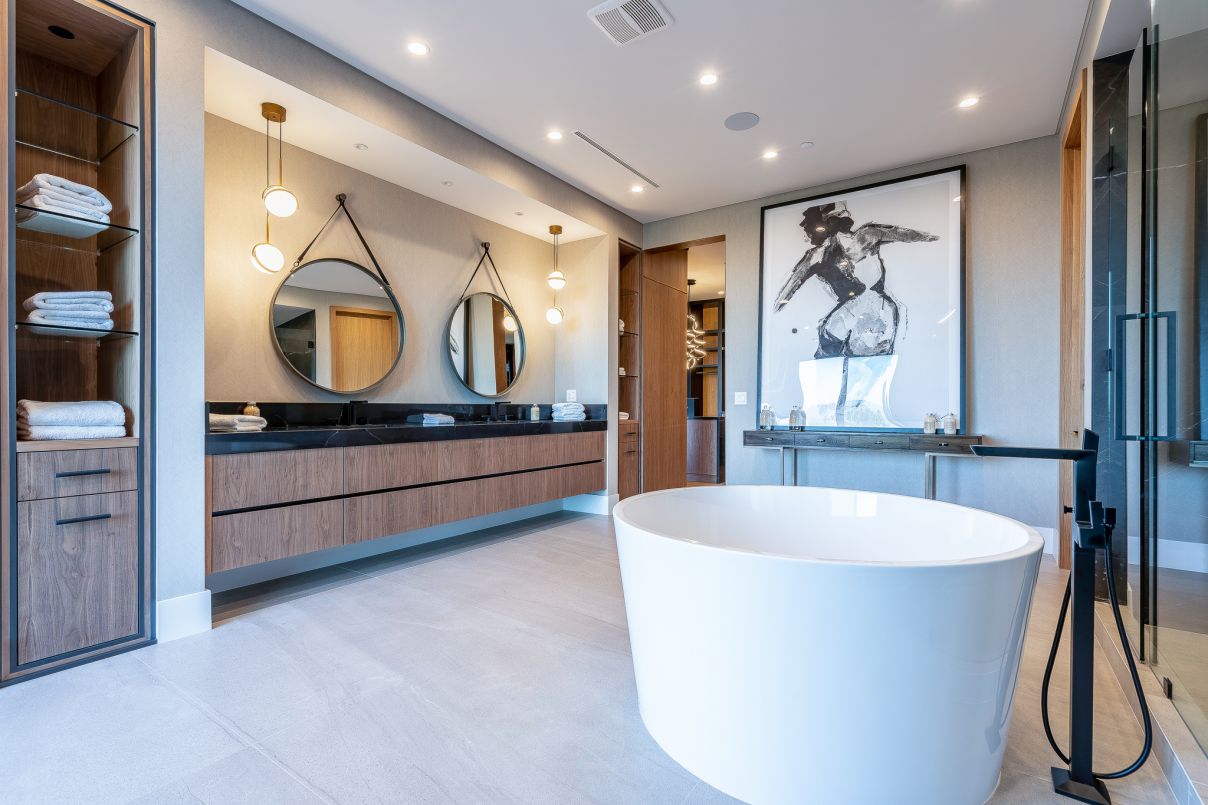 8 | Many designers prefer the large bathroom with double vanity and deep tub. Royal Oaks New Construction Masterpiece hits Market for $12 Million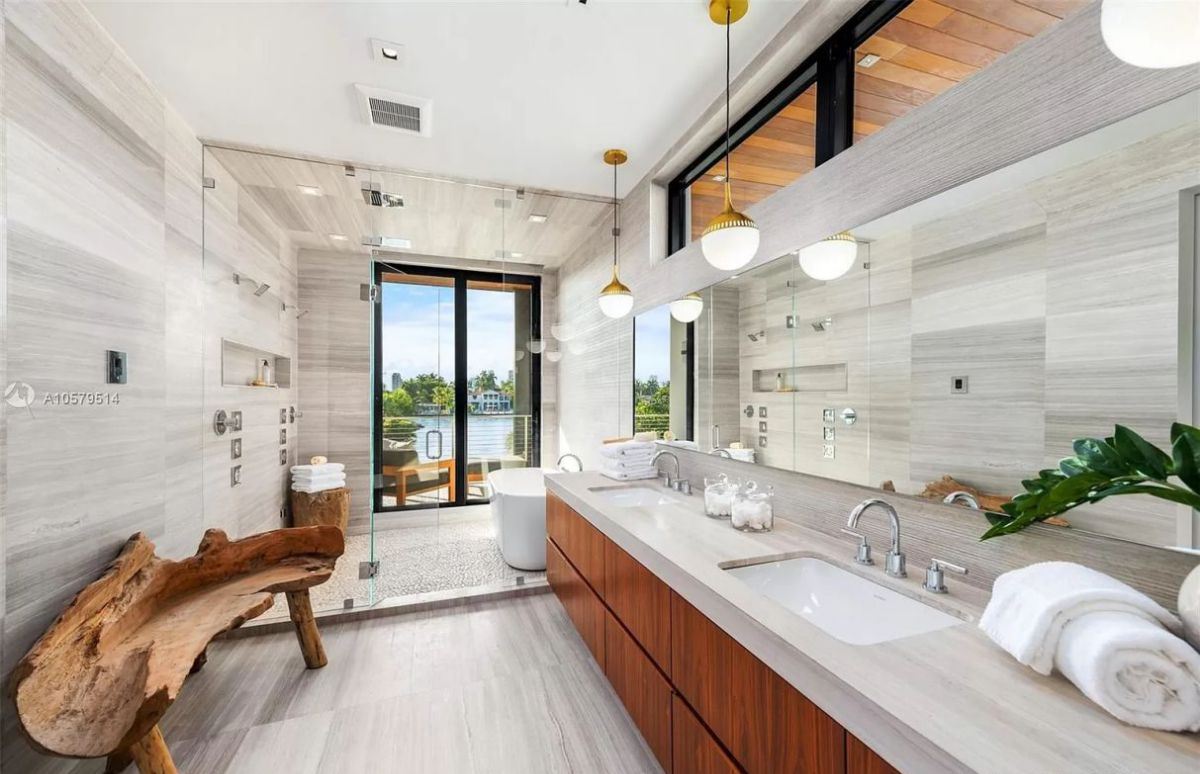 9 | Wooden waiting chairs with a modern, minimalist design combine classic and modern styles. 430 West Dilido Drive – An Exquisite Florida House for Sale at $7.2 Million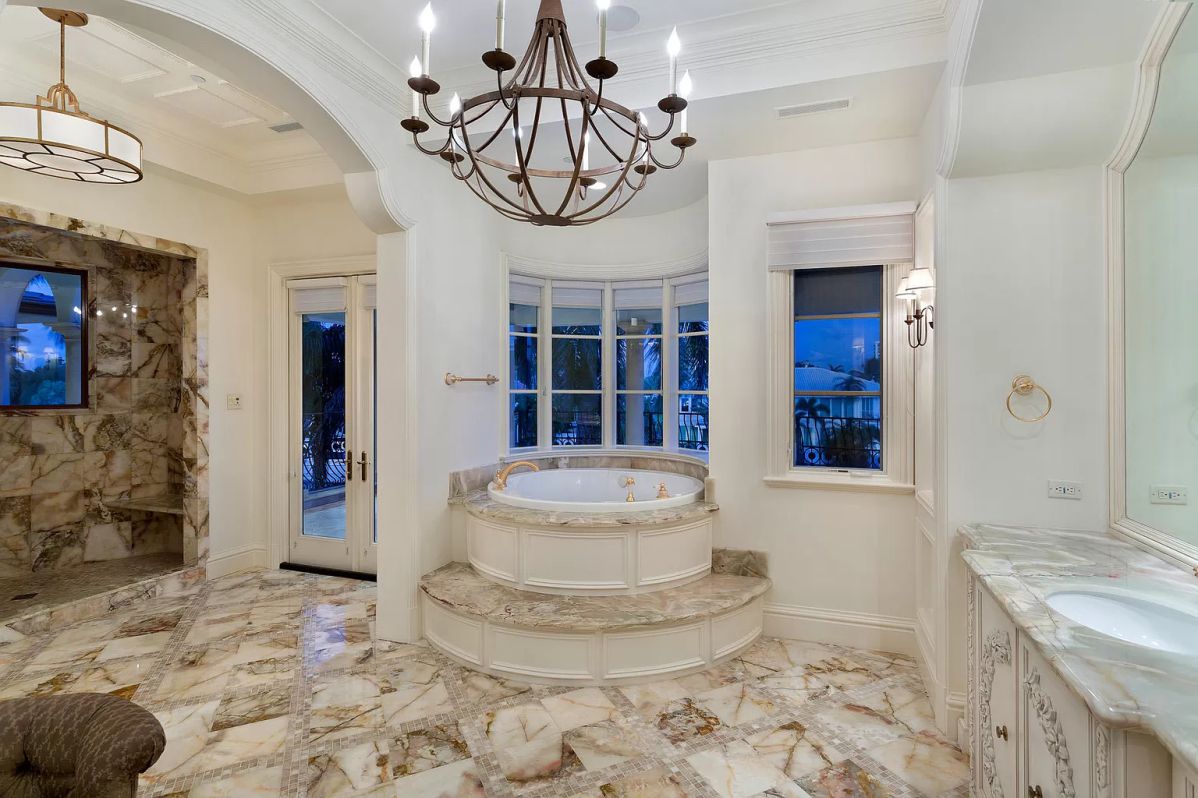 10 | With this great location and design, you can enjoy the view while relaxing in the tub. Furthermore, the space is made more romantic by the addition of classical style chandeliers. Boca Raton Florida Deepwater Estate for Sale at $7.95 Million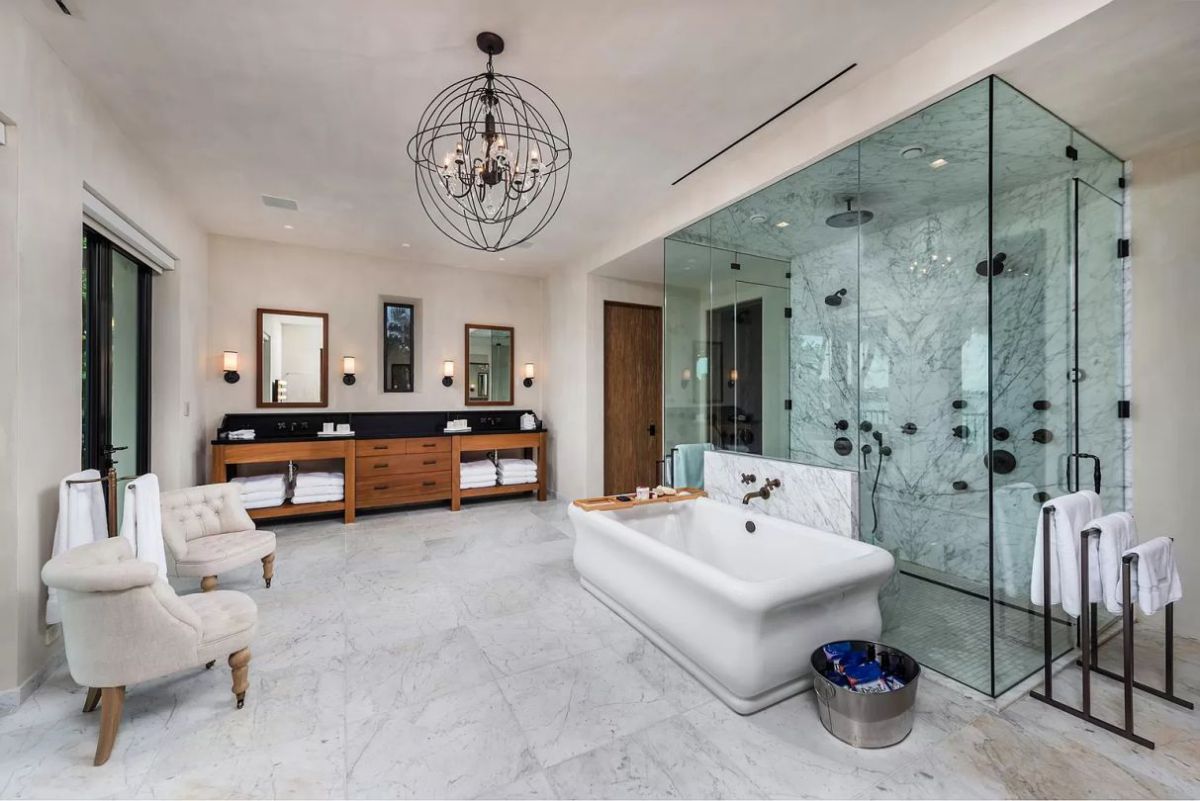 11 | This spacious main bath is ideal for a couple who enjoys having plenty of room. The combination of the marble backsplash and contemporary sofa set, as well as the porcelain tile floor and soaking tub, creates a relaxing atmosphere. Miami Beach Resort Style Home for Sale at Asking Price $26.5 Million
More Ideas for Bedroom: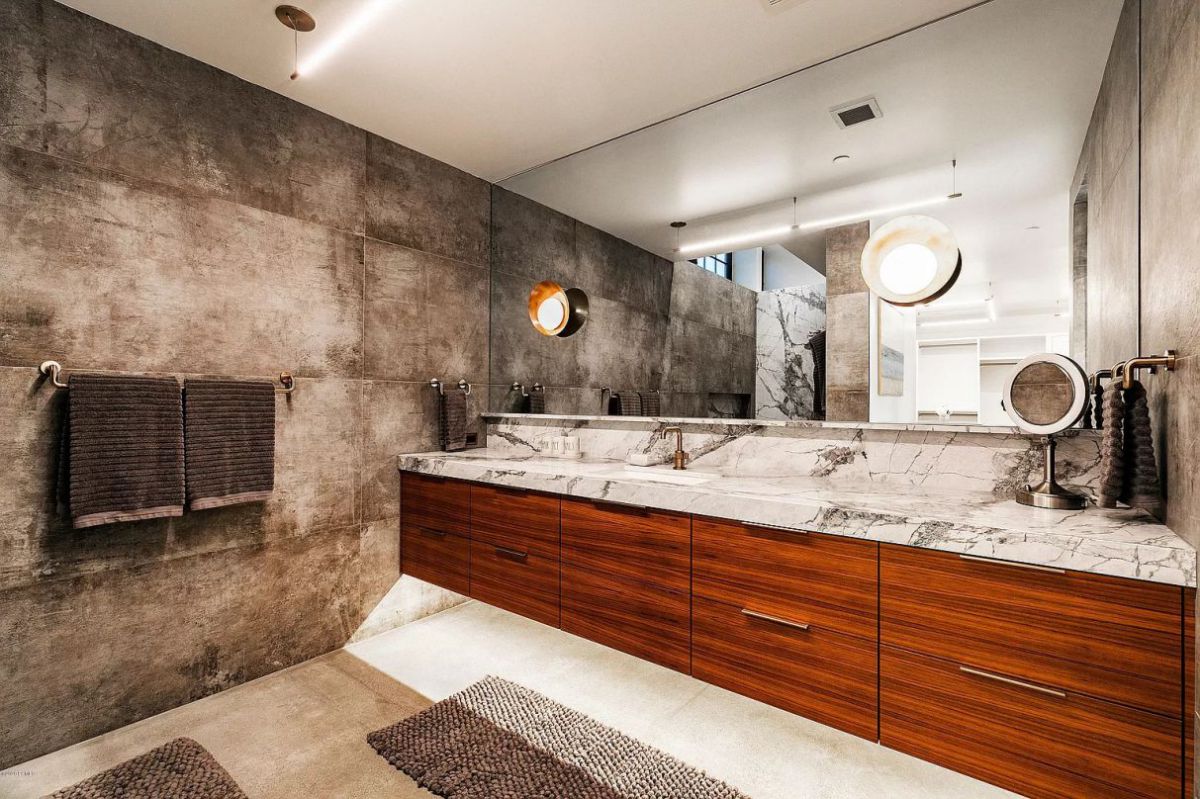 12 |This design is appropriate for homeowners who prefer a warm color scheme with deep brown tones and dark painted wood. Architectural Utah House for Sale with An Asking Price $11.5 Million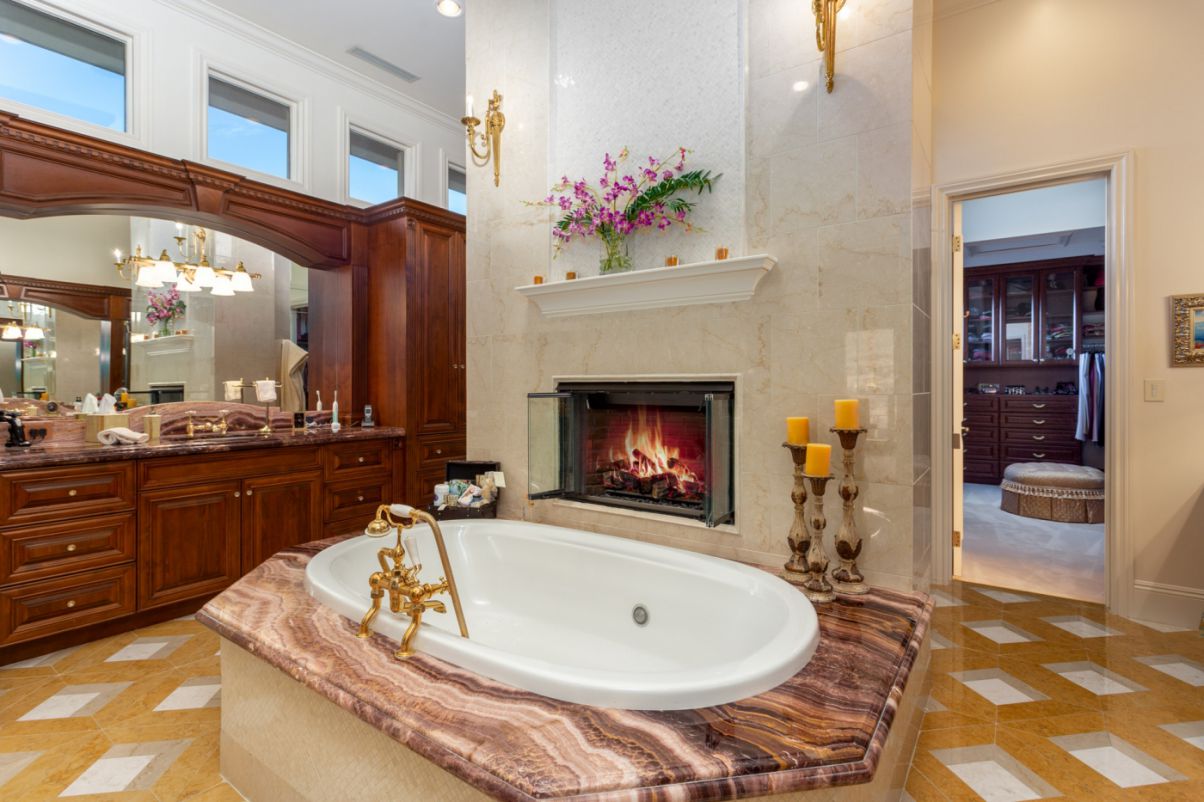 13 | The perfect bathroom space is created by candlelight, a fireplace, and a wooden vanity. Remarkable Las Vegas Home at Promontory Ridge Drive for Sale at $5.99 Million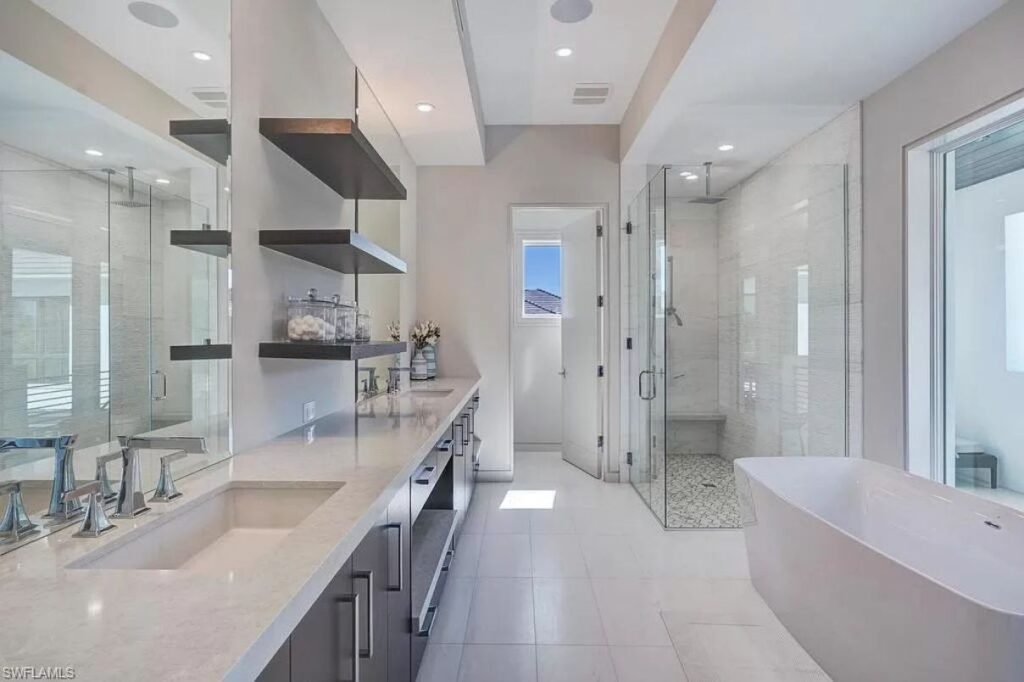 14 | In a modern, contemporary living room, having a few extra shelves is also a great idea. Taking things from the washbasin cabinet will become easier in every way. Gulf Shore Grand Masterpiece in Naples, Florida for Rent at $75,000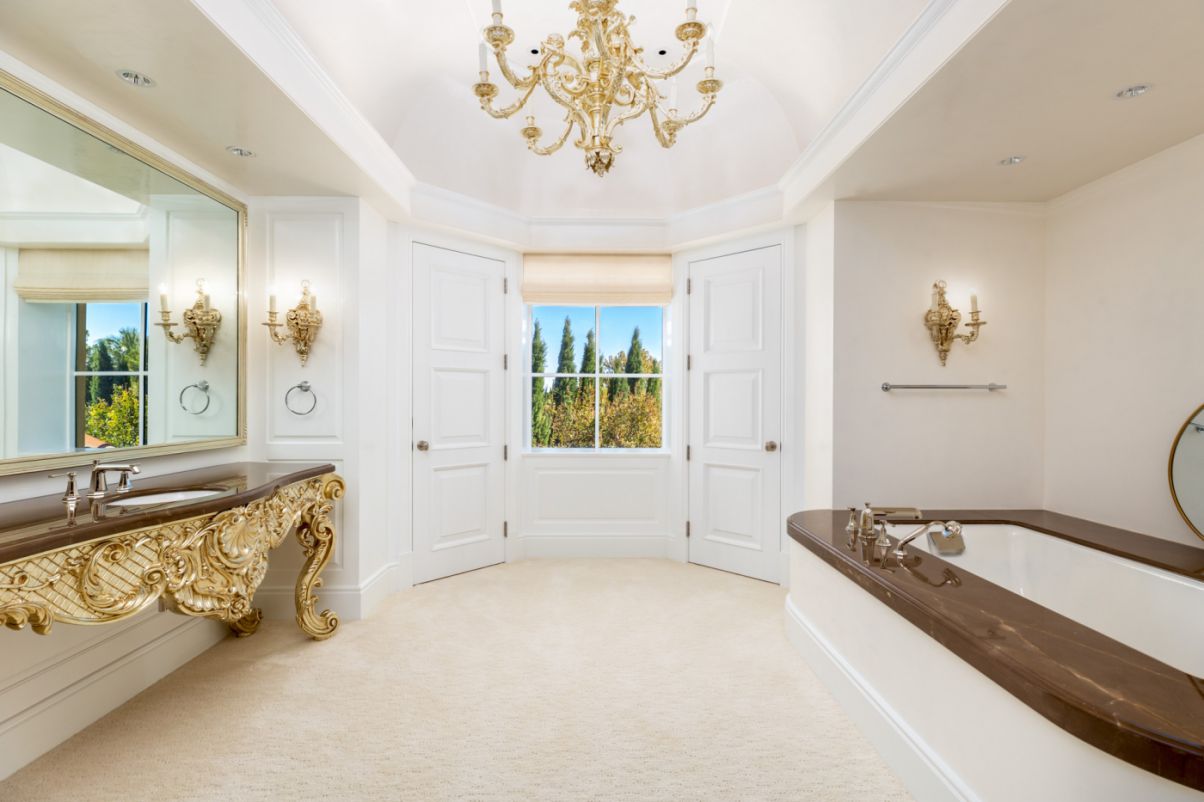 15 | Brass sconces on both sides of the main bathroom space add a unique, vintage touch. Elegent and Timeless European Villa in Las Vegas for Sale at $25 Million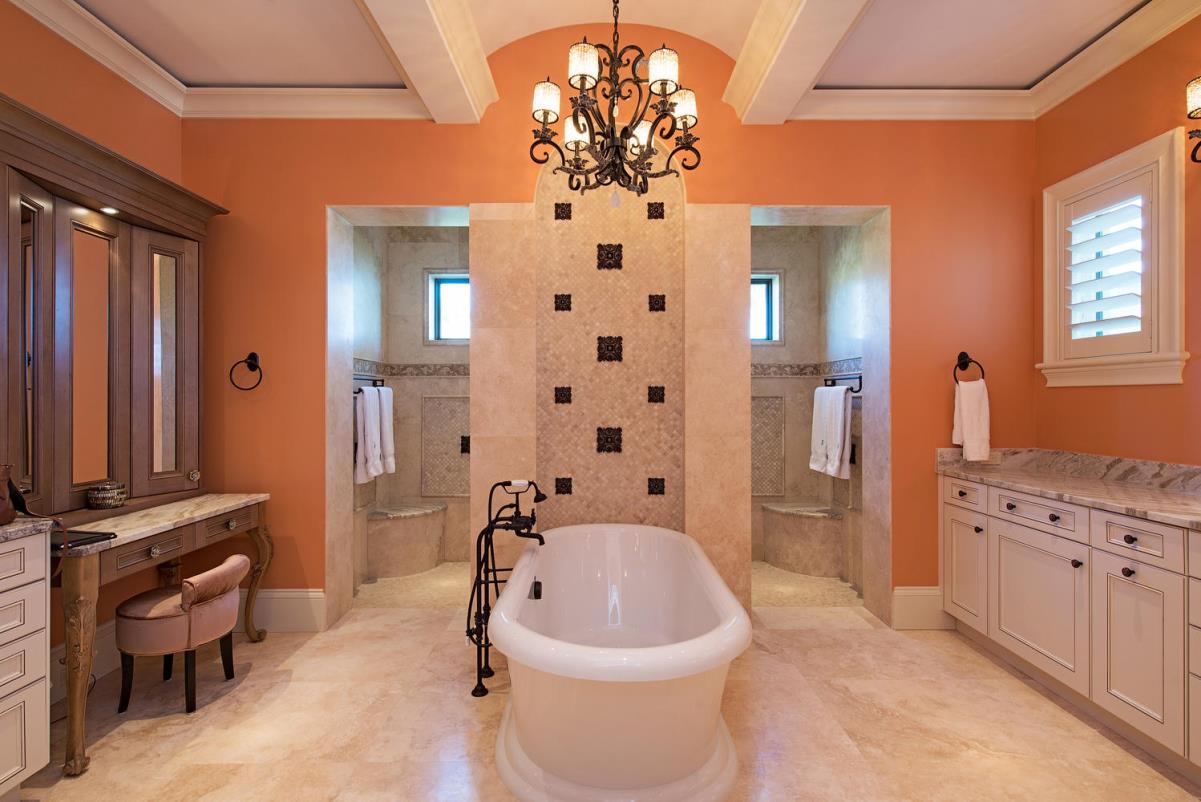 16 | Under the chandeliers, the harmonious color transition from earthy pink to pale pink and the white bath become even more soothing. Vista Pointe Waterfront Residence in Naples by Stofft Cooney Architects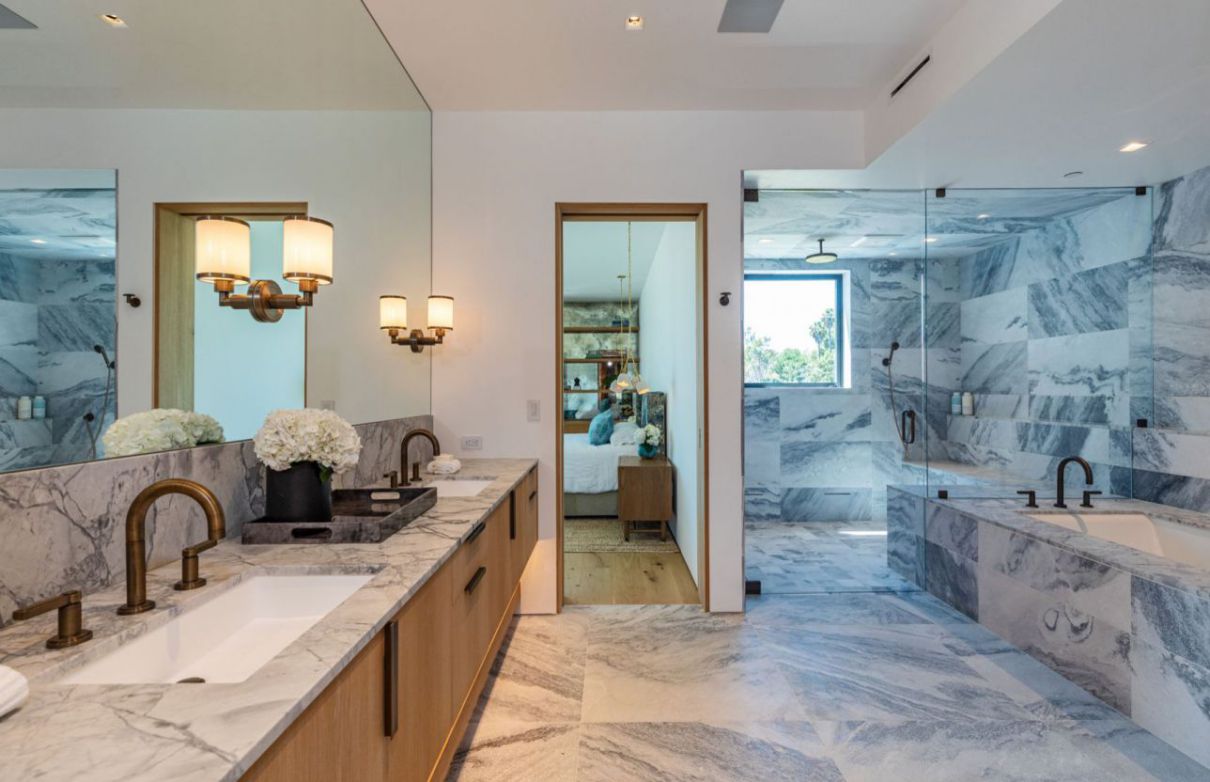 17 | Against the wooden washbasin cabinet in this bathroom, a light blue vanity and title wall are a lovely surprise. A vase brings a romantic and playful element to the table. Brand New Contemporary Bel Air Custom Home hit Market for $15 Million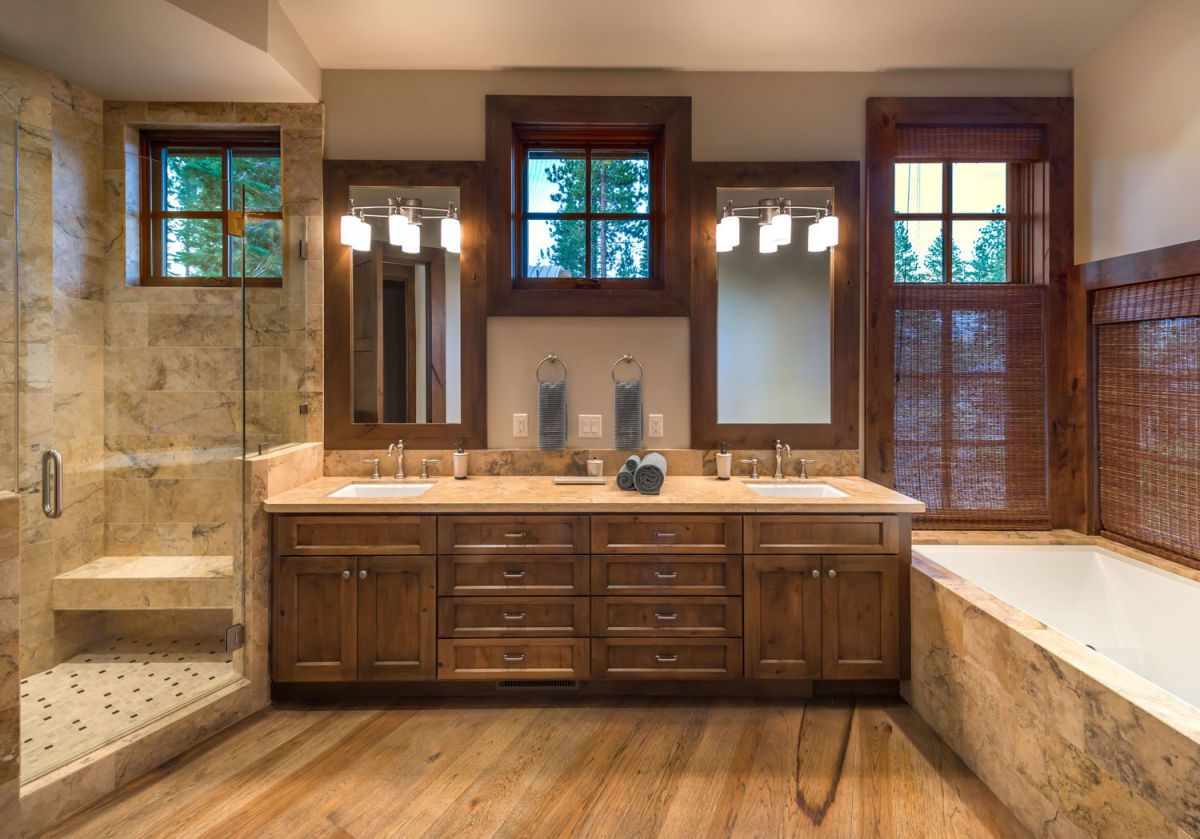 18 | Wooden frame mirrors, a soaking tub, brass fixtures, and a glass shower enclosure are featured in this modern cottage bathroom. Martis Camp Residence 330 in Truckee, CA by Nicholas Sonder Architect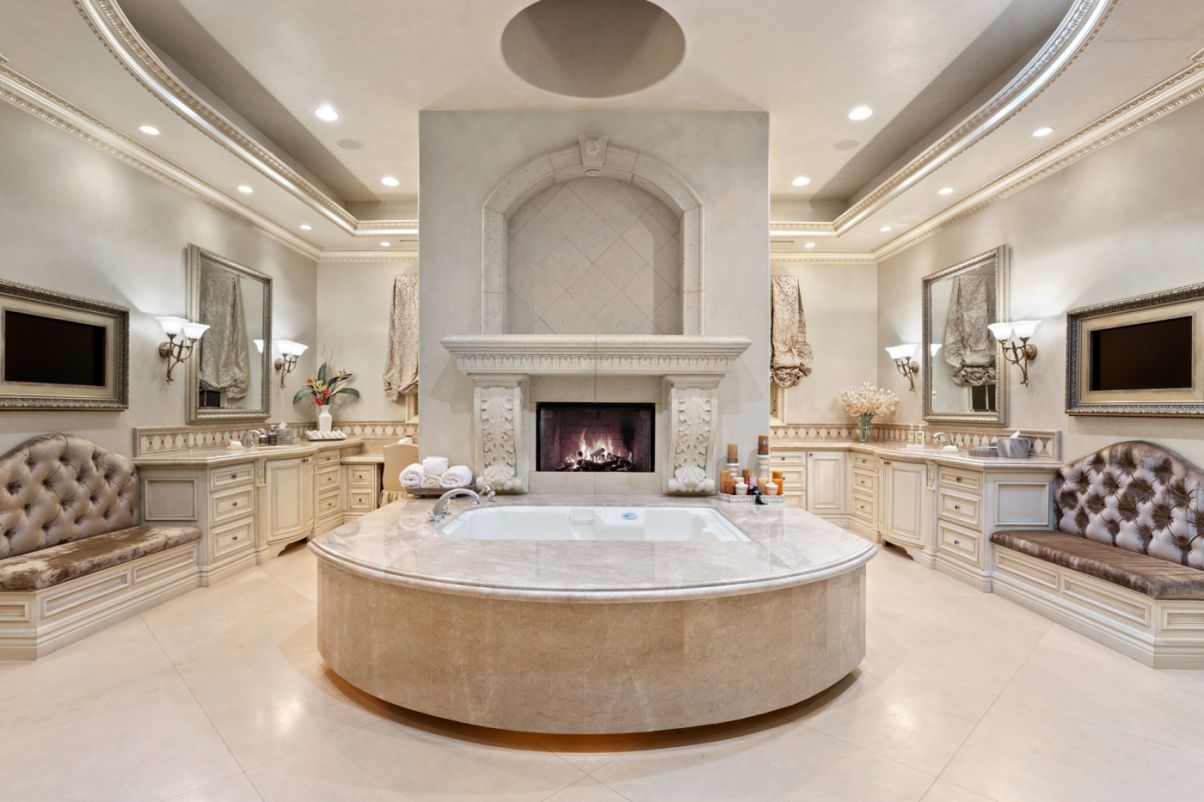 19 | Between the large bathtub and two leather modern sofas, the luxurious bathroom is symmetrically designed. Timeless Red Arrow Custom Home in Las Vegas for Sale $5.5 Million
More Ideas for Living room: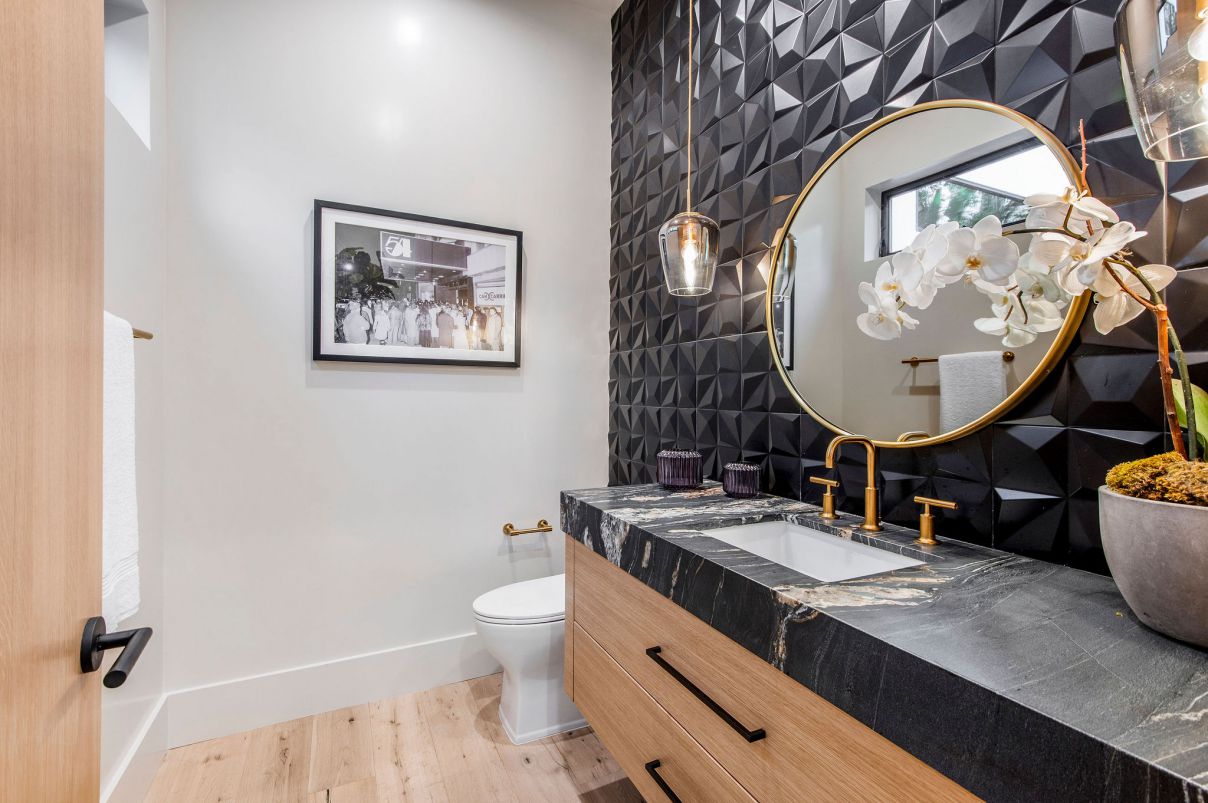 20 | With glossy black walls, a reasonable mirror position, and full lights, the space is filled with book light. Exquisite New Home in Venice for Sale with An Asking Price $5.7 Million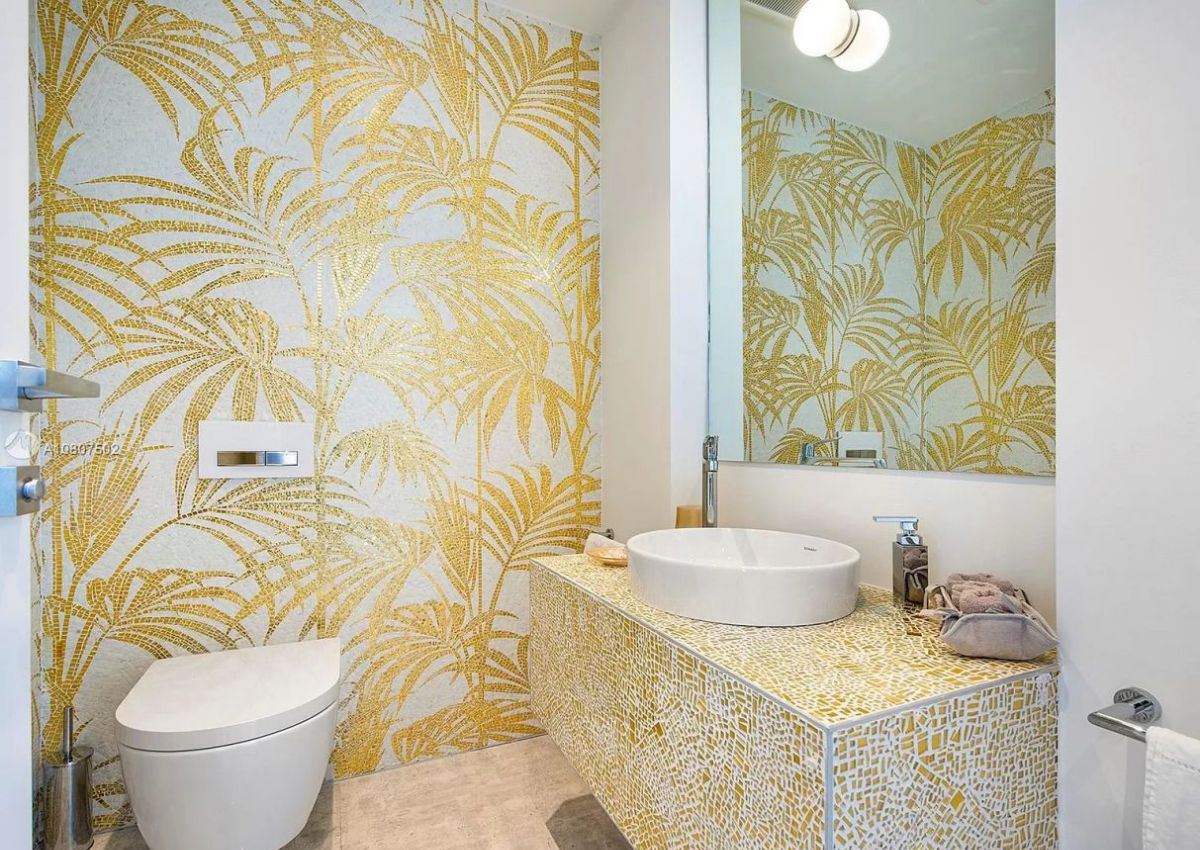 21 | With its elaborate delicate gold tree details, this bathroom exudes elegance. It's a great example of how a small space can be the perfect setting for a bold or vibrantly colored pattern. $11.5 Million Prairie Avenue Modern Home in Miami Beach, Florida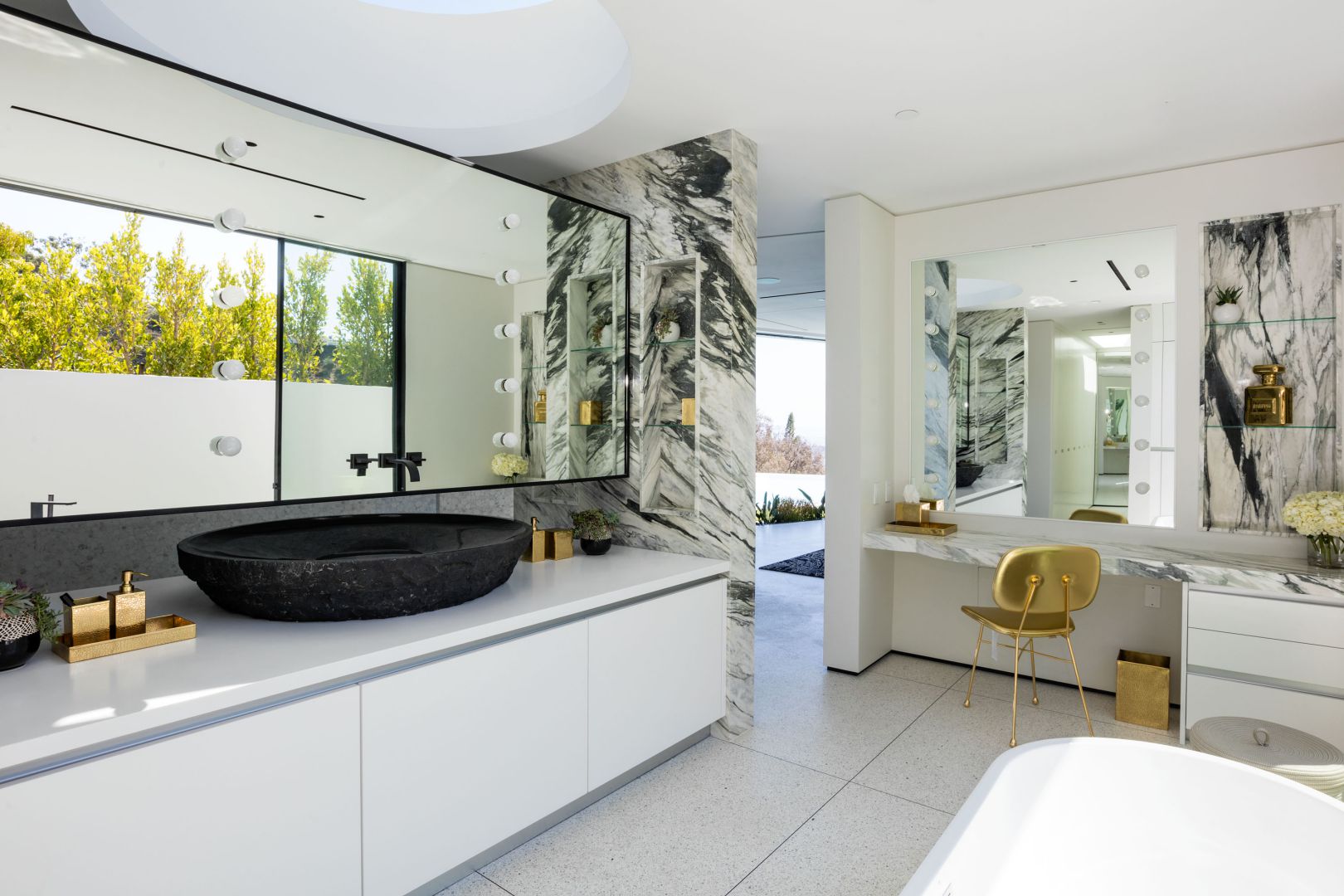 22 | The combination of a graphite colored washbasin and yellow items creates a unique feature for the room. Dabney Lane Modern Home – The Pinnacle of Los Angeles luxury living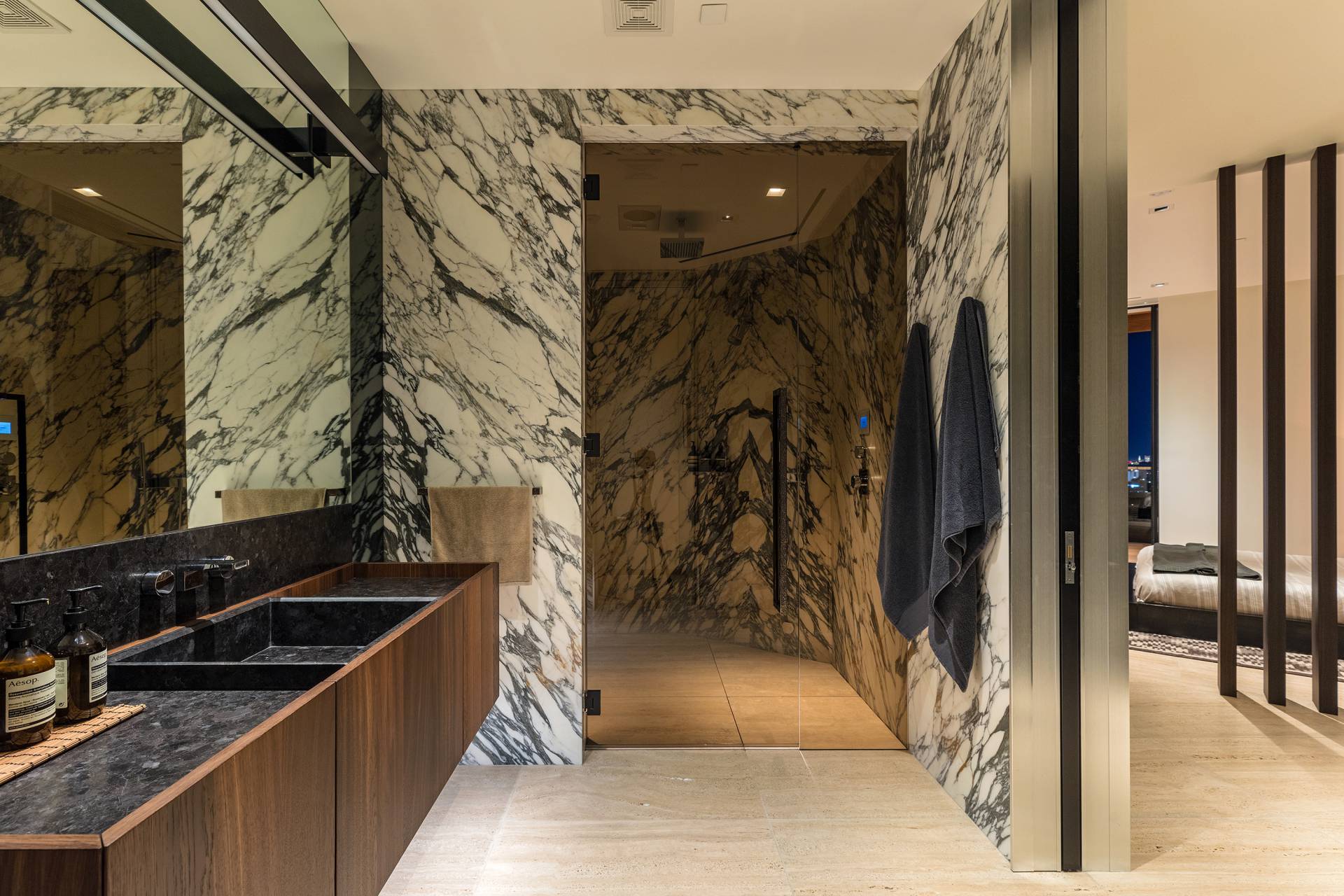 23 | From the color to the angular details, the rectangular sink design is a perfect match for the room. Incredible North Stanley Modern Home in Los Angeles by XTEN Architecture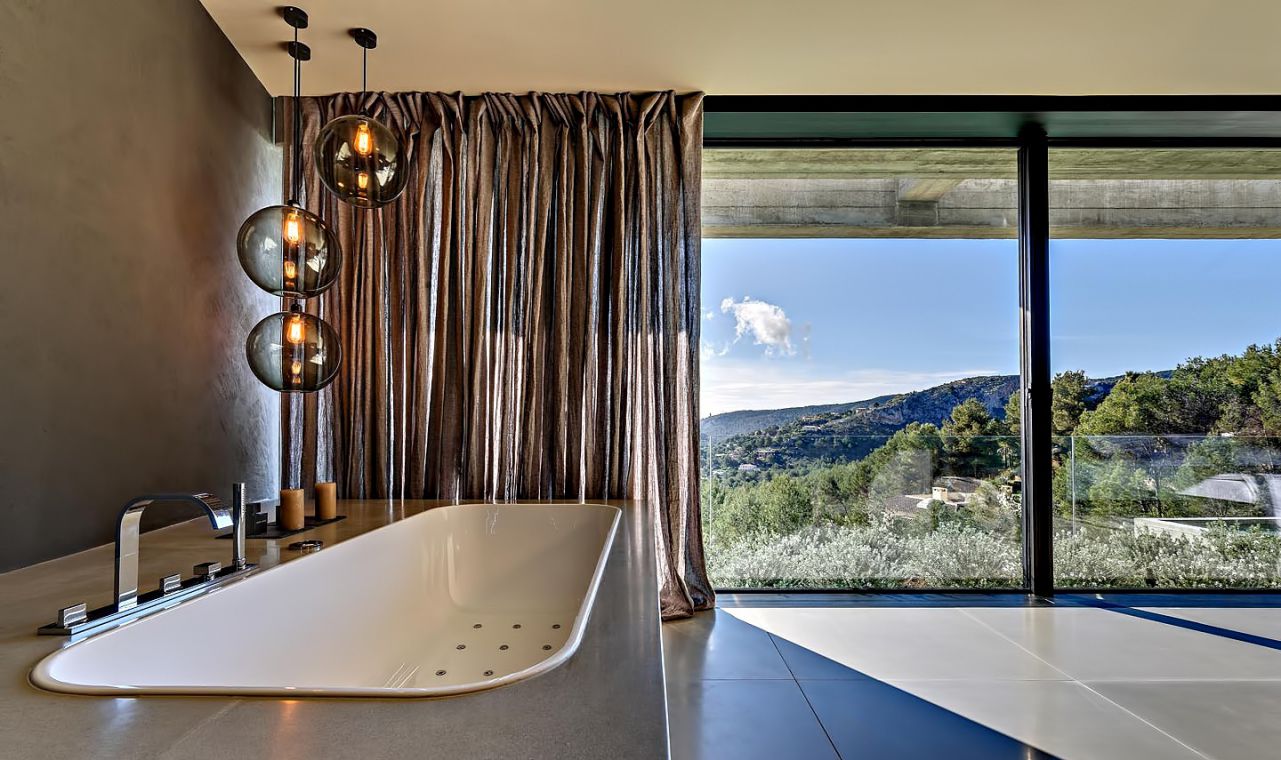 24 | Brown silk curtains make a large bathroom feel warmer and more private. Curtains can also add a touch of romance to a room for couples. Modern Villa Boscana in Son Vida, Spain by Osvaldo Luppi Architect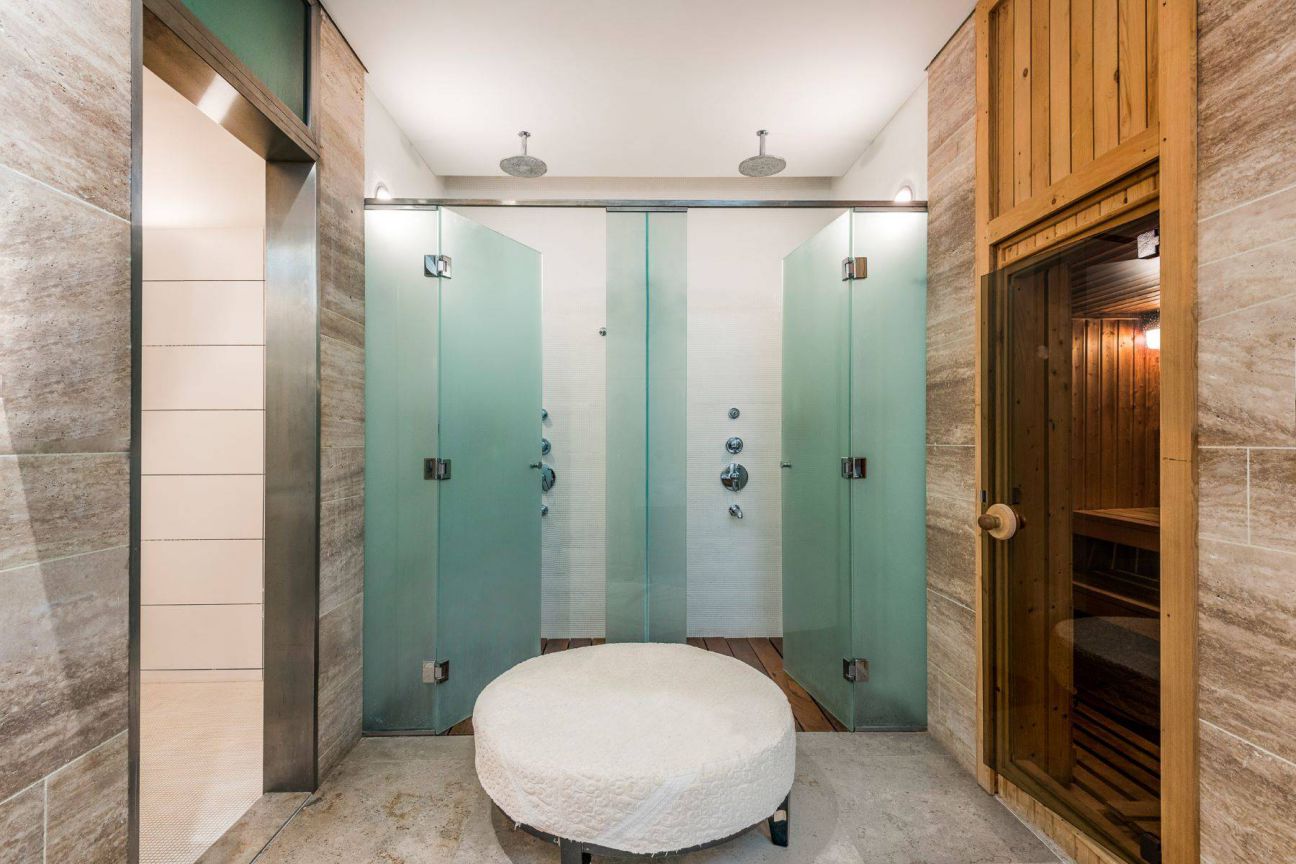 25 | For confined spaces, a lounge chair in the central area between the bathroom and the steam room is ideal. Palm Jumeirah Beachfront Palace in Dubai, United Arab Emirates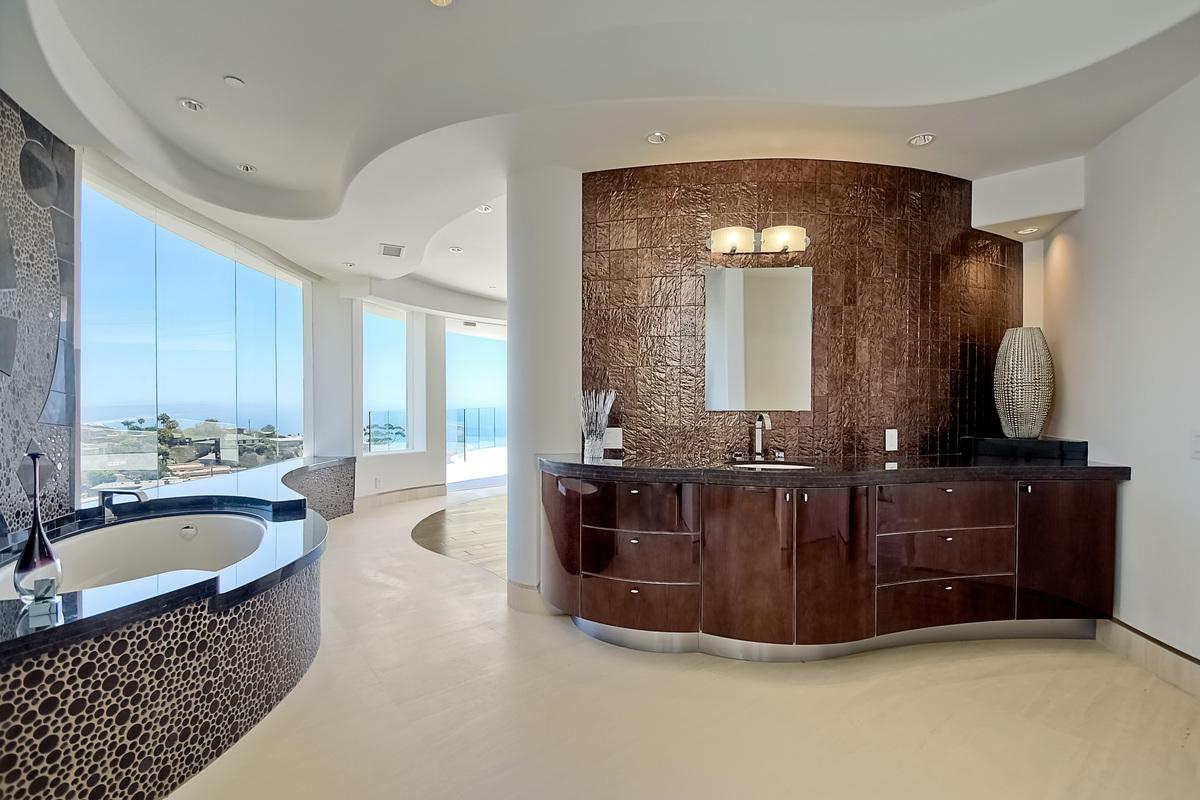 26 | With tiled bathtubs and stylized designs, the design is groundbreaking and one-of-a-kind. Architectural masterpiece in La Jolla, California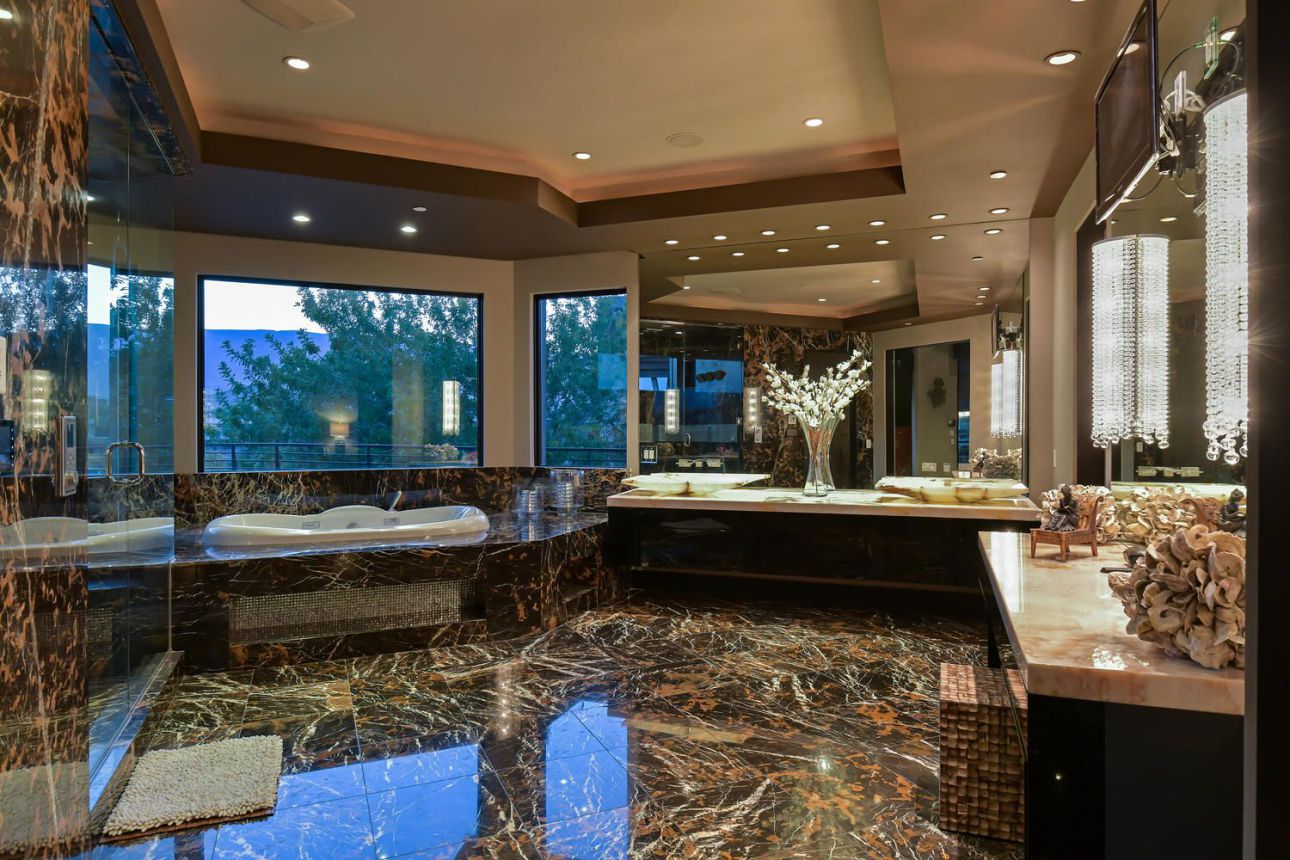 27 | Even if you have a large bathroom, the space still becomes closer and more intimate with the walls and floor tiled with dark patterned tiles. Painted Feather Way Modern Masterpiece in Las Vegas
---
Thousand of high quality images of Bathroom and more you can see at Bathroom Gallery.