Date of Publishing:
Creative Ideas For Modern Bedroom Designs
If you're not starting from scratch, consider the furniture that is already in your bedroom and the colors that it will complement when coming up with your modern bedroom designs. Without altering the bigger pieces, a room's appearance can be drastically changed. Additionally, a weekend may be spent updating the modern bedroom décor with a fresh coat of paint, some new wallpaper, and pillows.
1. Choose a Calming Palette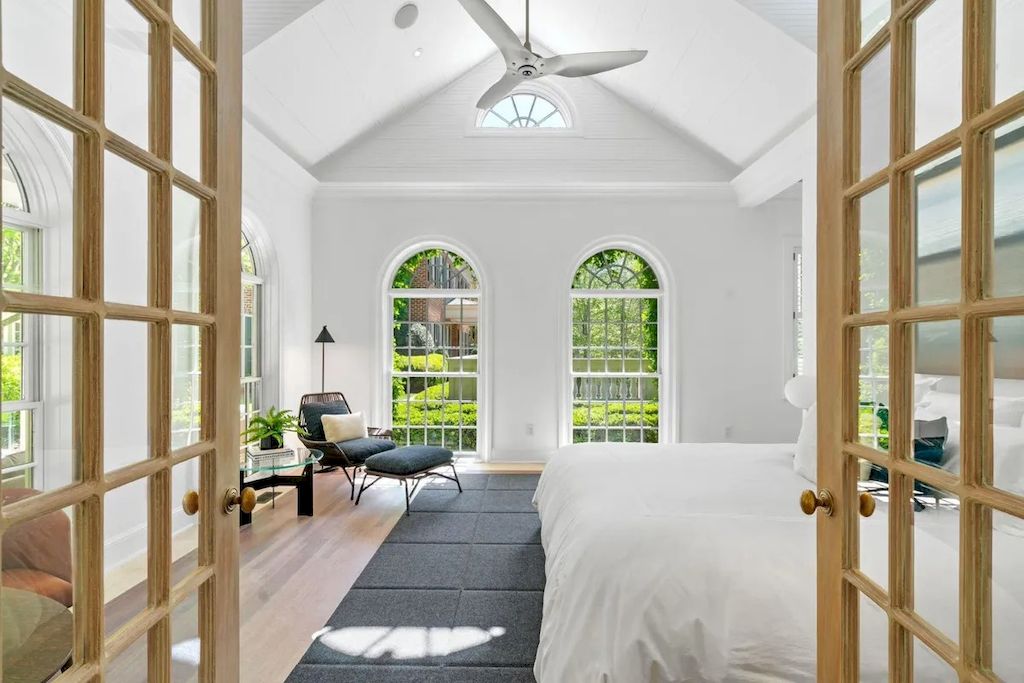 This contemporary gray bedroom instantly calms us down ten times just by gazing at it. This monochrome bedroom, with its moody gray walls and complementing bedding, embodies modern comfort at its best. Avoid anything bright when selecting colors that are designed to soothe and relax you. Tremendous and Noteworthy Residence in Virginia on Market for $14,700,000
2. Be Fearless of Pink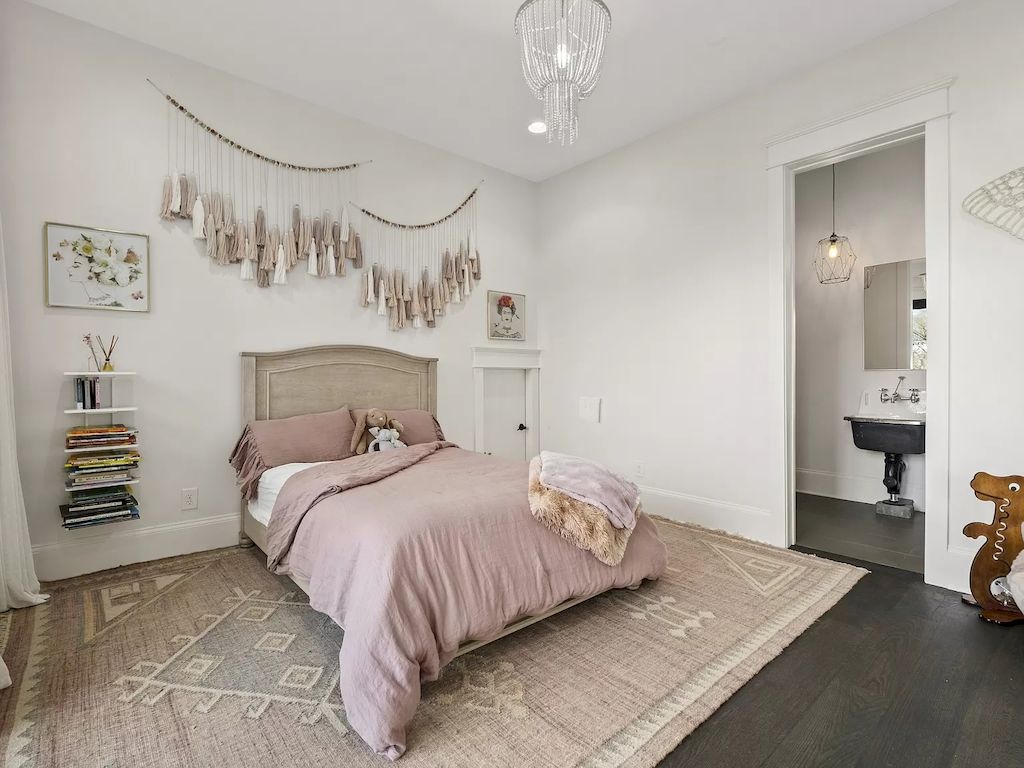 Pink is undoubtedly seen as a more feminine color, but that isn't always the case. In fact, it almost functions as a neutral in this monochromatic setting. Because it is so light, it makes the ideal transition shade. Quintessential White Farmhouse with Expansive Hilltop Views in Tennessee Priced at $7,000,000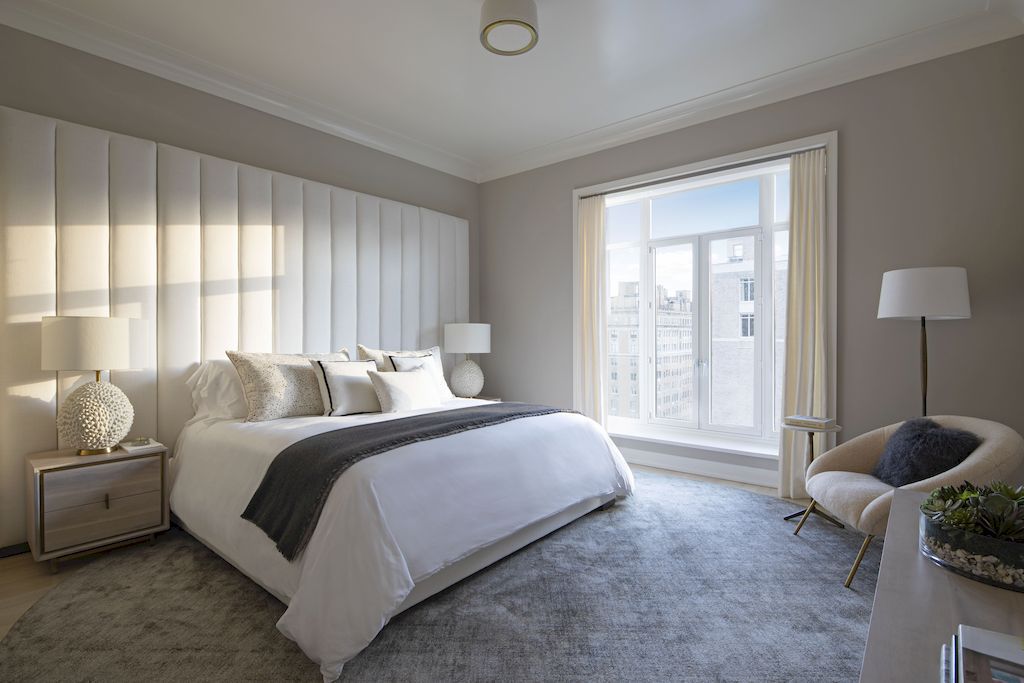 Stylish, effective, and practical One of the most popular choices for contemporary bedroom ideas and designs is Scandinavian minimalism. Only the cabinets' natural wood tones and the cool green headboard stand out in the otherwise white bedroom. There is very little decoration, and everything is useful. 40 East End Boutique Condo, Stunning high end luxury project in New York
4. Use Drapes To Generate Drama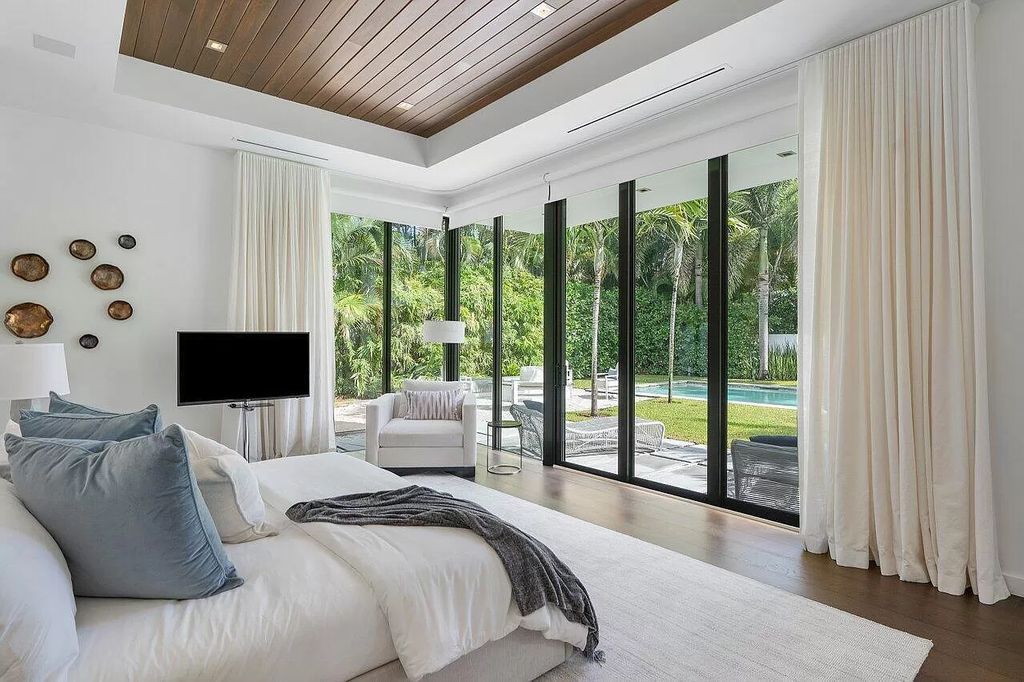 It truly makes a difference to choose luxurious textures in textiles for bed linen and curtain treatments. This bedroom is textured, cozy, and opulent thanks to the drapes that wrap around the area. Stunning Contemporary Custom Home with Expansive Private Courtyard in Boca Raton for Sale at $5,750,000
5. Natural Tones and Textures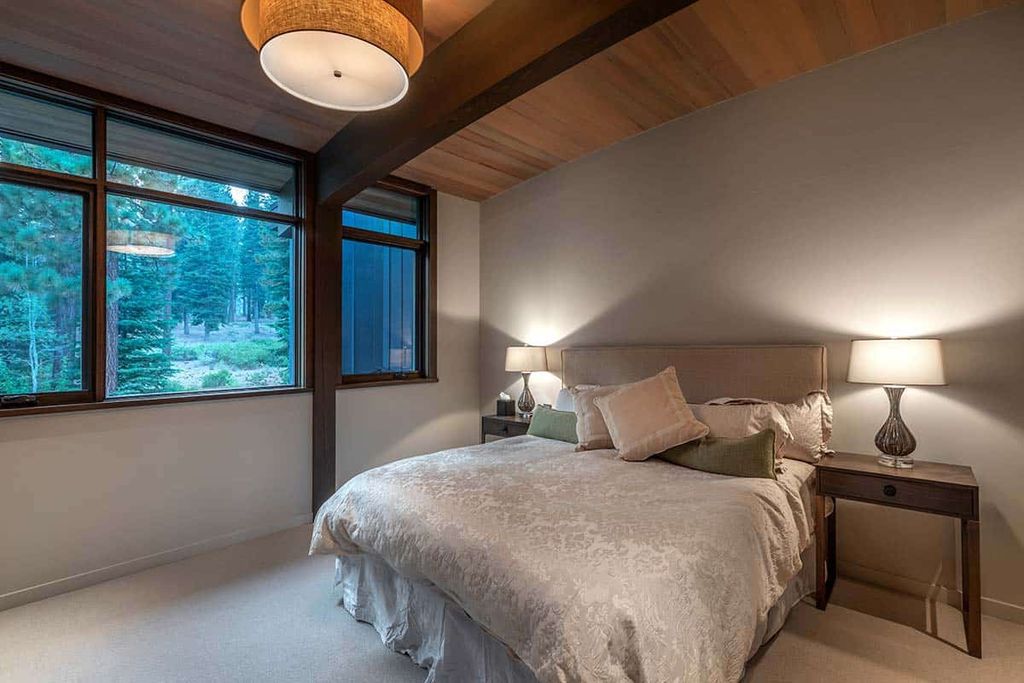 Amazing design features include untreated concrete walls, natural wood textures, and neutral colors. The bedroom in an all-natural house is tidy, soothing, and healthy. Every item in the space is useful and adheres to the minimalist design principle; it was conceptualized with efficiency and comfort in mind. Natural elements and simplicity are beautiful.  This $11,495,000 Martis Camp Home is a Showcase of Architectural Prowess
6. A Calm Corner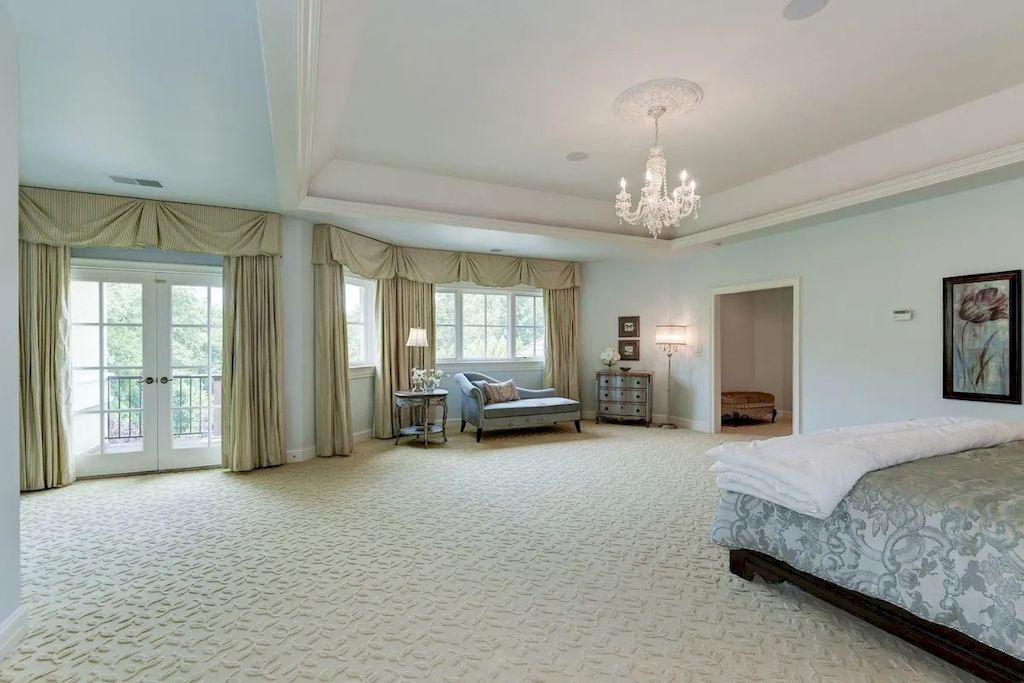 A calm and cozy area for reading, unwinding or sipping wine before bed. When you need some peace and quiet or a cozy place to relax and reflect, this is the ideal location. A comfortable seat, a light, and a side table should be placed in the appropriate corner.  This $7,500,000 Palatial Estate Offers Resort-style Living in Virginia
7. Monochromatic Tone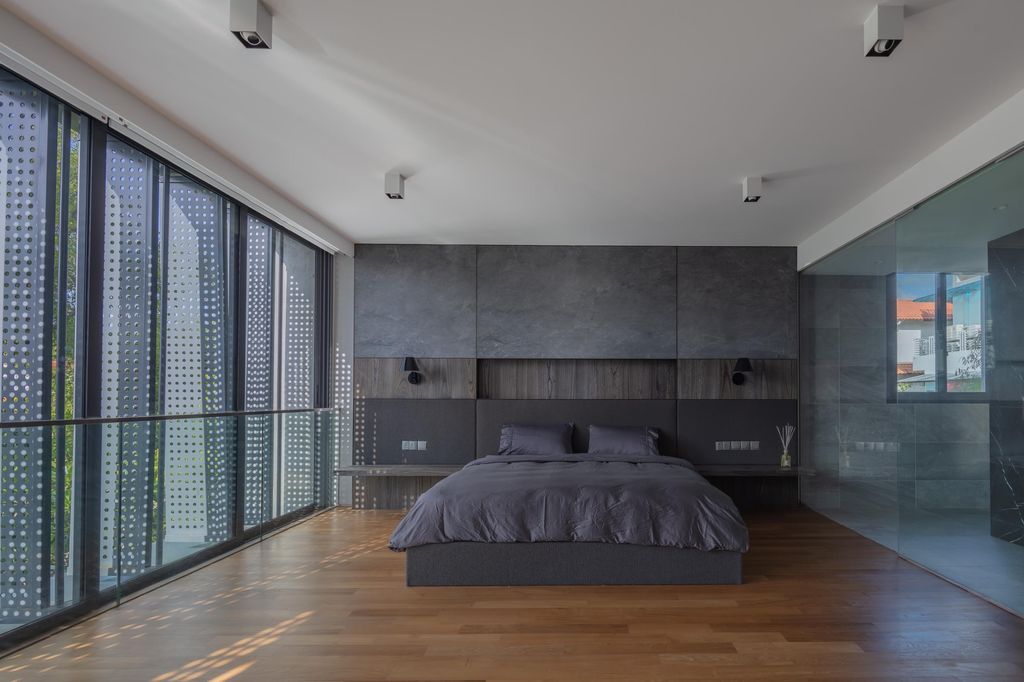 Although it has a cool color scheme, this contemporary bedroom doesn't feel at all chilly. With gray bedding, this monochromatic room is entirely modern. A really easy way to update your bedroom is to make it monochromatic. Just keep in mind: Use a variety of shades and tones of the color you've chosen to give your space more dimension. Green Revelation House Enveloped by Lush Gardens by HYLA Architects
8. Let Your Bed Speak For You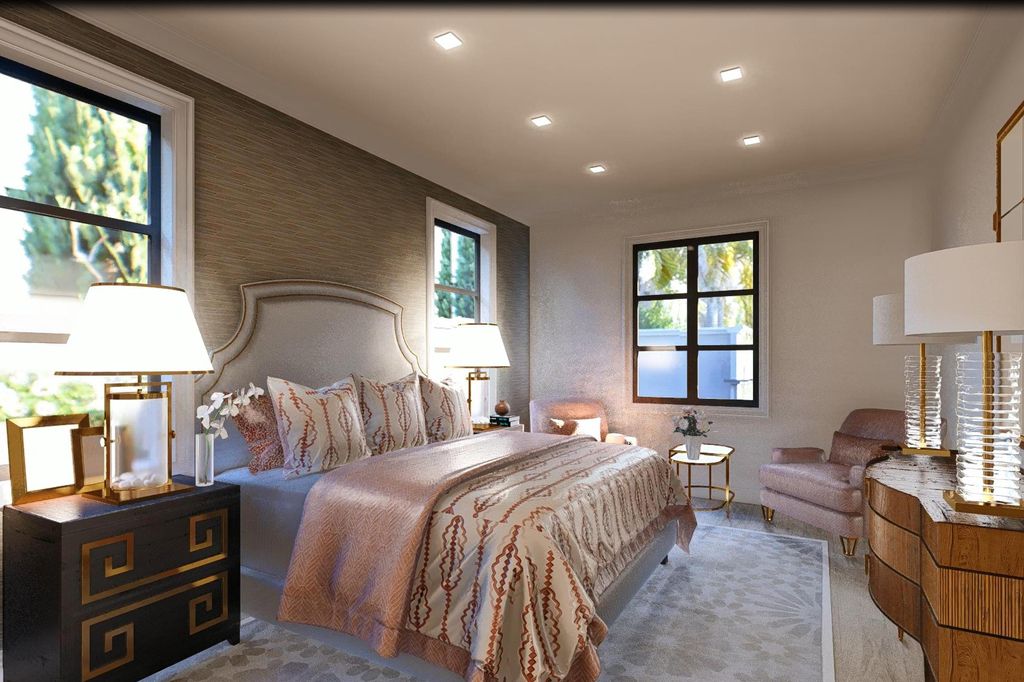 Consider leaving the furniture, walls, and décor neutral if you don't want to commit to a color scheme and choose colored bedding instead. Because of this, bedding is the least serious component of the entire bedroom. You may switch up the color palette whenever you choose if you have a couple different colored duvets and pillowcases.  Beautiful Modern Home Design Concept in California by Bauer Design Group, LLC
9. Work With Vibrant Colors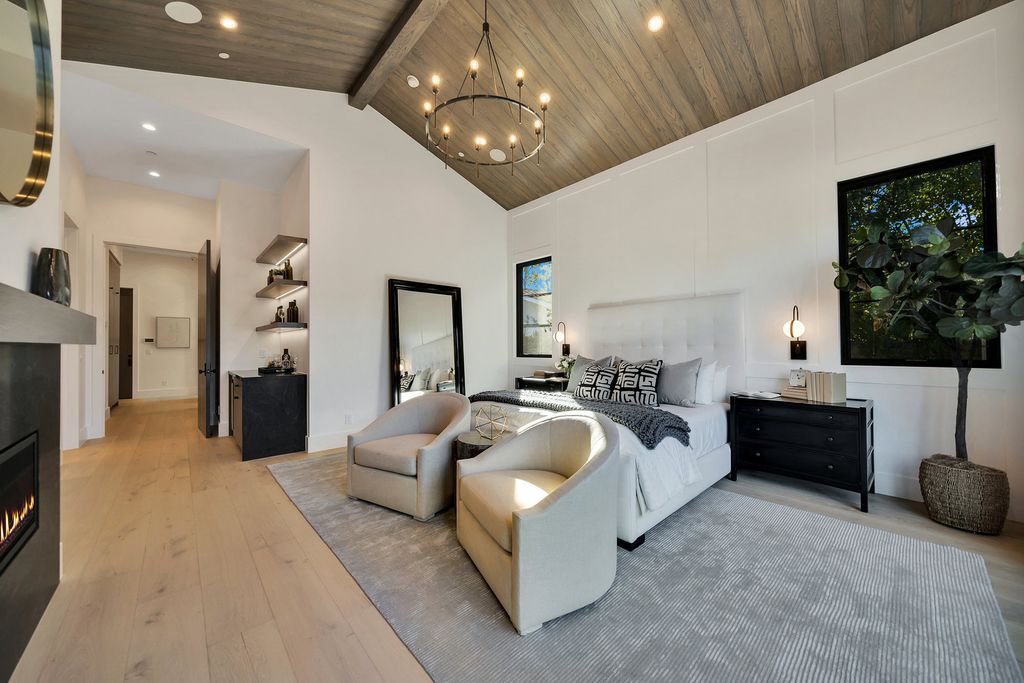 Metallic accents add a glamorous touch to this magnificent and opulent bedroom. A few gleaming nightstands in a gold tone are the only modern additions to an otherwise calm room. Brand New Gated Single Story Modern Farmhouse in Encino for Sale at $5,395,000
10. Deeply Rustic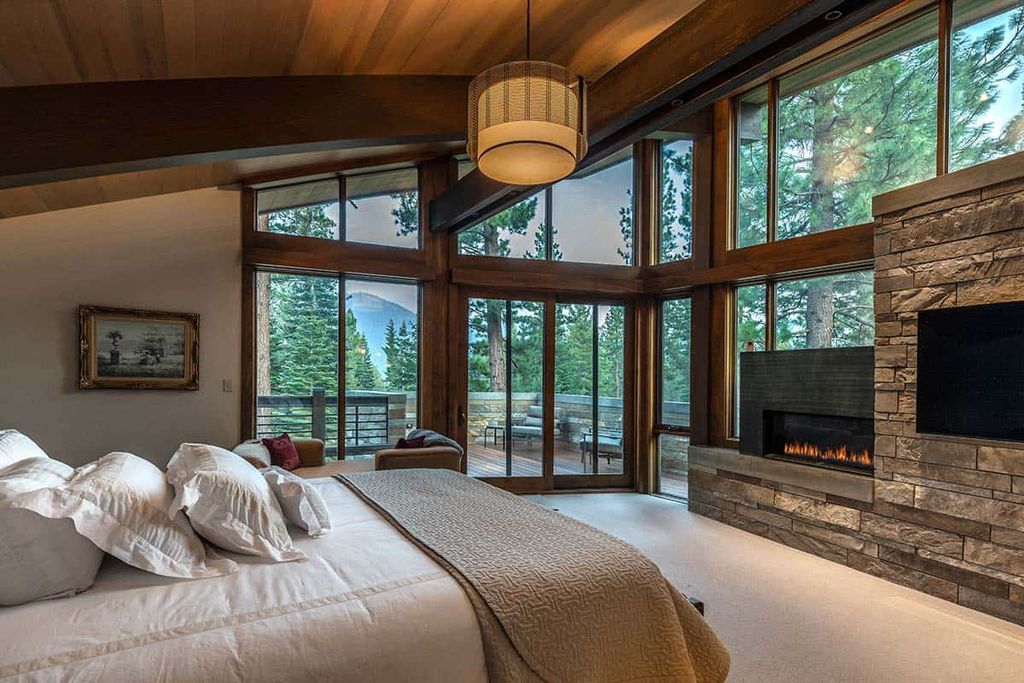 Who makes the claim that modern designs are too straightforward? This dramatic, rustic bedroom has a modern, minimalist aesthetic. A modest appearance is created without excessive ornamentation or color. The room is decorated with a large, comfortable bed, wooden boards for the door frames, dark wood paneling on the walls and ceiling, and mood lighting. This $11,495,000 Martis Camp Home is a Showcase of Architectural Prowess
11. Blacken One Wall.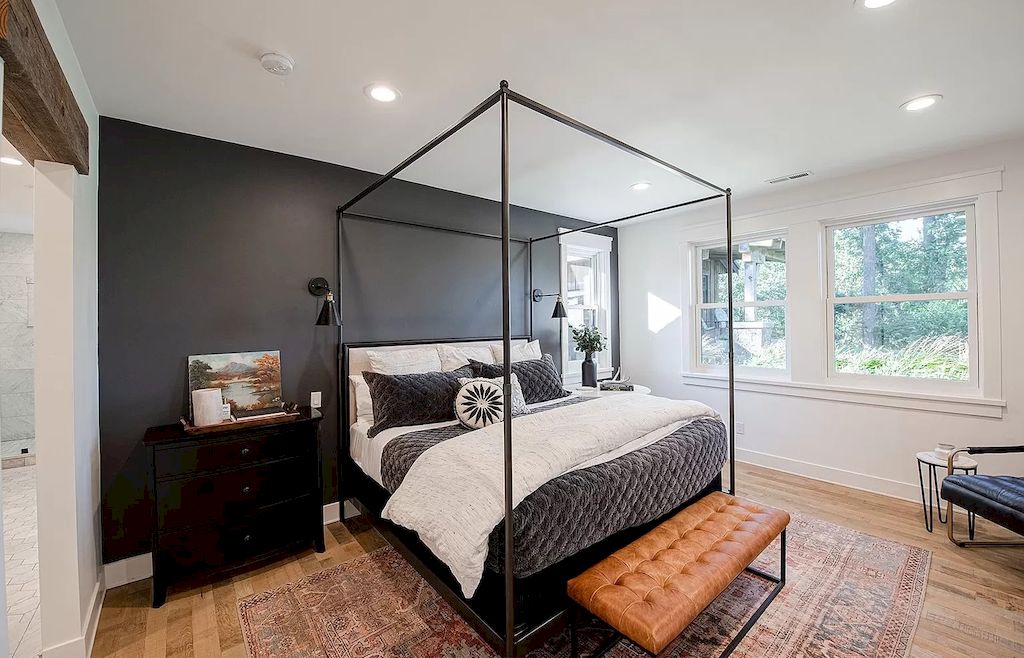 Black and white bedding in relaxed linens and soft black walls give this minimalist bedroom a black-and-white color scheme that is anything but austere. If you're considering going black-and-white, one thing to keep in mind is that you need to also include some organic elements to keep your area from getting too cold. Mountain Chic Home in Oregon with the Ultimate Nature-Inspired Design Asks for $4,200,000
12. Green Bedroom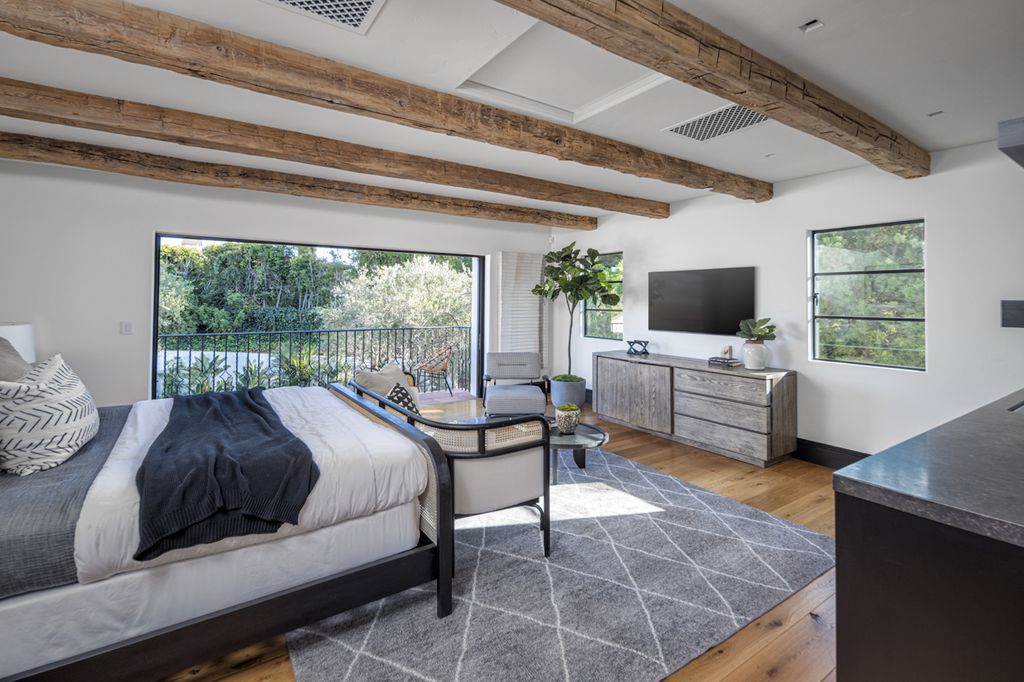 Bring the outdoors into your bedroom if you can't get enough of it! The big glass window in this greenhouse-themed bedroom brings in plenty of natural light. Add a selection of potted plants to finish the effect. Meticulously Crafted Los Angeles Spanish Mansion in Prime Little Holmby for Sale at $18,995,000
13. Minimalist Luxurious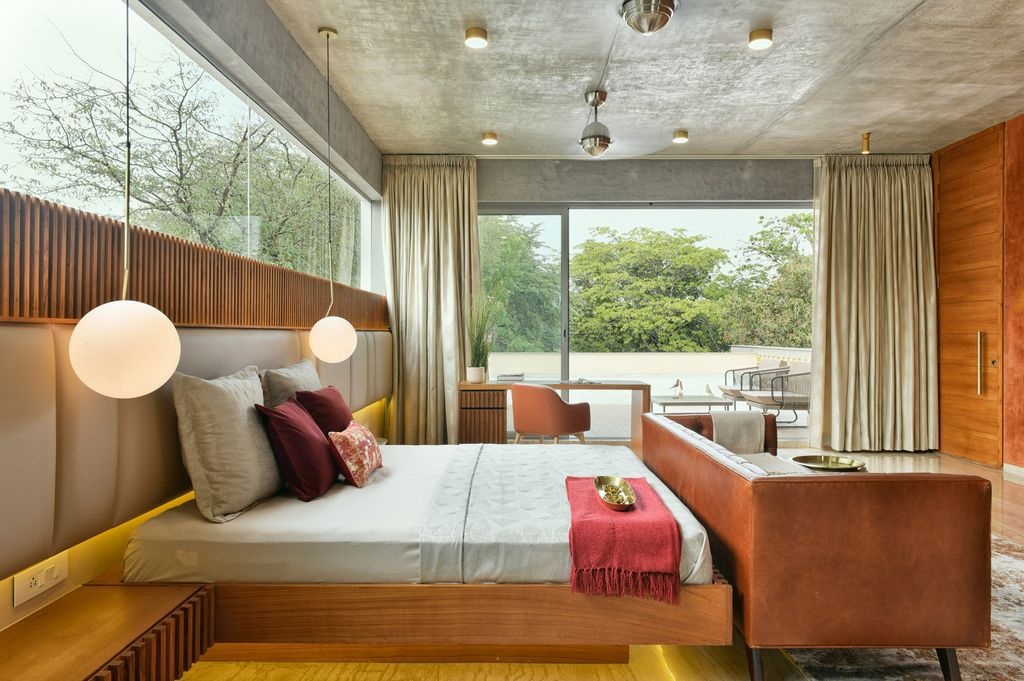 This luxurious bedroom relies on excellent craftsmanship, spotless finishing, and faultless style. Stylish tufted end-of-bed seat, antique rug, herringbone parquet floor, wood accent on the wall, and well-placed lighting. The spacious bed completes the appearance. Brick Mask House, spacious luxury retirement home by Spacefiction Studio
14. Design and Art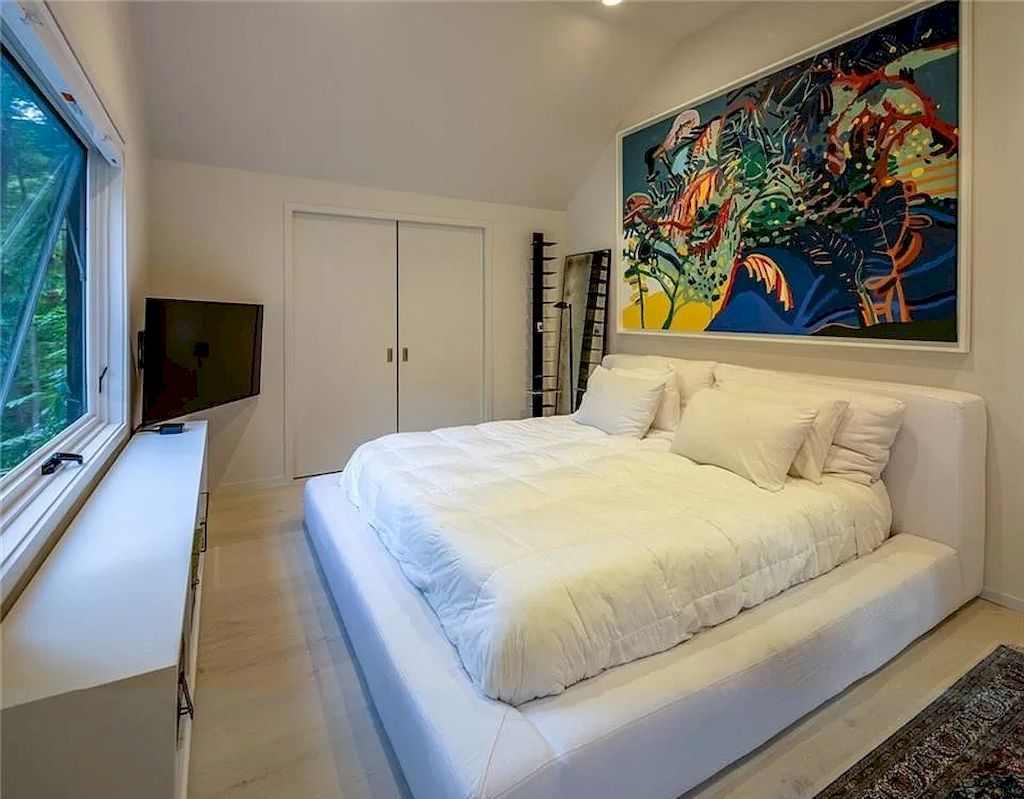 A work of art completes this exquisite design, which is both urbane and imaginative. The space is distinguished by the exciting art masterpiece rather than the modern and stylish clean walls, strategic lighting, and neutral color scheme.  Integrate Contemporary Design and the Warmth of New England Home in this Connecticut $4,225,000 Masterfully Renovated Residence
Bedrooms are our personal space. We frequently design them based on our individual styles. The most modern designs are those that reflect current lifestyle trends. Current design trends and lifestyles also have an impact on design. For more amazing ideas, you may look at the post 12 Living Room Ideas With Wallpaper – How To Style Them For Space Innovation
More Ideas For Living Room:
---
Thousand of high quality images of Living room and more you can see at Livingroom Gallery.